ENGLISH
Well, last Thursday, I officially had my last written UAS (final examination) on my undergraduate study. Anyway I just realized one trivia of my undergraduate study. Apparently, the subject of my first written examination (midterm/UTS) in
October 2006
and the last subject of my written examination (UAS) which was held this week, were all taught by the same lecturer! hahaha... :-)
Anyway, now I only have one more final examination before my graduation: my final presentation next Tuesday. Currently I am preparing anything I might need for it, haha, wish me luck. The program I made is now running and apparently the case I put in was pretty "hard" as it has now been 22 hours 35 minutes since I inputed the info in and it is still processing right now, wew. I hope the outcome is worth waited.
Arrggghhh, I can't wait next week where I will be home for year end holiday, hahaha... :-)
Anyway, let me not write only about my thesis, haha, let's back to one of my favorite topic: gastronomy. Last Thursday finally I had dinner at Avenue-A pizza. Well, it has been really a long time since the last time I had meal there. If I am not mistaken, the last time I had Avenue-A pizza as my meal was at 2006 or 2007, during my freshmen year at Unpar. Anyway, I ordered my favorite appetizer, a fried mozzarella. Hmm, writing about fried mozzarella, can anyone tell me how to make it? I assume it might not be that complicated to make one? Hmmm.... .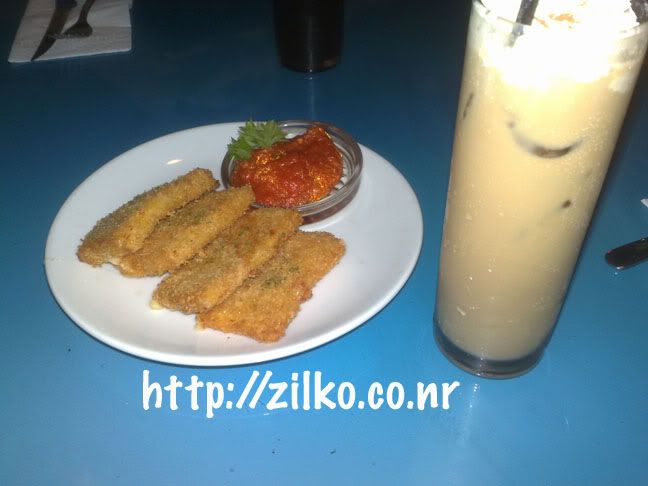 ::: Fried Mozzarella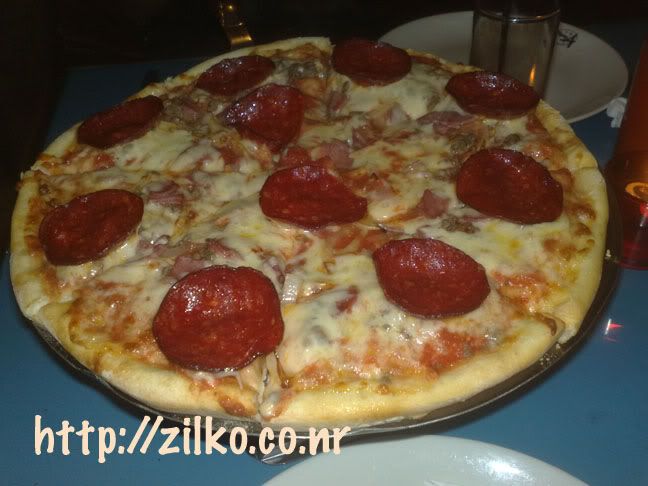 ::: Don Michelle Pizza (Medium Size)

BAHASA INDONESIA
Hmm, Kamis kemarin, secara resmi aku menghadapi UAS (ujian akhir) tertulis-ku yang terakhir di masa pendidikan sarjanaku. Ngomong2, aku baru menyadari satu trivia nih tentang pendidikan sarjanaku. Jadi ternyata tuh ya, mata kuliah yang diujian-tertuliskan pertama kali (UTS) pada bulan
Oktober 2006
dan mata kuliah yang diujikan terakhir minggu ini, diajar oleh dosen yang sama loh! hahaha... :-)
Ngomong2, sekarang masih ada satu ujian terakhir sih sebelum kelulusan, yaitu presentasi terakhirku hari Selasa besok. Sekarang aku sih sedang mempersiapkan semua yang kira2 akan aku butuhkan untuk itu. Program yang aku buat sekarang sedang bekerja nih dan ternyata kasus yang aku masukkan lumayan "berat" soalnya sudah 22 jam 35 menit nih sejak aku masukkan datanya dan sekarang masih sedang diproses, wew. Mudah2an hasilnya layak ditunggu.
Arrggghhh, aku bener2 pengen segera minggu depan dimana aku akan pulang untuk liburan, hahaha... :-)
Ngomong2, biarkanlah aku menulis sesuatu selain skripsi deh ya, haha, mari kembali ke salah satu topik favoritku: gastronomi. Jadi, Kamis kemarin, akhirnya aku makan lagi di Avenue-A pizza. Hmm, sudah lumayan lama juga sejak terakhir aku makan disana. Kalau nggak salah, terakhir aku makan disana sih tahun 2006 ato 2007 gitu, yang jelas di tahun pertama kuliahku di Unpar. Ngomong2, aku waktu kemarin itu memesan mozzarella goreng, salah satu makanan pembuka favoritku. Btw, ada yang tahu nggak sih cara membuatnya? Soalnya sepertinya nggak terlalu rumit ya untuk membuatnya? Hmmm... .