ENGLISH
Last Sunday, of course, my family and I went to the church for the Easter Mass Liturgy. The mass liturgy was longer than usual, taking about 1 hour 20 minutes, haha. Then, we had breakfast at Soto Kridosono.
Sunday afternoon, I hanged out with my friend. We first were about to go to Ambarrukmo Plaza but then canceled it since the plaza seemed so crowded, haha. Instead, we went to Galeria Mall. There, we went to Toga Mas Bookstore and Timezone, haha. It had been quite a while (around a year I think), since I last played at TZ. After that we went to Nanamia Pizzeria. A friend told me about six months ago that the pizza there is more authentic than some other well-known pizza restaurants in Indonesia. Last Sunday finally I got the chance to take a try, haha.
Yes, the pizza was really authentic, with thin bread. Eventho it's thin, it's delicious. I like the mozarella cheese tho, haha. Overall, I like it. Then, we went back home. After arriving at home, my family and I had dinner at a Crab Restaurant to the north of Yogyakarta. It was okay, not that super delicious but not that bad either, haha. Then we had quick meal at a new noodle restaurant. It was not tasty at all for me, hmm, and not that cheap. Later that evening, I took my new glasses, haha
Monday afternoon, my bro and I went to Ambarrukmo Plaza to get our hair cut. At 2.40 PM we left Ambarrukmo Plaza and went to Magelang Street to buy some gifts for my friends in Bandung. Apparently, it was raining really hard at that time, haha. While going back home, there was a big lightning which I suspected hit my computer at home, damnit. That's why I couldn't access internet yesterday evening when this entry should have been posted, haha. Later that night we had dinner at Lie Djiong. Then my mom and I went to Malioboro Mall, as usual on holiday, haha. At 10.40 PM I went to Yogyakarta Railway Station to catch Turangga Express which departed at 11.10 PM. Turangga arrived (from Surabaya) a bit late, at 11.15 PM and left Yogyakarta Station at 11.20 PM.
This morning, Turangga arrived at 7.45 AM (35 minutes behind schedule) at Bandung Railway Station. Well, that's pretty much my long weekend this time, haha
::: Soto Kridosono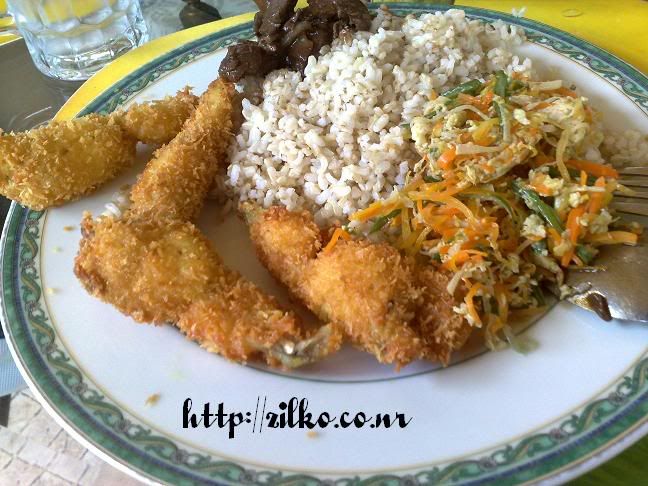 ::: homemade fried swikee, bulgogi, and mixed veggies
::: bruchetta and pizza at Nanamia Pizzeria
::: lumpia mayonaisse at Qua Li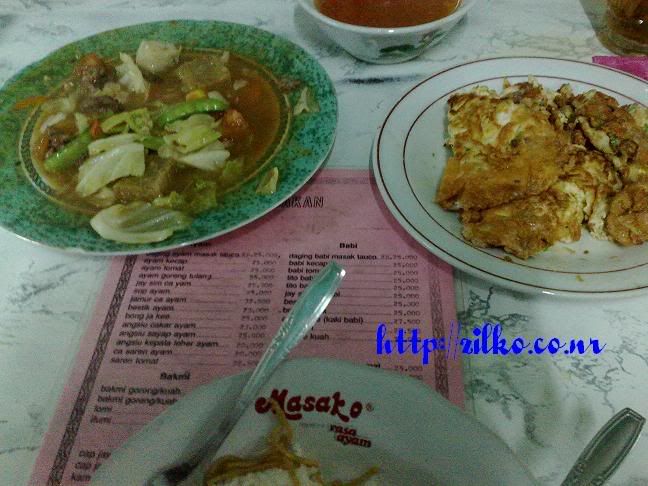 ::: some of our meal at Lie Djiong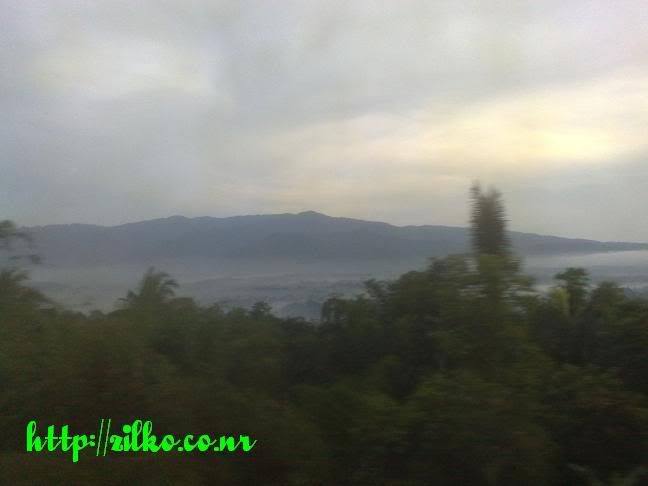 ::: a scenery I took this morning, about 90 minutes before Bandung.
::: climbing Turangga Express
::: inside Turangga New Image's Couch Executive 3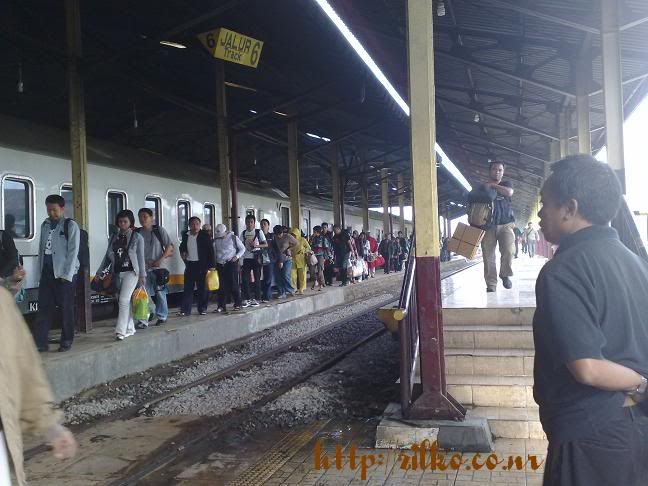 ::: passengers getting off Turangga Express at Bandung Railway Station

BAHASA INDONESIA
Minggu kemarin, tentu saja, aku dan keluarga pergi ke gereja untuk mengikuti Ekaristi Paskah. Misa-nya agak lebih lama dari biasanya neh kemarin, menghabiskan waktu selama 1 jam 20 menit, haha. Trus kita sarapan di Soto Kridosono.
Minggu siang, aku jalan2 sama temenku. Pertamanya kita mau ke Ambarrukmo Plaza tetapi gajadi soalnya plaza-nya kelihatan rame banget seh, haha. Makanya jadinya malah pergi ke Galeria Mall. Disana, kita pergi ke Toko Buku Togamas dan Timezone, haha. Yah, udah lumayan lama juga seh sejak aku main di TZ terakhir kalinya (sekitar setahunan kali ya).Habis itu kita pergi ke Nanamia Pizzeria. Seorang teman bilang ke aku sekitar enam bulan lalu kalo pizza-nya lebih otentik daripada restoran pizza lain yang terkenal di Indonesia. Nah, akhirnya baru Minggu kemarin nih bisa nyobain, haha.
Yup, pizza-nya memang otentik, dengan roti yang tipis. Walau tipis, tapi enak loh. Aku sih suka keju mozzarela-nya, haha. Secara keseluruhan sih aku suka. Trus balik deh habis itu. Habis sampe di rumah, aku dan keluarga makan malam di sebuah rumah makan kepiting di utara Yogyakarta. Rasanya biasa saja sih, enak banget enggak, tapi juga bukannya nggak enak, haha. Trus kita makan cepat di sebuah rumah makan mi yg baru. Rasanya nggak enak sama sekali menurutku, hmm, dan harganya mahal juga. Malamnya kemudian, aku ngambil kacamata baruku, haha
Senin siang, aku dan adikku pergi ke Ambarrukmo Plaza untuk potong rambut. Jam 2.40 sore kita meninggalkan Ambarrukmo Plaza dan pergi ke Jalan Magelang untuk beli oleh2 untuk temen2 di Bandung. Ternyata, lagi hujan deres banget tuh waktu itu, haha. Malah waktu lagi balik ke rumah, ada petir besar bgt yang aku duga sih mengenai komputerku di rumah, sial. Makanya neh kemarin sore aku gabisa internetan ketika postingnyan ini harusnya diposting, haha. Malamnya kita makan di Lie Djiong. Trus malamnya lagi aku dan mamaku pergi ke Malioboro Mall, kaya biasanya pas ujian, haha. Jam 10.40 malam aku pergi ke Stasiun Kereta Tugu Yogyakarta untuk naik Turangga yang berangkat jam 11.10 malam. Turannga tiba (dari Surabaya) agak telat, jam 11.15 malam dan meninggalkan Stasiun Tugu jam 11.20 malam.
Pagi tadi Turangga tiba jam 7.45 pagi (telat 35 menit dari jadwal) di Stasiun Kereta Bandung. Hmm, kurang lebih itulah long wiken ku kali ini, haha