ENGLISH
So, as you can read at my
previous entry
, I went to Jakarta last Wednesday, and I drove myself.
This trip was actually to meet some TARA friends and Vince, the winner of
The Amazing Race Asia 3
from Hong Kong when he visited Indonesia last Tuesday till Thursday. I departed at 12 PM from my boarding house and left Bandung at about 12.20 PM. I actually planned to go at around 2 PM so that I could have more time to rest before the trip. But then I remembered the "3 in 1" policy in Jakarta. Therefore I chose to depart a bit earlier.
At 1.45 PM I arrived at Pondok Gede Timur Tollgate Jakarta. I then went to Grand Indonesia (well, I didn't enter the mall tho but just was wandering around that mall to wait for a friend to pick me up since I didn't know the way to go to the meeting place that afternoon). At about 2.30 PM we met and went to Satai House Senayan at Menteng. There of course we ate and chatted.
At about 4.15 PM we left the Satai House and went to Monas. Well, I have ever been to Monas ONCE before, about 15 years ago, LOL. Even at that time I didn't go to the top of it since the elevator was broken down. We arrived at Monas and parked at the I.R.T.I parking lot. Well, it was drizzling at that time and we gotta run a bit (one incident happened when the door had already been closed (dang) but we managed to enter the monument). I guess we were the last visitors that day, haha. So, we managed to get to the top floor of the monument where we could see the city of Jakarta around.
Next. On 5.59 PM we left Monas and went to Grand Indonesia. There we went to a Gado-Gado restaurant (I dun really remember the name). It was where we spend most of the time. Beside some friends, the M&M (Mardy & Marsio) Bros from TARA 1 also came!! They are racers representing Indonesia on season 1 of TARA who did really well during the race. They were really really really nice!! haha... .
I actually planned to go back to Bandung at about 8.45 PM but time really flew and suddenly it was 9.30 PM, haha... . After that we left Grand Indonesia and myself left Jakarta at about 10.15 AM and arrived at Bandung at 12 AM.
Well, that's pretty much my trip to Jakarta last Wednesday. It was exhausting, but really fun and exciting! :) Yea, it was my second gathering with racers after this time last year with Brett, Adrian, and Collin (the winner of season 2) when they came to Bandung.
::: at Sate House Senayan
::: Tugu Monas
::: one spot of Jakarta with some skycrapers. You can see the Bank Indonesia Towers. Taken from the top of Monas
::: one spot of Jakarta. You can see Jakarta Gambir Railway Station and an Argo-Class train entering one platform. Taken from the top of Monas
::: at Grand Indonesia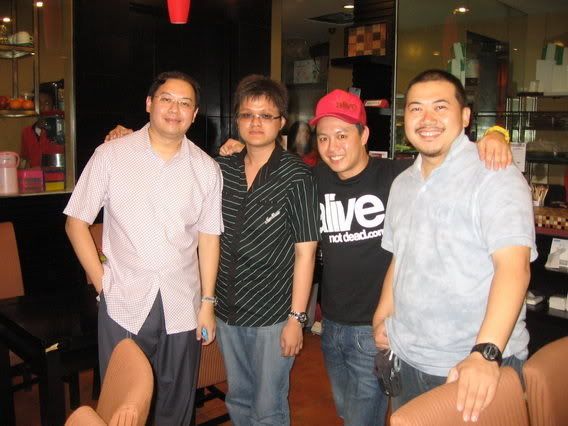 ::: Mardy, me, Vince, and Marsio

BAHASA INDONESIA
Ya, seperti yang bisa dibaca pada
posting sebelumnya
, aku pergi ke Jakarta hari Rabu kemarin, dan aku nyetir sendiri loh.
Perjalanan ini sebenernya untuk ketemuan sama teman2 TARA dan Vince, pemenang dari
The Amazing Race Asia 3
dari Hong Kong yang sedang berkunjung ke Indonesia dari Selasa sampai Kamis kemarin. Aku berangkat jam 12 siang dari kos dan meninggalkan Bandung jam 12.20 siang. Sebenernya rencana awalku adalah berangkatnya jam 2an jadi kan aku bisa istirahat dulu. Namun, aku trus ingat ada aturan "3 in 1" di beberapa jalan utama di Jakarta. Maka dari itu aku memutuskan berangkatnya agak awal saja deh.
Sekitar jam 1.45 siang aku sudah sampai di Gerbang Tol Pondok Gede Timur Jakarta. Aku trus pergi ke Grand Indonesia (hmm, bukan untuk masuk ke mall-nya sih tapi cuma muter2 di sekitarnya aja untuk nunggu dijemput sama temen soalnya kan aku gatau jalan menuju tempat ketemuannya siang itu). Sekitar jam 2.30 siang kita ketemu dan pergi ke Satai House Senayan di Menteng. Di sana tentu saja kita makan dan ngobrol2 gitu.
Sekitar jam 4.15 sore kita meninggalkan Satai House-nya dan pergi ke Monas. Yah, aku sudah pernah pergi ke Monas SEKALI sebelumnya, sekitar 15 tahun yang lalu, LOL. Waktu itu juga aku ga naik sampai puncaknya soalnya lift-nya lagi rusak. Nah, kita terus tiba di Monas dan parkir di I.R.T.I. Hmm, beberapa saat disana hujan gerimis dan bikin kita harus lari-lari tuh (ada satu insiden dimana setelah lari-larian eh pintunya ditutu (sialan) tapi akhirnya bisa masuk monumen-nya juga sih). Aku rasa kami adalah pengunjung terakhir waktu itu deh, haha. Trus, kita naik sampai puncak Monas dimana kita bisa melihat kota Jakarta dari atas.
Lanjut. Jam 5.59 sore kita meninggalkan Monas dan menuju Grand Indonesia. Disana kita ke restoran Gado-Gado gitu (ga gitu ingat namanya neh). Disanalah waktu paling banyak dihabiskan. Di samping beberapa teman, M&M (Mardy & Marsio) dari TARA 1 juga datang loh!! Mereka adalah racers yang mewakili Indonesia di TARA musim 1 dan mereka nge-race dengan sangat baik di season 1. Mereka bener-bener deh orang yang amat amat baik dan ramah aslinya!! haha... .
Aku sebenarnya berencana untuk balik ke Bandung sekitar jam 8.45 tuh tapi trus waktu berlalu sangat cepat dan tiba-tiba sudah jam 9.30 malam, haha... . Habis itu kita meninggalkan Grand Indonesia. Aku sih meninggalkan Jakarta jam 10.15 malam dan tiba di Bandung jam 12 dini hari.
Yah, kurang lebih itulah perjalananku ke Jakarta hari Rabu kemarin. Melelahkan sih, tapi asik dan menarik! :)
Ya, kemarin adalah gathering keduaku dengan racers TARA setelah waktu ini tahun lalu ketika Brett, Adrian, dan Collin (pemenang season 2) datang ke Bandung.