ENGLISH
Well, now we're in early February. I have one bad news for myself which is starting this Sunday my internet connection is, once again, off. WTF!!! This thing really sucks!! Hmmm!!
Anyway, today my friends and I went karaokeing for the first time this year, wahahaha... . Well, because I joined the membership
this time
, today we got a 10% discount and I also got a 2 hour free pass on a Large Room, wahahaha... .
O yea, last Sunday,
2009 Australian Open
finally ended. Serena Williams became the women champion and Rafael Nadal became the gentlemen champion. Well, this finale really proves that Nadal is the best male player in the world right now. He could beat Federer who I think had more experience in hard court and had more rest than him (in contrast, Nadal had a really long and exhausting five sets match in the semifinal against Fernando Verdasco while Federer only had three sets match in the semifinal against Andy Roddick). I first thought Federer would win this time but apparently I was wrong. Great Job Nadal!! :) About Serena Williams, she really is the best female player now. Dinara Safina really didn't play well on the finale I think, losing 0 - 6 on the first set, hmmm... .
::: bakso I had this evening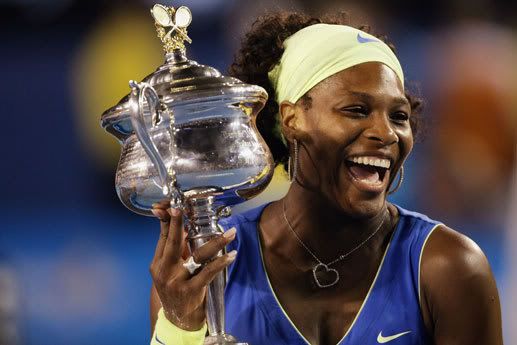 ::: Serena Williams with her trophy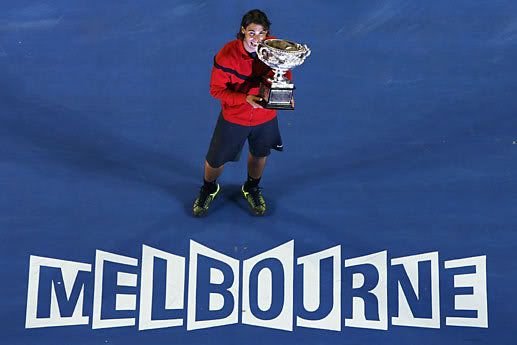 ::: Rafael Nadal with his trophy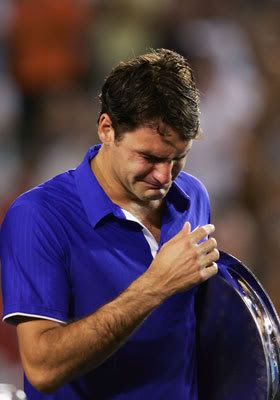 ::: emotional Roger Federer
note: photos of Australian Open are taken from the official website.

BAHASA INDONESIA
Yah, sekarang kita sudah tiba di awal bulan Februari. Aku ada satu berita buruk untuk diri sendiri yaitu (sekali lagi) koneksi internetku error sejak Minggu. WTF!! Bener2 udah menyebalkan sekali neh!! Hmmm!!
Ngomong2, hari ini tadi aku dan teman2 karaokean untuk yang pertama kalinya tahun ini, wahahahaha... . Hmm, karena aku join member pada
waktu ini
, tadi kita dapat diskon 10% dan dapat free pas untuk Ruang yang Large selama dua jam, wahahaha... .
O iya, kemarin Minggu, akhirnya
2009 Australian Open
selesai. Serena Williams menjadi juara wanita dan Rafael Nadal menjadi juara pria. Hmm, finalnya bener2 membuktikan kalau memang Nadal adalah pemain pria terbaik di dunia sekarang deh. Dia bisa mengalahkan Federer yang menurutku memiliki pengalaman lebih unggul di lapangan keras dan istirahat lebih lama dari dia (kebalikan banget neh, Nadal padahal menjalani semifinal lima set yang keras melawan Fernando Verdasco sementara Federer hanya menjalani semifinal tiga set lawan Andy Roddick). Pertamanya aku kira Federer yang akan menang kali ini namun ternyata aku salah. Hebat Nadal!! :) Kalau Serena Williams, memang dia yang terbaik sih. Dinara Safina bener2 lagi nggak gitu bagus menurutku mainnya di final, sampe bisa kalah 0 - 6 di babak pertama, hmmm... .