ENGLISH
Well, these last two days have been pretty fun. Eventho now it's the middle of the exam weeks, haha... . On Friday, there was no exam for me, so it was kinda free. Friday afternoon, my friends and I went karaokeing again. Well, because in the last two weeks I have been there FOUR times (three times last week alone), I decided to be the member, hahahaha... . After that, we had dinner at D'Cost again. Then, we went to Lembang to eat grilled corn.
This Saturday, I had an aesthetics exam at 10 AM. I didn't study last night (dangit, no mood) and I studied this morning before the exam. When the exam started, it was announced that apparently twas an open book exam. WTH!! Why didn't the lecturer tell us before so I didn't have to study? LOL. Of course because it was an open book exam, the questions were not mainly about what was in our notes, hmmm... .
This evening, after open house for three days, we, the officials from our department, decided to 'celebrate' it by having dinner together. Our lecturers picked Platinum Resto at Ciwalk. So, that's where we went this evening. Well, as typical weekend Bandung, this weekend it was so crowded and it took us like 40 minutes just to go from Ciumbuleuit to Ciwalk, sigh. Ciwalk was so crowded since there was a cosplay thingy there, hmmm... . Anyway, after that I went right back home since I was too lazy to hang out on weekend in Bandung, not that cozy, haha....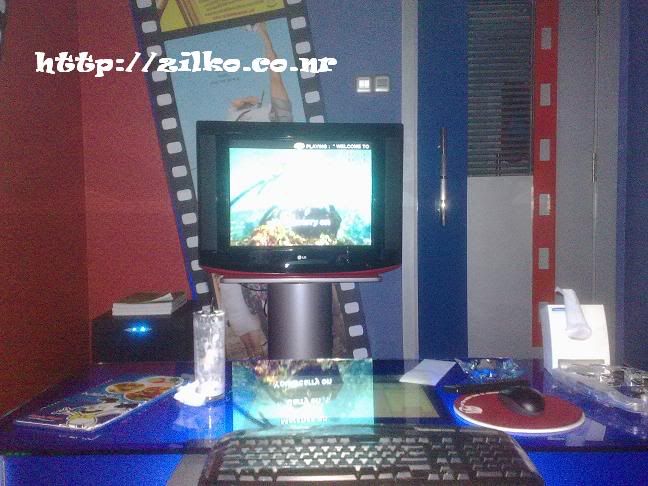 ::: at the karaoke room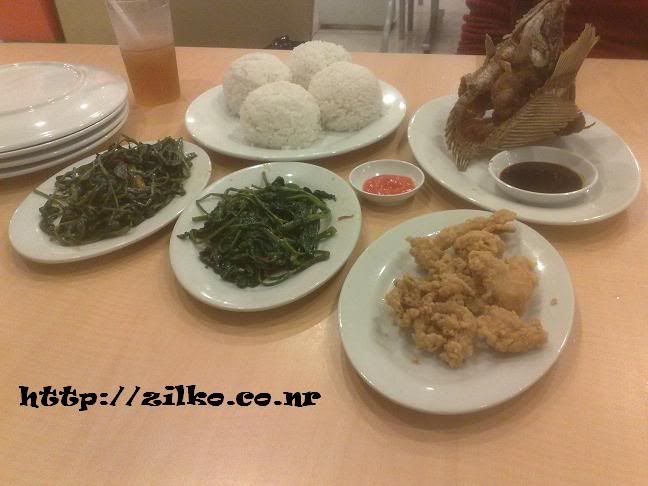 ::: our meal at D'Cost yesterday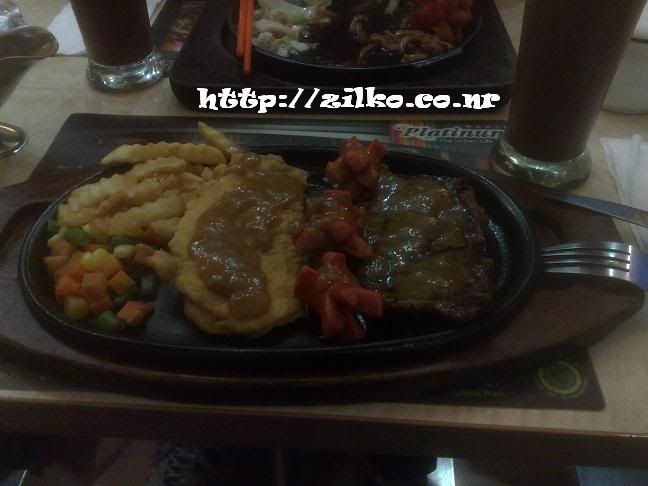 ::: my meal at Platinum Resto today, a combo steak (beef and chicken steaks, I liked the beef one more)

BAHASA INDONESIA
Hmm, dua hari belakangan ini cukup menyenangkan juga. Walau ini bener2 di tengah2 minggu ujian, haha... . Jumat kemarin, ga ada ujian untuk aku, jadi lumayan bebas deh. Jumat siang, aku dan teman2 karaokean lagi deh. Hmm, karena dua minggu belakangan ini udah empat kali karaokean (bahkan tiga kali dalam seminggu lalu), aku memutuskan untuk jadi member aja deh, hahahaha... . Habis itu, kita makan di D'Cost. Setelahnya, kita ke Lembang untuk makan jagung bakar.
Sabtu ini, aku ada ujian estetika jam 10 pagi. Aku ga belajar sih semalam (sial, ga ada mood ui) dan aku belajarnya pagi tadi sebelum ujian. Nah, waktu ujiannya mulai, eh diumumkan kalau ternyata ujiannya open book. WTH! Bilang kek Pak dari dulu kalo open book kan jadinya ga usah belajar, LOL. Tentu aja karena ujiannya open book, soal-soalnya bukan tentang hal di dalam catatan, hmmm... .
SOre imi, habis open house selama tiga hari, kami, panitia yang dari jurusan, memutuskan untuk 'merayakannya' dengan makan malam bareng. Dosennya memilih untuk makan di Resto Platinum di Ciwalk. Jadi, kesanalah tujuan kita sore tadi. Hmm, kaya wiken-wiken lainnya di Bandung, wiken ini rame banget dah dan membutuhkan waktu 40 menit untuk pergi dari Ciumbuleuit ke Ciwalk, sial. Ciwalk rame banget da tadi karena ada ada acara kaya cosplay gitu, hmmm... . Ngomong2, habis itu langsung balik deh soalnya tadi malas mau jalan2 di Bandung waktu wiken, ga nyaman dah, haha....