ENGLISH
So, today is Monday. Well, today the government (finally) decided to reduce the price of oil by another Rp 500.-. Well, the interesting thing is that yesterday I planned to go to the gas station to refuel my car but then decided to postpone it. Apparently, starting today the price is reduced!! wahahaha, so lucky!! Hmmm...
Anyway, finally today I also get the material of my thesis, which is seismic (waves), hmm... . I dunno tho, hopefully all are gonnabe fine, haha... . This morning I had the fourth exam, hmm... . Still four more to go until this Friday! Ganbatte!!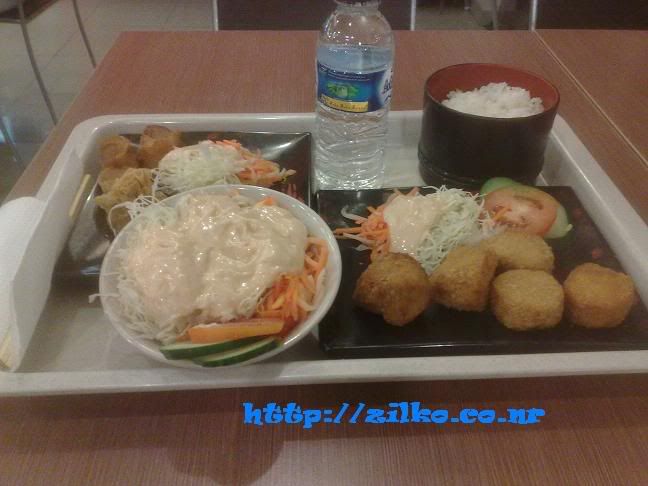 ::: my meal at Hokben today, haha...

BAHASA INDONESIA
Jadi, hari ini adalah Senin. Hmm, hari ini pemerintah (akhirnya) memutuskan untuk kembali menurunkan harga minyak sebesar Rp 500,-. Hmmm, hal yang menarik adalah kemarin aku sebenernya mau ngisi bensin di pom bensin tetapi kemudian menundanya. Eh, hari ini ternyata harganya turun!! wahahaha, hoki banget dah!! Hmmm...
Ngomong2, akhirnya hari ini aku juga mendapatkan bahan untuk skripsi, yaitu (gelombang) seismik, hmmm... . Gatau sih, mudah2an saja semuanya lancar, haha... . Pagi ini aku ada ujian yang keempat, hmmm... . Masih empat lagi nih sampai Jumat ini! Semangat!!