ENGLISH
Well, now I kinda hates my internet connection since again, it's now error. Dang!! Totally no connectivity starting this afternoon. Sh*t!! Hopefully it's getting back well soon. Now I gotta surf the net on this warnet, hmmm...
Anyway, so, yesterday suddenly my friends and I had a time to hang out for some hours in the middle of this busy exam week, hahaha... :) Yesterday afternoon, after making drafts of my assignment, we went to Ciwalk to watch a movie there. Well, such a reliever since my last time watching movie on cinema was
this time
, watching Batman. Well, such a looong time ago, hahaha... . So, yesterday we watched
Bolt
.
The movie was about a superstar dog, Bolt, who at first didn't know he was playing act on movie (he thought everything was real, including his superstrength, etc), who lost in New York. The story told us about his adventure along with his new two friends. Well, overall I think it was a pretty good movie. I kinda enjoyed it, hehehe... :) I scored it four out of five.
After watching the movie we had dinner at a warung bakso. Then, we went back home.
Anyway, now two exams are left!! After that is freedom!! Yeah!! hahaha... :)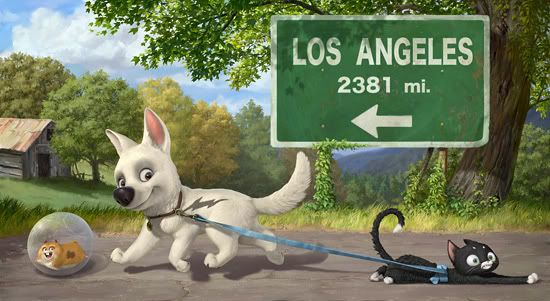 ::: Bolt's three main characters, Bolt (the dog), Mitten (the cat), and Rhino (the hamster)
::: bakso

BAHASA INDONESIA
Hmm, sekarang rada sebal sekali neh sama koneksi internetku karena lagi-lagi, error tuh sekarang. Sial!! Bener2 gak ada konektifitas seharian ini sejak siang tadi. Sialan!! Mudah2an cepat beres deh ya. Sekarang kan jadinya harus internetan di warnet neh, hmmm...
Ngomong2, jadi, kemarin tuh tiba2 aku dan teman2 bisa2nya menyempatkan waktu untuk jalan-jalan beberapa jam di tengah sibuknya minggu ujian ini, hahaha... :) Kemarin siang, habis membuat drafts untuk tugasku, kita ke Ciwalk untuk nonton disana. Hmm, bener2 melegakan sih, soalnya terakhir kali aku nonton di bioskop adalah
waktu ini
, nonton Batman. Hmm, benar2 udah lamaaaa banget dah, hahaha... . Jadi, kemarin kami nonton film
Bolt
.
Filmnya adalah tentang anjing terkenal, Bolt, yang pertamanya tidak tahu kalau dia itu main film (dia kira semuanya beneran asli, termasuk kekuatan supernya), yang hilang di New York. Filmnya sih menceritakan petualangannya dia bersama dua teman barunya. Hmm, secara keseluruhan filmnya lumayan bagus sih. Aku lumayan menikmati jalan ceritanya, hehehe... :) Asku kasi nilai 4 dari 5 deh.
Habis nonton kita makan malam di sebuah warung bakso. Habis itu balik deh.
Ngomong2, dua ujian lagi neh!! Habis itu bebaass!! hahaha... :)