ENGLISH
Well, this weekend and Monday have been tiring but fun!! hahaha... :) Last Saturday eventho I was so tired but I had fun on the ITARAFNG, a kopdar for TARA Forumers, one of them is
Greenerz
. So, we met at Autocafe Cihampelas at about 7 PM and we directly went to Paskal Hyper Square. There of course we had dinner and also chitchatted. We talked many things, from TARA to many other stuffs, hahaha... . At about 9.45 PM we went back home.
O yea, last Saturday afternoon it was super duper hot in Bandung, that's really weird. The heat was just way beyond normal. However, later that afternoon at about 4 PM it rained really hard. Lucky it was clear on the evening, hahaha...
It's too bad that on Sunday I couldn't join them because I had a lot of stuffs to do for this week. O yea, this week is the last week before final examinations (UAS) week next week, dang it! Time really flies. It's like that I just had UTS yesterday and now UAS is right in front of my face!! Hmmm!!!
This Monday was also pretty tiring but also fun. However, this afternoon I hanged out with my friends and we went karaokeing again, wahahahaha... . After that we wanted to have dinner at some places but we gotta back up because it was raining hard. There were some 'problems' such as closed restaurant, full parking area, etc, hahaha... . Finally we found one foodcourt at Dipati Ukur, and had dinner there. At about 7.40 PM we went back home. Overall, today has been so fun!! hahaha...
Anyway, I just watched the last elimination of TAR 13 and Toni & Dallas got eliminated. WTH!! Arrrggghhh!!! I really hate this!! Well, Dallas screwed up this leg tho and eventually it made them got eliminated. It's really sad to see them go. Well, it is even more sad to see because Andrew & Dan were in the top three. C'Mon, they're just super weak I think. I mean, they escaped many eliminations because of lucks (other teams' mistakes).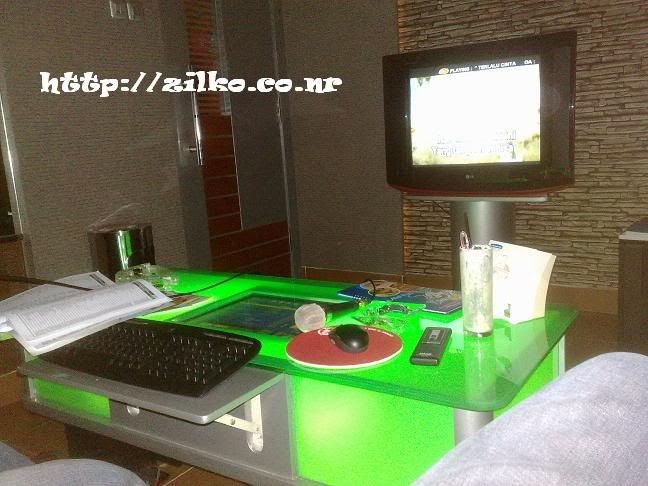 ::: inside the karaoke room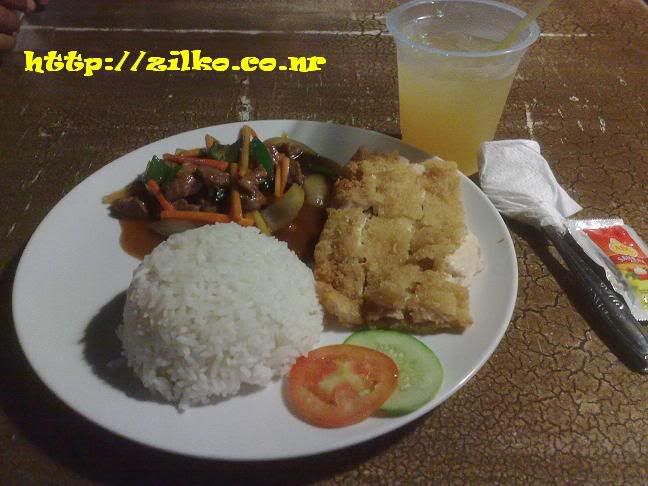 ::: chicken katsu and teriyaki as my dinner today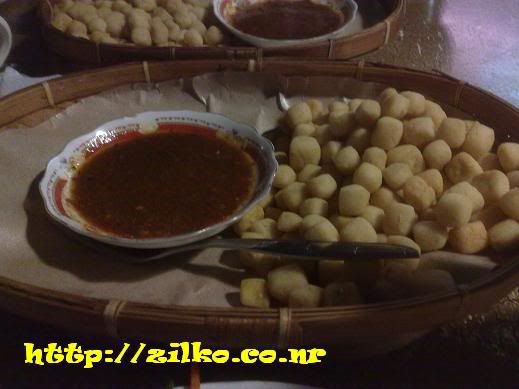 ::: tahu centil
::: narcist time

BAHASA INDONESIA
Hmm, wiken dan Senin ini benar2 melelahkan tapi menyenangkan sih!! hahaha... :) Sabtu kemarin walau aku cape banget tapi hepi deh ikutan ITARAFNG, sebuah kopdar untuk TARA Forumers gitu deh, dan salah satunya adalah
Greenerz
. Jadi, kita ketemu di Autocafe Cihampelas jam 7an gitu deh trus langsung deh ke Paskal Hyper Square. Disana ya tentu aja dong makan malam dan ngoborl. Yang diobrolin bnyak dah, dari TARA sampai hal lain-lain, hahaha... . Jam 9.45 an malem balik deh.
O iya, Sabtu siang kemarin beneran deh gila banget panasnya di Bandung, aneh banget dah. Panasnya itu benar-benar melebihi normal. Namun, sorenya sekitar jam 4 sore gitu hujan deras banget. Untungnya malamnya udah cerah lagi, hahaha....
Sayang banget hari Minggunya aku kaga bisa ikutan karena ada banyak banget hal yang harus dikerjakan untuk minggu ini. O iya, minggu ini adalah minggu terakhir sebelum ujian akhir deh (UAS) minggu depan, sial! Cepet banget yah. Padahal kayanya baru kemarin tuh UTS dan tiba-tiba kini UAS sudah di depan mata!! Hmmm!!!
Senin ini lagi-lagi melelahkan tapi hepi juga sih. Siang tadi aku jalan-jalan sama teman2 dan karaokean lagi deh, wahahahaha... . Habis itu kan kita mau makan malam namun susah banget carinya soalnya ada ada masalah, misalnya: restorannya lagi tutup, tempat parkirnya penuh, dll. Ya gitu deh karena hujan deras sih, hahaha... . Akhirnya kita menemukan satu foodcourt di Dipati Ukur, dan makan malam disana. Sekitar jam 7.40an kita balik deh. Secara keseluruhan, hari ini menyenangkan dah!! hahaha...
Ngomong2, aku baru aja nonton eliminasi terakhir dari TAR 13 dan Toni & Dallas tereliminasi. WTH!! Arrrggghhh!!! Aku benar2 benci ini!! Hmm, Dallas memang agak sial sih di babak ini dan itu juga yang membuatnya tereliminasi. Bener2 sedih dah liat mereka tereliminasi. Hmm, bahkan lebih sedih lagi karena Andrew & Dan masuk tiga besar. Maksudku, mereka itu benar-benar lemah sekali. Mereka nggak tereliminasi ya karena hoki aja (kesalahan tim lain).