ENGLISH
Well, so yesterday I went back to Bandung because today is officially the first day of my sixth semester. Argo Wilis went on time yesterday, which was good.
Anyway, today is my first day of this sixth semester, of course I went to my campus to have 2 lectures (one was canceled because my lecturer was sick). Apparently, I think I must let one lecture go to have another one for my thesis, hmmm... . After arranging one two stuffs I think I have decided which one should I let go. Anyway, today I also got a book for my thesis, huaaaa!!! Things are getting more serious, hmmm...
One thing is pissing me off again now. My internet connection in my boarding house is now OFF again!! Can you imagine that!?!? It has been one month full of error connection!! Hmmm!! I am now considering to cut this connection and subscribe the other provider tho, hmmm... . I always pay on time (well, not always actually, LOL, but when I was late, I always paid the charge for that!)
::: my new Hugo Boss XY
::: complimentary lunch at Argo Wilis
::: inside my couch, Executive 3
::: one spot near Gombong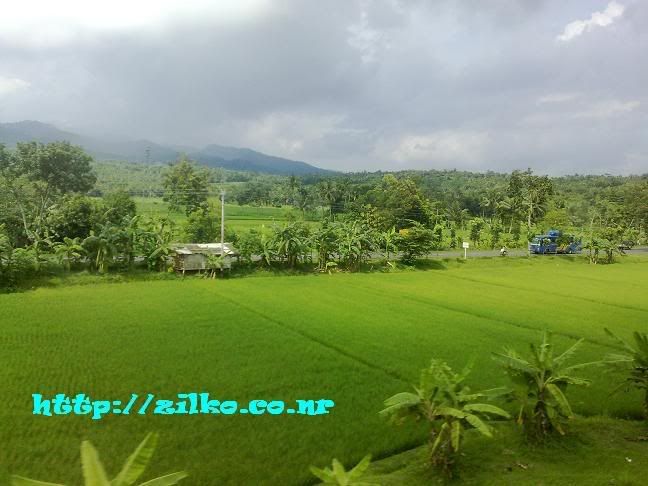 ::: the Southern Java Main Street
::: soto I had this morning

BAHASA INDONESIA
Yah, jadi kemarin aku balik ke Bandung karena hari ini adalah secara resmi hari pertama di semester keenamku. Argo Wilis berangkat tepat waktu kemarin, yang bagus tuh.
Ngomong2, hari ini adalah hari pertama dari semester keenamku, tentu saja dong aku harus ke kampus untuk menghadiri 2 kuliah (yang 1 dibatalkan karena dosennya sakit). Ternyatam kayanya seh, aku harus melepas satu mata kuliah dan ngambil mata kuliah yang lain untuk skripsiku, hmmm... . Habis mengurus satu dua hal akhirnya aku sudah memutuskan mata kuliah mana yang harus dilepas. Ngomong2, hari ini aku juga dapat buku untuk bahan skripsi, huaaaa!!! Sudah menjadi makin serius neh, hmmm....
Satu hal juga membuatku emosi neh sekarang. Masa koneksi internet di kosku MATI lagi!! Bayangkan saja, berarti sudah sebulan penuh neh koneksinya error-error mulu!! Bayangkan tuh!?!? Sekarang aku jadi mempertimbangkan untuk memutus koneksinya sekalian neh dan pindah ke provider lain yang gak sering error, hmmm... . Padahal aku selalu bayar tepat waktu (hmm, gak juga ding, LOL, tapi kalo aku telat aku kan juga bayar denda!)