ENGLISH
So, yesterday I went back to Yogyakarta again to continue my holiday, wehehehe... :) I caught Argo Wilis Express which departed at 7 AM from Bandung Railway Station and arrived at 2.25 PM at Yogyakarta Railway Station.
I was so exhausted (and sleepy) yesterday since I only had a 4 hour-sleep before catching the train. On rail, I couldn't really sleep, hmm... . It was probably one of the most 'interesting' train trip I have ever had. I almost (ridiculously) lost my mp3 player, WTF. So, I accidentally fell my mp3 off and it rolled to the small rift on the side of my seat. It was pretty deep and narrow so that even my finger couldn't reach it. After struggling for about ten minutes I finally found a way to get it by using a magazine to moved the mp3 player to a more reachable place, haha...
Anyway, lately in Yogyakarta, it's often to experience a blackout, dang! Even on New Year's Eve, there was a blackout (at about 2 AM tho, but still, it's New Year's Eve so many people were possibly still awake, hmmm). This evening, there was another blackout. O yea, earlier this week, on Monday if I'm not mistaken, there was another blackout too, hmmm...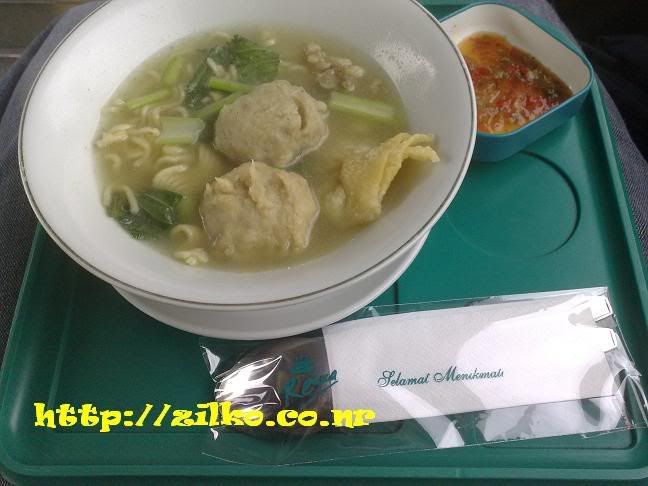 ::: a Rp 10,000.oo Bakso Malang I had on train as my breakfast yesterday
::: the scenery 45 minutes after leaving Bandung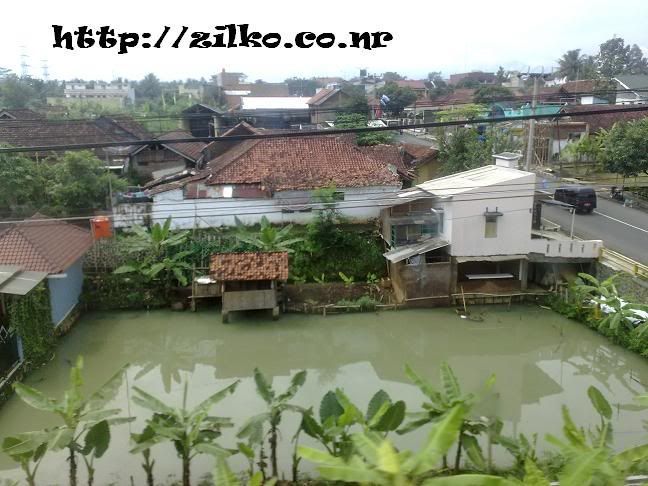 ::: near Ciamis Railway Station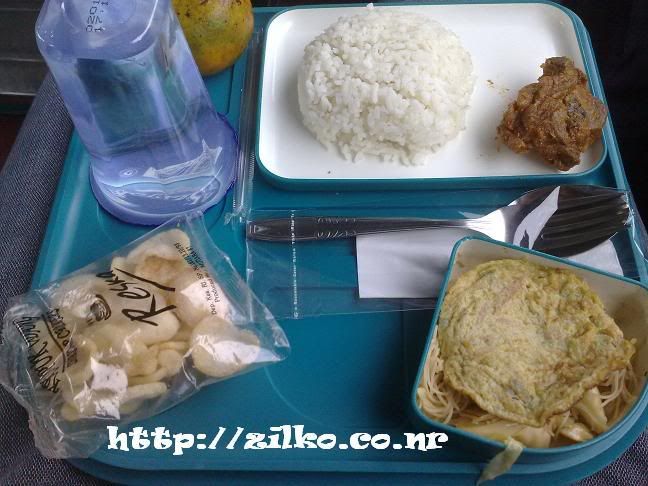 ::: a complimentary lunch
::: rice field at Sikampuh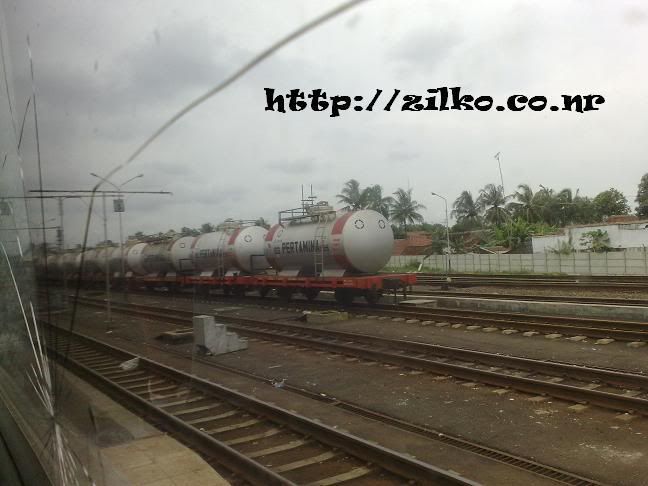 ::: Kutoarjo Railway Station. You can spot a crack on the window of my couch
::: inside Argo Wilis couch Executive 2
::: a very delicious goat sate (sate kambing) and tongseng I had this afternoon

BAHASA INDONESIA
Jadi, kemarin aku balik ke Yogyakarta lagi deh untuk melanjutkan liburan saya, wehehehe... :) Aku naik Kereta Ekspres Argo Wilis yang berangkat jam 7 pagi dari Stasiun Bandung dan tiba jam 2.25 siang di Stasiun Yogyakarta.
Kemarin aku capek (dan ngantuk banget) soalnya aku cuma tidur 4 jam sebelum naik kereta. Di kereta, aku juga kaga bisa tidur, hmm... . Btw, mungkin kemarin adalah perjalanan paling 'menarik' deh. Soalnya aku nyaris (dengan sangat konyol) menghilangkan mp3 playerku, WTF. Jadi, ceritanya tuh aku nggak sengaja menjatuhkan mp3 playerku dan tuh mp3 player menggelinding masuk ke celah sempit di sisi kursiku. Tu celah sempit banget dan cukup dalam sampe bahkan jariku pun nggak bisa menyentuhnya. Nah, habis berusaha keras selama sepuluh menit, akhirnya aku menemukan cara untuk mendapatkan mp3 playerku kembali deh. Cara itu adalah dengan menggunakan majalan untuk menggeser tuh mp3 player ke tempat yang lebih terjangkau, haha...
Ngomong2, akhir2 ini di Yogyakarta, koq sering banget yah mati lampu, sial! bahkan di Malam Tahun Baru juga ada mati lampu loh (memang kejadiannya jam 2 pagi sih, tapi kan tetep aja itu Malam Tahun baru dimana kemungkinan ada banyak orang yang masih bangun kan, hmm). Malem tadi ada mati lampu lagi. O iya, awal minggu ini, hari Senin kalau nggak salah, juga ada mati lampu, hmmm...