ENGLISH
Well, now I'm already back in Bandung, haha... :) Anyway, my trip back to Bandung was kinda interesting, because apparently, the Turangga Express I caught operated its newest couches!! I think I'm pretty lucky, haha... . Well, Turangga departed 10 minutes late from Yogyakarta and of course it arrived 10 minutes behind schedule the next day on Bandung.
Anyway, these days have been a bit tiring for me. I didn't have a really good sleep on rail (as always), so on Wednesday I was really tired and kinda had no energy. This Thursday was a bit better, but I kinda had a small headache, hmm... . Anyway, I cleaned my room last night, haha... .
O yea, finally it's raining today in Bandung. Well, I have been expecting this rain to wash my car, LOL. I haven't had any time yet to wash my car (actually to have my car washed, LOL) tho, so this rain was a bit blessing, haha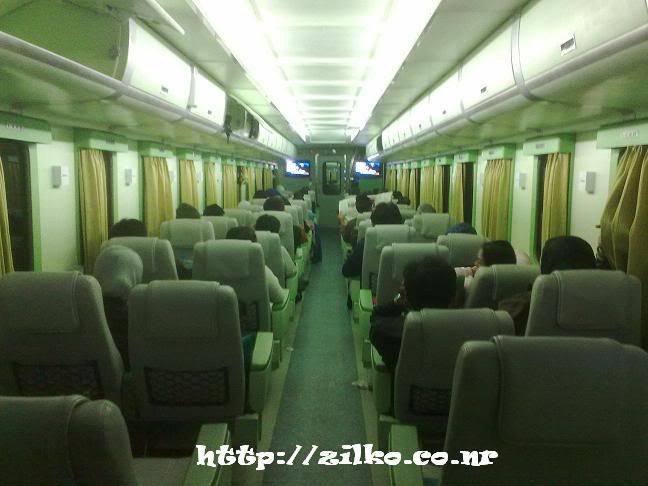 ::: inside new couch of Turangga (Executive 2)

BAHASA INDONESIA
Yah, sekarang aku udah balik di Bandung lagi neh, haha... :) Ngomong2, perjalananku ke Bandung lumayan menarik juga, soalnya ternyata, Kereta Turangga yang aku naiki adalah Turangga yang mengoperasikan gerbong-gerbong yang baru banget!! Aku rasa aku beruntung juga, haha... . Hmm, Turangga berangkatnya telat 10 menitan dari Yogyakarta dan makanya tibanya juga telat 10 menit di Bandung besoknya.
Ngomong2, akhir2 ini cukup melelahkan untuk aku. Aku kan nggak bisa tidur nyenyak di kereta api (tentu saja), makanya Rabu kemarin beneran cape banget dan kaya kekurangan energi. Kamis ini agak mendingan tapi koq agak sakit kepala dikit yah, hmmm... . Ngomong2, semalam aku membersihkan kamar loh, haha... .
O iya, akhirnya hari ini hujan juga di Bandung. Hmm, aku sudah menunggu-nunggu nih hujan untuk mencuci mobilku neh, LOL. Yah, aku belum ada waktu untuk mencuci mobil (lebih tepatnya dicucikan sih, LOL) sih, makanya hujan ini dikit banyak merupakan berkah juga, haha