ENGLISH
Haha, lemme reveal the truth, I was on

hee-a-toosh

mode because I went on vacation to East Java, he3... :) Last weekend I went to Kediri. Well, the original reason was because my dad was gonna join a table-tennis competition held by Gudang Garam there. So, my mom and I accompanied him (my bro didn't since he had to go to school).
Day 1 (Friday, 20th July 2007)
We departed at 9.20 AM. At about 10.30 AM we arrived at Solo and we dropped some stocks for
Kassaya
Solo at Solo Square and Solo Grand Mall. Then, we stopped by at Timlo Solo. After having some snacks we continued our trip to East Java. We arrived at Nganjuk at about 2.30 PM and had lunch at Nirwana Restaurant. Right after that we continued the trip to Kediri, only about 30 km from Nganjuk. Finally, at 3.30 PM we arrived at Kediri. Btw I did all the driving, he3... :D
After taking a nap, at about 6 PM some friends of my mom from Tulung Agung and Blitar came (both cities are near to Kediri, only about 30 and 40 km respectively). We then had dinner at "Sate Ayam Pak Siboen". It was tasty, he3... :) Because my dad was anxious with his friend's recommendation about noodle and rice, so we went to one warung there who cooked noodle and rice, but it was disappointing. For us, it was too sweet, he3... :) After that we went back to our hotel. End of day one
Day 2 (Saturday, 21st July 2007)
I dropped my father off at GOR Sanjaya where the table-tennis competition was held. It was inside Gudang Garam's County, and its area is SOOO BIG. There is even a golf court inside!! I think it was the size of a small town!! Then, I went back to our hotel and had breakfast with my mom at a famous warung soto nearby ("Soto Pojok" or "Corner Soto"). Well, it was delicious for me, different with another soto, he3... :) After that we went to a town where my mom grew up, Blitar.
At about 10.30 AM we arrived there and went to one of my mom's childhood friend's house. After that we went to the gravesy of my grand-grand parents to the south of Blitar and prayed there. At 12 PM we left the cemetery and visited some relatives' homes. We also visit my mom's another childhood friend whose life has been so hard... :( Together, we went to a Warung Rujak Cingur. While we were waiting for the rujak, we went to a degan (young coconuts) warung and bought some es degan (ice coconut) there. After having lunch, somehow we passed the house where my mom grew up and of course we stopped by. This house also raised the conflict between my grandma and her sista. I dun really understand nor know the conflict also I don't want to write about it here. But because of that conflict, it had been 21 years since the last time my mom stepped into the house. So it was a bit nostalgic. Btw, somehow, we got the opportunity to get in the house (because my mom's friend somehow called the key-holder)!! I saw my grandma's bed, my mom's room, even my grandma's make-up-table, he3... :)
After that, we continued our trip at Blitar....
to be continued.........
coming up next:
- mystical experience
- going off-plan
- being trapped in Kediri
- Tulung Agung
- Puh Sarang
::: Timlo Solo
::: Gule @ Nirwana Restaurant
::: chicken sate @ "Sate Ayam Pak Siboen"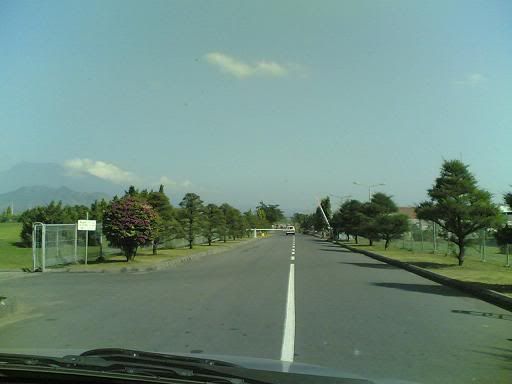 ::: All you see (except the sky and mountains) are Gudang Garam's properties, including the road!!
::: Soto Pojok (Corner Soto)
::: My grand-grand parents' graves
::: Warung Degan (young coconut)
::: "Rujak Cingur"
::: my mom's childhood home

BAHASA INDONESIA
Haha, biarkan saya mengatakan kebenarannya neh, kemarin sih aku dalam mode

hee-a-toosh

soalnya aku kan jalan-jalan ke Jawa Timur, he3... :) Wiken kemarin aku pergi ke Kediri. Hmm, tujuan aslinya sih soale kan papaku mau ikutan lomba tenis meja tuh yang diadain sama Gudang Garam disana. Jadinya, aku sama mamaku skalian nemenin deh (adikku engga soale musti sekolah).
Hari 1 (Jumat, 20 Juli 2007)
Kita berangkat jam 9.20 pagi. Sekitar jam 10.30 gitu nyampe di Solo dan nurunin beberapa barang buat
Kassaya
Solo di Solo Square dan Solo Grand Mall. Trus kita mampir deh di Timlo Solo. Habis makan gitu trus kita melanjutkan perjalanan ke Jawa Timur. Kita nyampe Nganjuk sekitar jam 2.30an gitu deh dan makan siang di Restoran Nirwana. Habis itu kita lanjut ke Kediri yang cuma 30 km deh dari Nganjuk. Akhirnya jam 3.30an gitu nyampe deh di Kediri. Btw, yang nyetir saya trus loh, he3... :D
Habis istirahat gitu, sekitar jam 6-an beberapa temennya mamaku dari Tulung Agung dan Blitar dateng (kedua kota kan deket tuh ke Kediri, cuma 30 km sama 40 km koq). Trus kita makan malam deh di "Sate Ayam Pak Siboen". Enak juga loh, he3... :) Nah, karena papaku penasaran sama rekomendasi temennya tentang mie dan nasi, jadinya kita pergi ke satu warung yang disana masak mie dan nasi, tapi mengecewakan. Untuk kita sih itu terlalu manis, he3... :) Habis itu balik deh ke hotel. Hari pertama selesai
Hari 2 (Sabtu, 21 Juli 2007)
Aku nganterin papaku di GOR Sanjaya dimana kompetisi tenis meja-nya diadain. Lokasinya di dalem area Gudang Garam tuh, dan area-nya besar SEKALIII loh. Malah ada lapangan golf juga tu di dalem!! Kayake sih ukurannya ya seukuran kota kecil deh!! Trus, aku balik ke hotel dan makan pagi deh sama mamaku di warung soto yang terkenal di deket hotel ("Soto Pojok"). Hmm, lumayan enak menurut saya, berbeda sama soto-soto lain, he3... :) Habis itu kita pergi ke kota dimana mamaku tumbuh besar, Blitar.
Sekitar jam 10.30 gitu kita nyampe disana dan pergi ke rumahnya salah satu temen kecilnya mamaku. Habis itu kita pergi ke kuburannya kakek-nenek buyut (enkong-mak-co) saya di selatannya Blitar dan berdoa disana. Jam 12 siang gitu kita meninggalkan kuburan dan mengunjungi rumahnya beberapa kerabat. Kita juga berkunjung ke rumah temen kecilnya mamaku yang lain yang kehidupannya susah banget tuh... :( Bareng2, kita makan di warung rujak cingur. Sambil nunggu rujak kita beli dulu deh degan (kelapa muda) dan beli beberapa es degan disana. Habis makan siang trus tau2 kita melewati rumah dimana mamaku tumbuh dulu dan tentu aja mampir. Rumah ini juga yang menimbulkan konflik antara nenek saya dan adiknya. Ga gitu ngerti dan tau tentang konfliknya sih, lagian males juga aku nulis disini. Tapi karena konflik itu, udah 21 tahun loh mamaku ga menginjakkan kaki disana. Makanya, jadi agak nostalgia dah. Btw, gatau gimana tau2 kita dapet kesempatan masuk ke rumah (soale temennya mamaku tau2 manggil pemegang kuncinya)!! Aku ya liat ranjangnya kakek-nenek saya, kamarnya mamaku, bahkan masih ada juga tuh meja-rias nenek saya, he3... :)
Habis itu, kita melanjutkan perjalanan di Blitar.....
bersambung.........
yang selanjutnya:
- pengalaman mistis
- keluar rencana
- terjebak di Kediri
- Tulung Agung
- Puh Sarang