ENGLISH
Previously on
My Mid-Year Trip (Part 1: Kediri + Blitar (1))
, Zilko and his parents went to Kediri to accompany his father competing on a table-tennis competition. On day 2, he and his mom went to his mom's hometown, Blitar
Day 2 (Saturday, 21st July 2007)
...
At about 3.45 PM, we left the house and went to
Bung Karno
(Indonesia's first president)'s cemetery (wakakakaka, a nacionalist, ha3... lol). Actually it was not in our plan but my mom's friend insisted us to just "pass" it (but then dropped by). Actually it wasn't my first time I went there since about 10 years ago I had already dropped by there. But now it has been different. It's a lot more comfortable. Btw, there was 2 mystical things. First, A Soekarno's Painting inside the museum, somehow, the paper on the part of his chest is moving, somewhat showing us that he is breathing or his heart is beating!! At first I didn't believe it but after witnessing it, wow, I was amazed!! There was no wind nor trick. Second, there was a myth that an ancient rupiah if being put in our palm, somehow it could fold itself!! Well, the officer there showed us, using our hands (mine also), and it worked!! It somehow folded itself!! Well, he said that that phenomenon doesn't happen to anyone, but if it does, then he/she has a big luck, ha3... :) (Ameeeennnn).
Then, we went to another relative's house. According to the plan, after that we would go back to Kediri but since unexpectedly my father won and would play another match, so our time became more flexible. So, since my mom's friend bought a restaurant at Prigi Beach and really wanted to show us, so we accepted the offer. Okay, then we went to Tulung Agung (3 cars) then from Tulung Agung to Prigi Beach riding one car, he3... :) At 7 PM we arrived at the beach (the road was pretty frightening). Unlucky it was evening so we couldn't see the sea... :( It was soo windy. We tried the restaurant, and it was okay, he3... :) Then, at 9 PM we went back to Tulung Agung. At 10 PM, my mom and I went back to Kediri and the rest of them went back to Blitar. End of day two
Day 3 (Sunday, 22nd July 2007)
Since my dad won again, so he didn't let my mom and I went too far from Kediri since just in case he lost, so he could go with us. Okay, so we went nowhere. We had breakfast at the hotel (and it sucked!! The breakfast was horrible!!). Then, since there was no interesting place in Kediri, so we just stayed at the hotel (and I could get some extra sleep, ha3... :) ). At 1.15 PM we had lunch at a bakso restaurant nearby. It was also delicious, he3... :)
Later in the evening, I accompanied my father to watch the final and door-prize at GOR Sanjaya. Then, we went to Tulung Agung to have dinner there. After picking one of my mom's friend up, we had dinner at a Warung Sate Kambing (Goat Sate) there. Well, it wasn't so tasty for me... :( But then, my father also asked us to go to a well-know restaurant, "Nasi Lodho Pak Yusuf" (Lodho Rice Pak Yusuf), near Trenggalek (20 km from Tulung Agung). And it was tasty!! he3... :) A lot more delicious than Nasi Lodho in Yogyakarta. After that, we went back to Kediri
Day 4 (Monday, 23rd July 2007)
The day we went back to Jogja. We had breakfast at the same soto we ate on Saturday morning, then at 9 AM we left the hotel and bought some gifts at "Tahu Poo" (Poo Tofu) Kediri, he3... :) Just following the original plan, we then went to
Marie Cave Puh Sarang Kediri
and at about 10 AM we arrived there. After having some religous walk (wakakakaka... lol), we went back to Jogja (at 11.30 AM). At 3 PM we arrived at Solo and had lunch at Diamond Restaurant. Then, we went back to Jogja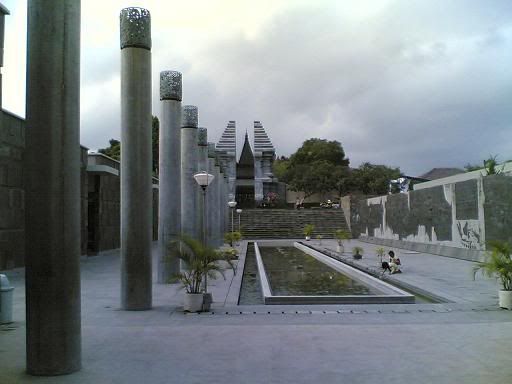 ::: Makam Bung Karno
::: Bakso I ate Sunday afternoon
::: Inside GOR Sanjaya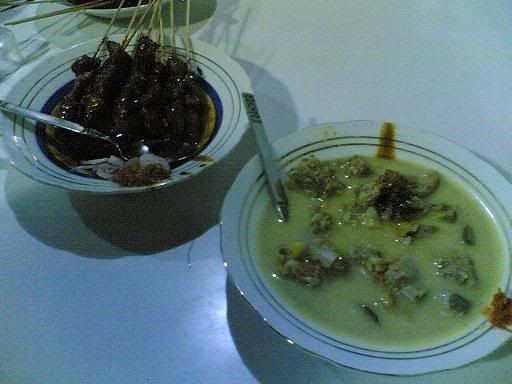 ::: "Sate Kambing" and "gule" at Tulung Agung, not so tasty though
::: "Nasi Lodho Pak Yusuf"
::: Nasi Lodho
::: sotowoman (lol)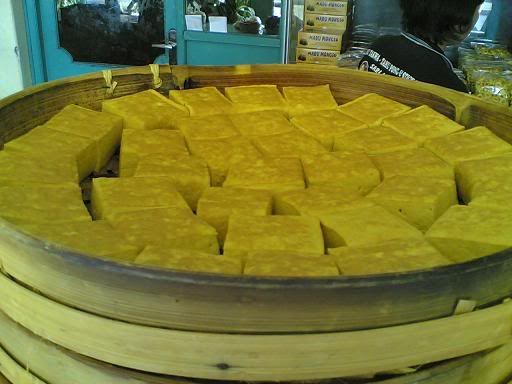 ::: Yellow Tofu at "Tahu Poo"
::: Puh Sarang Kediri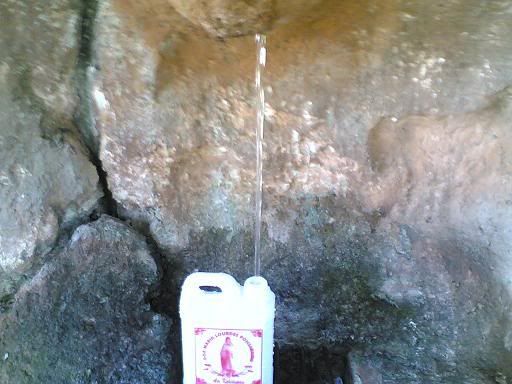 ::: filling the jug with holy water
::: our meal at Diamond Restaurant Solo

BAHASA INDONESIA
Yang sebelumnya dalam
My Mid-Year Trip (Part 1: Kediri + Blitar (1))
, Zilko dan orang tua pergi ke Kediri untuk nemenin papanya ikutan kompetisi tenis meja. Di hari kedua dia sama mamanya pergi ke kota asalnya, Blitar
Hari 2 (Sabtu, 21 Juli 2007)
...
Sekitar jam 3.45 gitu kita meninggalkan rumahnya dan pergi ke Makam
Bung Karno
(presiden pertama Indonesia) (wakakakaka, nasionalis kan, ha3... lol). Sebenere itu di luar rencana tapi temennya mamaku maksa sih untuk cuma "lewat" (tapi trus ya mampir). Sebenere itu bukan pertama kali aku kesana soale sekitar 10 tahun lalu gitu aku ya udah pernah kesana sih. Tapi skarang udah beda banget loh. Jauh lebih nyaman. Btw, ada 2 hal mistis loh. Pertama, lukisannya Bung Karno di dalam museum, gatau gimana, di kertas di bagian dadanya bergerak seakan-akan bernafas atau jantungnya berdetak!! Pertama aku gak percaya dong, eh tapi habis ngeliat beneran loh, saya terkesima!! Nggak ada angin ato trik apapun. Kedua, ada mitos kalo uang rupiah kuno kalo ditaro di telapak tangan bisa tau2 menggulung sendiri!! Hmm, petugasnya nunjukin ke kita, pake telapak tangan kita (termasuk sayah) dan beneran!! Tau2 gimana gitu menggulung sendiri!! Hmm, dia bilang kalo fenomenia itu gak terjadi ke siapa aja, tapi kalo terjadi berarti dia berhoki besar... :) (Amiiiinnnn).
Trus kita berkunjung ke rumah kerabat. Menurut rencana habis itu sih kita akan balik ke Kediri tapi karena gak disangka2 papa saya menang dan akan main pertandingan lagi, jadwal jadi lebih fleksibel. Jadi, karena temennya mamaku beli restoran di Pantai Prigi dan pingin bgt nunjukin ke kita, ya dah de kita terima aja tawarannya. Oke, trus kita pergi ke Tulung Agung (3 mobil) reus dari Tulung Agung ke Pantai Prigi naik satu mobil, he3... :) Jam 7-an gitu nyampe deh di pantainya (jalannya lumayan nyeremin loh). Sayang tuh uda malem jadi gabisa liat lautnya... :( Berangin bgt waktu itu. Kita nyoba restorannya, dan lumayan juga, he3... :) trus jam 9 malem kita balik deh (aku sama mamaku ke Kediri dan lainnya ke Blitar). Akhir hari kedua
Hari 3 (Minggu, 22 Juli 2007)
Karena lagi2 papaku menang, jadi dia gak membiarkan saya sama mamaku pergi terlalu jauh dari Kediri jadi kalo misale dia kalah, dia kan jadi bisa ikutan pergi. Oke deh, jadinya gak kemana2 aja. Kita makan pagi di hotel (dan itu payah bgt!! Makanannya super gak enak!!). Trus karena gak ada yang menarik di Kediri ya dah deh, kita di hotel aja (dan aku bisa dapet tambahan waktu tidur, ha3... :) ). Jam 1.15 siang kita makan siang di restoran bakso deket hotel. Enak juga loh, he3... :)
Sorenya aku nemeni papaku nonton final an pengundian door-prize di GOR Sanjaya. Trus, kita ke Tulung Agung buat makan malem disana. Habis menjemput temennya mamaku, kita makan deh di Warung Sate Kambing disana. Hmm, tapi gak gitu enak neh untuk saya... :( Tapi kemudian papaku juga ngajak kita untuk makan di restoran terkenal, "Nasi Lodho Pak Yusuf", di deketnya Trenggalek (20 km dari Tulung Agung). Dan beneran enak loh!! he3... :) jauh lebih enak dari Nasi Lodho di Yogyakarta. Habis itu kita balik ke Kediri
Hari 4 (Senin, 23 Juli 2007)
Hari kita balik ke Jogja. Kita makan pagi di restoran soto yang sama kaya Sabtu pagi, trus jam 9 gitu kita meninggalkan hotel dan beli oleh2 di "Tahu Poo" Kediri, he3... :) Mengikuti rencana awal, trus kita pergi ke
Gua Maria Puh Sarang Kediri
dan jam 10an gitu kita nyampe disana. Habis jalan religius (wakakakaka... lol), kita balik ke Jogja (jam 11.30). Skitar jam 3 sore kita nyampe di Solo dan makan siang di Restoran Diamond. Habis itu balik dah ke Jogja