ENGLISH
Finally today I could watch
Harry Potter and The Order of The Phoenix
. This movie probably was one of the most waited movies of the year.
Well, not to make this entry long, you can read my review
here
, but overall I was disappointed. The movie was boring at many parts, and I think it focused too much on
Dolores Umbridge
. I know it was the duration which caused the producers to cut some parts of the novel, but it doesn't mean the only option was focusing on Umbridge. Overall, I score it 3 out of 5.
Anyway, I found that
Evanna Lynch
who portrayed
Luna Lovegood
looks like one racer on
The Amazing Race
5 and All-Stars,
Mirna
, he3... :) Look at the pic below. Btw, Evelyn was too cute to portray Luna, I think, wakakakakakaka... :)
@ Hazy : Hahaha, there were so many cats on this film. In Umbridge's room, the wall was 'accesorized' with thousands of plates with cats in motion pictures, wakakakakakaka... lol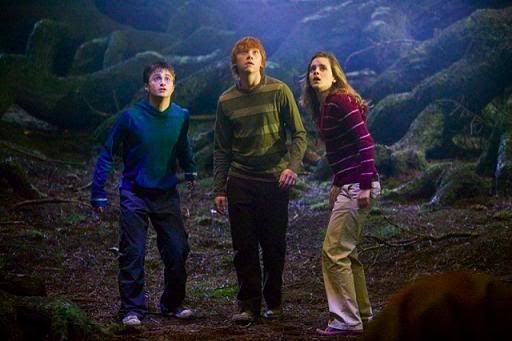 ::: Daniel Radcliffe (as Harry Potter), Rupert Grint (as Ron Weasley), and Emma Watson (as Hermione Granger) @ Harry Potter
::: Dolores Umbridge (in pink) firing Prof. Trelawney (in glasses) and Prof. McGonagall calming her down.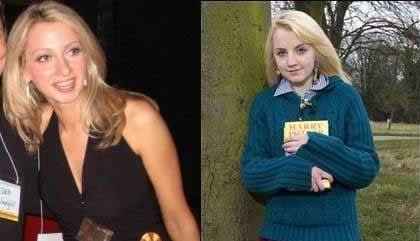 ::: Mirna (LEFT) and Evanna Lycnh (RIGHT). They look alike, don't they?? :)

BAHASA INDONESIA
Akhirnya hari ini saya menonton
Harry Potter and The Order of The Phoenix
. Film ini mungkin film yang paling ditunggu yah tahun ini.
Hmm, biar posting ini nggak panjang, bisa dibaca deh review saya
disini
, tapi secara keseluruhan aku sih kecewa. Filmnya membosankan di kebanyakan bagian, dan aku rasa terlalu fokus ke
Dolores Umbridge
deh. Aku tau sih durasinya yang bikin produsernya memotong beberapa bagian novel, tapi ya kan gak berarti pilihanya cuma pada fokus pada Umbridge. Keseluruhan, aku nilai 3 deh dari 5.
Ngomong2, aku koq merasa kalo
Evanna Lynch
yang memainkan
Luna Lovegood
mirip sama salah satu pemain di
The Amazing Race
5 dan All-Stars yah,
Mirna
, he3... :) Liat tu gambarnya di atas. Btw, Evelyn sih terlalu cakep buat mainin Luna, aku rasa sih, wakakakakaka... :)
@ Hazy : Hahaha, ternyata ada banyak kucing loh di film ini. Di ruangannya Umbridge aja, dindingnya dihiasi dengan buanyak banget piring dengan gambar kucing yang bergerak2, wakakakakakaka... lol