ENGLISH
Finally yesterday the number of visitors here reached 50,000 after
this time
it reached 40,000. It means that in 2.5 months, there had been 10,000 visitors with an average of about 4,000 each month. That's a pretty big increase, he3... :) Thanks everyone for keep visiting my blog, he3... :) Btw, yesterday the number of visitor of
Kassaya
's blog also reached 12345, a pretty number, ha3... :)
Btw, this morning I had brunch at

Qua-Li

, he3... :) After about 3 months I finally could have meal there. I ordered Black Pepper Beef and of course, Lumpia Mayonaisse.
Btw, starting tomorrow morning until Monday evening, I think I'm gonnabe in Hee-A-Toosh (

HIATUS

) mode. CU later, I'm gonna write what happen during those days, he3... :D

The Apprentice

Well, I just saw the tenth episode of The Apprentice. The task was about creating and selling souvenirs about Ellis Island. Gold Rush, under the lead of Lee using the same strategy when they won on the second task, early bird start and again, it worked (they won after 4 times consecutively losing to Synergy). I'm not gonna write the whole episode since you can read it on the link above.

I think, this time Donald Trump made a mistake. If I were him I would have fired Allie, Synergy's PM. Yea, probably Andrea didn't really get along with them and distract the PM a little bit but she was clearly not the main reason why they lost. Synergy lost because:

late start

and

wrong location

(Gold Rush already secured the stratetic place). Those were the main reasons why they lost and those were Allie's responsibility. They lost not because of Andrea's design or her lack-of-selling-ability. Let's say Andrea was a star on selling, it wouldn't have made any difference since the margin between the two teams was so big. Andrea's pretty big mistake was probably not telling the other that she was great on bulk selling. Allie also made a small mistake by accompanying Tammy taking her left notes on Ellis Island. Design probably influenced the sales, but I think it's not that big. If Synergy had got a better location than Gold Rush, even with worse design, they still could have won. Hmmm.... . Anyway, I think one consideration Donald Trump had was that if he kept Andrea, Synergy wouldn't work on their best on their next tasks since Allie - Roxanne - Tammy seemed to have a strong bond between them, he3... :)

::: 50,000!!!
::: 012345!!!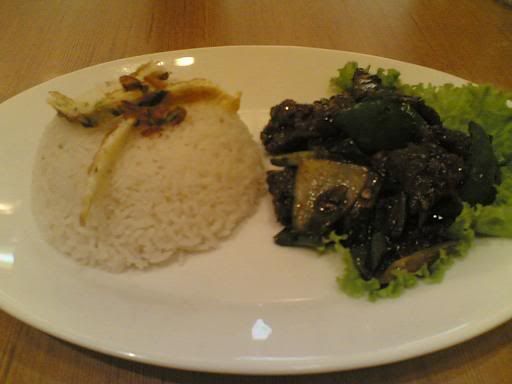 ::: Black Pepper Beef + Rice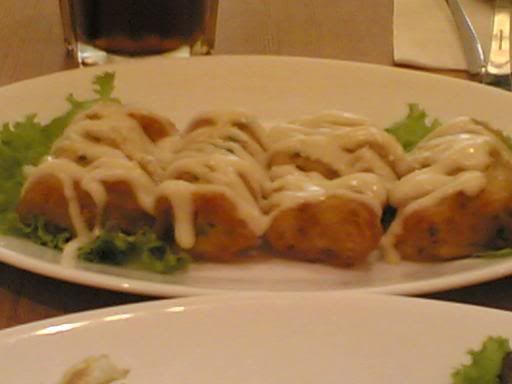 ::: Lumpia Mayonaisse
::: "

Andrea, you are fired

!!"

BAHASA INDONESIA
Akhirnya kemarin jumlah pengunjung di blog saya mencapai angak 50.000 setelah pada saat ini mencapai angka 40.000. Berarti dalam waktu 2,5 bulan, sudah ada 10.000 pengunjung dengan rerata sekitar 4000 deh setiap bulan. Peningkatan yang lumayan besar lah, he3... :) Thanks yah semuanya yg sudah berkunjung ke blog saya, he3... :) Btw, kemarin jumlah pengunjung di blog
Kassaya
juga mencapai angka 12345, nomer cantik tuh, ha3... :)
Btw, pagi ini aku makan pagi dan siang di

Qua-Li

, he3... :) Setelah sekitar 3 bulan akhirnya saya bisa makan disana. Aku pesen Sapi Lada Hitam sama tentu saja dong, Lumpia Mayonaisse.
Btw, mulai besok pagi sampe Senin sore kayake aku bakalan dalam mode Hee-A-Toosh (

HIATUS

) deh. Sampe ketemu yah, aku akan tulis apa saja yang terjadi pada hari2 itu, he3... :D


The Apprentice

Hmmm, aku baru aja nonton episode kesepuluh dari The Apprentice. Tugasnya adalah tentang membuat dan menjual souvenir tentang Ellis Island. Gold Rush, dibawah pimpinan Lee menggunakan strategi yang sama sewaktu mereka memenangkan tugas kedua, mulai pagi-pagi banget dan sekali lagi, strateginya berhasil (menang habis kalah dari Synergy 4 kali berturutan). Aku ga akan nulis episodenya soale bisa dibaca koq di link di atas.

Aku rasa, kali ini Donald Trump salah deh. Kalo aku jadi beliau, aku akan memecat Allie, PM-nya Synergy. Ya, mungkin Andrea memang nggak begitu akrab sama yang lain dan mengganggu PM sedikit banyak tapi jelas koq kalo dia bukan alasan utama atas kekalahan mereka. Synergy kalah karena:

kalah start

dan

lokasi yang salah

(Gold Rush sudah duluan menempati tempat yang bagus). Keduanya adalah alasan utama kekalahan mereka dan itu adalah kesalahannya Allie. Kekalahan bukan karena desain Andrea dan kekurangmampuannya-menjual barang. Misalnya aja Andrea bagus banget dalam penjualan juga gak akan mengubah hasil soale marginnya antara kedua tim jauh banget koq. Kesalahan cukup fatalnya Andrea mungkin adalah dia telat ngomongin kalo dia bagus dalam menjual grosir. Allie juga membuat kesalahan kecil dengan menemani Tammy ngambil notes yang ketinggalan di Ellis Island. Desain mungkin mempengaruhi sales, tapi nggak besar2 amat. Kalo Synergy dapet lokasi yang lebih bagus dari Gold Rush, bahkan dengan desain yang kalah, mereka masih bisa menang. Hmmm.... . Ah, mungkin satu pertimbangannya Donald Trump tuh kalo Andrea selamet, mungkin Synergy ga akan kerja maksimal di tugas selanjutnya soale kayaknya kan Allie - Roxanne - Tammy ada ikatan yang kuat di antara mereka, he3... :)