ENGLISH
Today, as my friends and I had planned before, we went to Solo to hang out (because keep staying in Jogja is definitely not fun and boring). Originally, 5 people (including me) would go to Solo, but because of some reasons (and some really pissed me off (I will write here next time in few days)), so only three of us went to Solo. Well, as you can read at
this entry
, this morning (in Indonesia) the show
Miss Universe 2006
pageant was on air, and one TV channel in my house showed it live. At first, we planned to go at about 10.30 AM, after the show finished, but after thinking about it and counting the time, I decided to depart a bit earlier at 9 AM, still, I could watch that show tonight at 8 PM or 9 PM.
>> fast forward
We arrived at Solo at about 10.45 AM, and at first we dropped at Solo Square Mall. After dropping off some stocks for my shop there, we walked around Solo Square. I think, Solo Square is an exclusive mall, not so big, but exclusive and classy. One big weakness for today (and probably some months later) is,
many
some stalls or tenants haven't operated yet, even the anchor tenant, Matahari, has operated, I think the mall is still pretty dry. On the second story, only one tenant which has already operated, how pathetic is that?? Then, one problem appeared. One of my shop's display showcase (there is a tenant exhibition in Solo Square) fell down (because the mall's office boys weren't careful moving that showcase), and as a result, the glass of one side of it broke into many pieces. And after managing and reporting to the main office in Jogja, this problem was solved.
Then, we left Solo Square and headed to Solo Grand Mall. At 12.10 PM we arrived there, and again, after dropping off some stocks for my shop, we walked around SGM. At first we planned to watch movie, but finally we cancelled it because none of the movies today there was interesting and really forced us to watch. Those movies are:
Superman Returns
,
Pirates of The Caribbean II
,
The Brokeback Mountain
, and
Gotcha
. So, we only had lunch there and walked around the mall, then we left SGM. It was still 1.30 PM in the afternoon, so we wasted our time by going to the airport (my friend was so curious about Solo's airport), then we went back to Jogja. At 3.30 PM we arrived at Jogja, and before we went back home, we went to Toga Mas Bookstore first, then had dinner at a small restaurant just next to it. Then, we really went back home.
Watching the show Miss Universe 2006, just like what I predicted before, Nadine doesn't win, she wasn't even in the top 20, and didn't win any other rewards (
Miss Photogenic >> Miss Phillipines, Miss Congeniality >> Miss Ghana,
and
Best National Costume >> Miss Japan
> I really like the costume, not a kimono, but a samurai armor along with the sword which is so inovative and cool... :D, Nadine's costume was also interesting actually... :D). Finally, congratulation to Miss Puerto Rico, Zuleyka Rivera Mendoza, for being the next Miss Universe replacing Natalie Glebova... :)
::: Kassaya Solo Square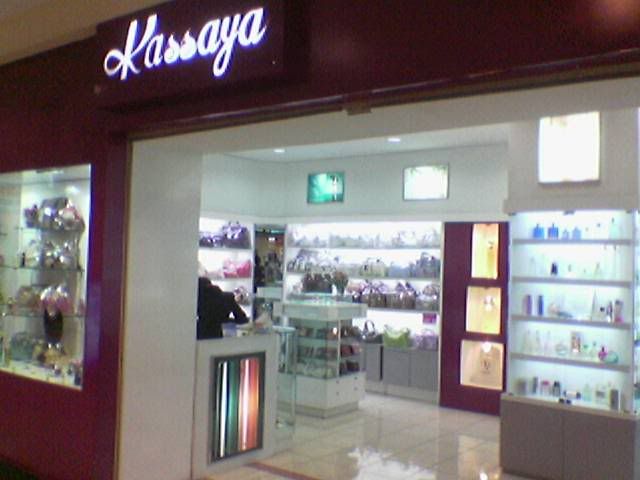 ::: Kassaya Solo Grand Mall
::: Miss Puerto Rico after being crowned as Miss Universe 2006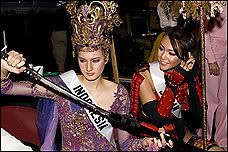 ::: Nadine Chandrawinata (Putri Indonesia) and Kurara Chibana (Miss Japan)
::: Nadine's National Costume (Dewi Kencanawungu)

BAHASA INDONESIA
Hari ini, seperti yang sudah direncanakan sama aku dan temen-temenku, kita pergi ke Solo untuk jalan-jalan (soalnya tetep berdiam di Jogja juga sangatlah nggak menyenangkan dan juga membosankan). Awalnya, ada 5 orang (termasuk aku) yang akan pergi ke Solo, tapi karena beberapa alasan (dan beberapa bener-bener membuatku marah (akan aku tulis disini beberapa hari ke depan ini)), jadi cuma bertiga deh ke Solonya. Seperti yang bisa dibaca pada
postingan ini
, pagi ini (di Indonesia), show
Miss Universe 2006
ditayangkan di tv, dan salah satu stasiun tv di rumahku menayangkannya langsung. Jadi awalnya, kita berencana berangkat jam 10.30 pagi, setelah shownya selesai, tapi habis memikirkannya dan berhitung waktu, aku memutuskan untuk berangkat agak pagian, jadm 9, soalnya kan aku tetep bisa menonton malam ini, jam 8 atau jam 9.
>> dicepatkan
Kita sampai di Solo sekitar jam 10.45 pagi, dan pertama kita berhenti di Mall Solo Square. Setelah mengantar beberapa barang ke tokoku disana, kita jalan-jalan di Solo Square. Menurutku, Solo Square adalah mall yang ekslusif, nggak terlalu besar tetapi eksklusif dan berkelas. Satu kelemahan besar hari ini (dan mungkin beberapa bulan ke depan) adalah,
banyak
beberapa toko atau penyewa belum beroperasi, walaupun penyewa utamanya, Matahari sudah beroperasi, menurutku mallnya masih "kering". Di lantai dua, malah baru 1 penyewa yang sudah beroperasi, menyedihkan kan?? Trus, satu masalah muncul. Satu dari lemari display tokoku (lagi ada pameran penyewa di Solo Square) jatuh (karena office boys-nya mall kurang berhati-hati membawa lemari itu), dan sebagai hasilnya, kaca dari salah satu sisinya pecah berkeping-keping. Dan habis mengurus dan laporan ke kantor di Jogja, masalahnya beres.
Trus, kita meninggalkan Solo Square dan menuju Solo Grand Mall. Jam 12.10 siang kita sampai disana, dan lagi, setelah mengantar beberapa barang untuk tokoku, kita jalan-jalan di SGM. Pertamanya kita berencana mau nonton film, tapi akhirnya nggak jadi soalnya nggak ada satu film pun hari ini yang menarik dan bener-bener memaksa kita untuk nonton. Film-filmnya:
Superman Returns
,
Pirates of The Caribbean II
,
The Brokeback Mountain
, dan
Gotcha
. Jadi, kita cuma makan siang dan jalan-jalan di dalam mall, kemudian meninggalkan SGM. Masih jam 1.30 siang, jadinya kita membuang waktu dengan jalan-jalan ke airport Solo (temenku penasaran banget sama bandara di Solo), trus balik ke Jogja. Jam 3.30 sore kita sampai di Jogja, dan sebelum pulang ke rumah, kita pergi ke Toko buku Toga Mas dulu, trus makan sore di restoran kecil di sebelahnya. Trus beneran pulang ke rumah.
Nonton show Mis Universe 2006, seperti yang sudah aku prediksikan sebelumnya, Nadine nggak menang, bahkan dia nggak masuk ke dalam 20 besar, dan nggak memenangkan rewards lainnya (
Miss Photogenic >> Miss Phillipines, Miss Congeniality >> Miss Ghana,
and
Best National Costume >> Miss Japan
> aku bener-bener suka kostumnya, bukan kimono, tapi baju zirah samurai lengkap dengan pedangnya yang sangat inovatif dan keren... :D, kostumnya Nadine menarik juga sih sebenernya... :D). Akhirnya, selamat kepada Miss Puerto Rico, Zuleyka Rivera Mendoza, untuk menjadi Miss Universe selanjutnya menggantikan Natalie Glebova... :)