ENGLISH

This morning I got up at 10 AM, then I just did my routinities which are very boring.... :( At 1 PM, I went to Plaza Ambarrukmo with my friends, planning to watch the movie:
Pirates of The Caribbean II, The Dead Man's Chest
. At 2 PM, we arrived there, and the closest hour the movie would start was at 4 PM. Therefore, we had to waste spend 2 hours in the mall. First, we went to Gramedia, not to buy any books, just looked at some books and read them, he3... :) After that, because my friends were all starving hungry, so we had lunch at Qua Li (Haze, now I got the pics, he3... :D). We finished having lunch at 3.10 PM, it was still 50 minutes before the movie started, so we went downstairs to Carrefour to buy drinks, snack, etc.

At 4 PM, we went to Cinema 21, then we entered the room (studio 1). The movie was good, and also funny. It was pretty entertaining, even at some serious scenes such as when the kraken was about to eat Capt. Jack Sparrow, when Capt. Jack was almost to be burnt then eaten by the barbarian tribe, etc... . At 6.20 PM, the movie finished, then we left PA and dropped in Gramedia Soedirman. I bought nothing there, then we went back home.

--- NEWS ---
Well, another shocking news shocked us today. At 3.10 PM, there was another massive earthquake (6.8 RS) shook Pangandaran Beach (West Java) and that village was "sunk" by the tusnami caused by the earthquake.... :( Well, There was a rumor said that that earthquake was also "felt" at Surabaya, but we here, at Jogja which is closer geographically to Pangandaran than Surabaya, didn't feel that earthquake.... .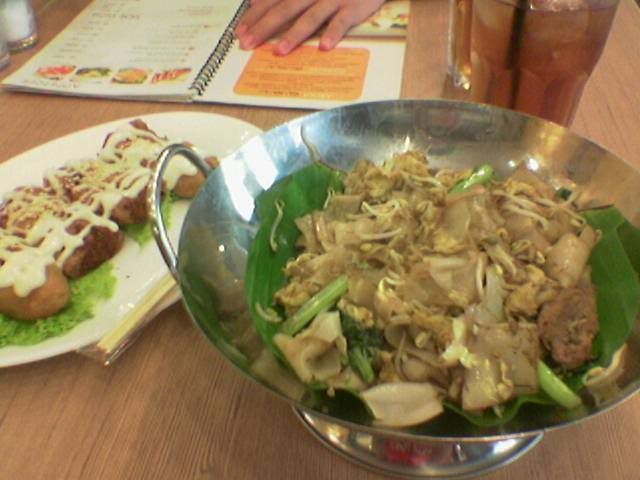 ::: Mayonaisse Lumpia and Beef Fried Kwe Tiauw @ Qua Li > special 4 Haze, he3... :)


::: My tickets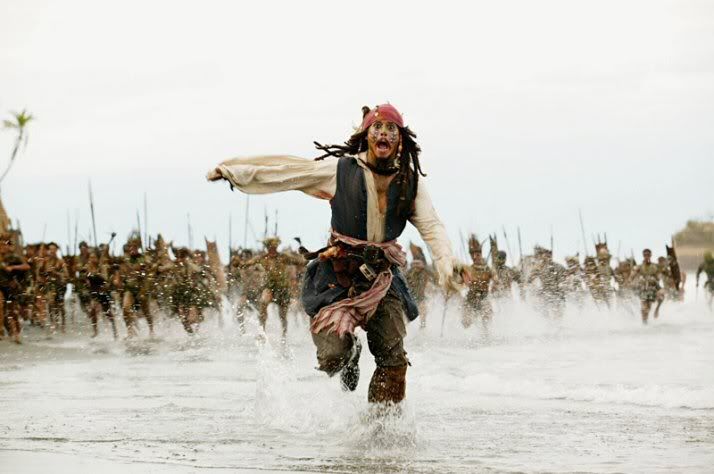 ::: Johnny Depp @ PoTC II


::: Orlando Bloom and Kiera Knightley @ PoTC II



BAHASA INDONESIA

Pagi ini aku bangun jam 10 pagi, trus aku melakukan rutinitasku yang sangatlah membosankan... :( Jam 1 siang, aku pergi ke Plaza Ambarrukmo sama temenku, berencana untuk nonton: Pirates of The Caribbean II, The Dead Man's Chest. Jam 2 siang, kita sampai disana, dan jam terdekat filmnya bakalan mulai adalah jam 4 sore. Makanya, kita harus membuang menggunakan waktu 2 jam di dalam mall. Pertama, kita pergi ke Gramedia, nggak untuk beli buku apapun, cuma lihat beberapa buku, dan membacanya, he3... :) Habis itu, karena temenku tuh lagi kelaparan laper, jadi kita makan siang di Qua Li (Haze, kali ini aku nggak lupa ngambil gambarnya, he3... :D). Kita selesai makan jam 3.10 sore, masih 50 menit sebelum filmnya mulai, jadi kita pergi ke Carrefour di bawah untuk beli minuman, snack, dll.

Jam 4 sore, kita pergi ke Cinema 21, trus masuk ke ruangannya (studio 1). Filmnya bagus juga, dan juga lucu. Lumayan menghibur loh, bahkan dalam beberapa adegan yang serius, misalnya waktu Kapten Jack Sparrow akan dimakan sama monster krakennya, waktu Kapten Jack nyaris dibakar trus dimakan sama suku bar-bar, dll... . Jam 6.20 sore, filmnya selesai, kita meninggalkan PA dan mampir di Gramedia Soedirman sebentar. Aku nggak beli apa-apa sih disana, trus kita balik ke rumah.
--- BERITA ---

Hmm, berita mengejutkan lainnya mengejutkan kita hari ini. Jam 3.19 sore, ada gempa besar lainnya (6,8 SR) yang mengguncang Pantai Pangandaran (Jawa Barat) dan desanya "tenggelam" karena tsunami yang diakibatkan gempa tsb... :( Ada isu yang mengatakan kalo gempa itu juga terasa di Surabaya, tapi disini, di Jogja yang secara geografis lebih dekat ke Pangandaran daripada Surabaya, nggak merasakan gempa itu.... .