ENGLISH

As you can read at
this
and
this
entries, last week I looked for a new laptop for myself because when I'm in Bandung next month, I think I'm gonna need this gadget... :) Finally, last Wednesday, my laptop arrived at my house, and my parents bought me the hp one (if you have no idea what you are listening reading right now, please read
this
entry). Today, I also installed a new gadget for my computer here, this gadget is a USB Camera.. :). You can see the pics below

Btw, in the last 2 days (last Wednesday and Thursday), some lil' weird things happened at Yogyakarta. On Wednesday evening, there was a strange reddish white ray / cloud in the sky. It stretched along the sky from the north-east to the south-west direction (actually the location of that strange light / cloud was to the east of Yogyakarta, so it looked low at the north side and pretty high at the south side) >> I don't have the pic, so try to imagine in your mind, he3... :D And then, today the weather here in Yogyakarta was also strange. Since several weeks ago, the dry season has already come, and of course, the temperature is supposed to be pretty high and hot. But today, a strange thing happened. This morning, it was raining here in Yogyakarta, the weather was cloudy all the day, and the temperature was pretty cool... . Hmm....


::: my new laptop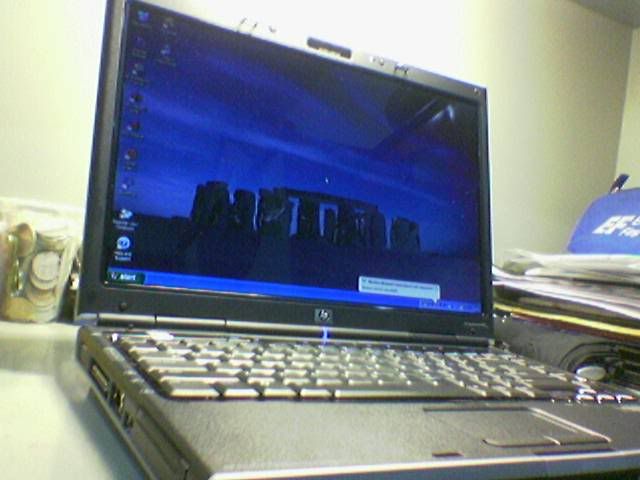 ::: my new laptop


::: my new USB Camera


::: A Weird Cloudy Day in Yogyakarta



BAHASA INDONESIA

Seperti yang bisa dibaca pada postingan
ini
dan
ini
, minggu lalu aku mencari sebuah laptop yang baru untuk aku sendiri soalnya waktu aku di Bandung bulan depan, kayaknya sih aku bakalan membutuhkan peralatan elektronik ini.... :) Akhirnya, kemarin Rabu, laptopku sampai di rumahku, dan orangtuaku membelikan aku yang hp (kalo kamu nggak ada ide apa yang kamu dengarkan baca sekarang, tolong baca postingan
ini
). Hari ini, aku juga menginstal peralatan baru untuk komputerku disini, peralatan itu adalah sebuah Kamera USB... :) Ada gambarnya di atas koq

Ngomong-ngomong, dua hari terakhir ini (kemarin Rabu dan Kamis), beberapa hal kecil yang aneh terjadi di Yogyakarta. Pada hari Rabu sore, ada sebuah cahaya / awan putih kemerahan yang aneh di langit. Cahaya / awan itu memanjang di langit dari arah timur laut ke arah barat daya (sebenernya letaknya sih di sebelah timurnya Kota Yogyakarta, makanya dari sini kelihatan rendah di bagian utara dan tinggi di bagian selatan) >> aku nggak punya gambarnya, jadi tolong dibayangkan sendiri, he3... :D Trus, cuaca hari ini di Yogyakarta juga aneh banget. Sejak beberapa minggu yang lalu, musim kemarau sudah datang, dan tentu saja, suhu udaranya seharusnya lumayan tinggi dan panas. Hari ini, hal yang aneh terjadi. Pagi ini, di Yogyakarta ternyata hujan, cuacanya berawan sepanjang hari, dan suhu udaranya lumayan dingin... . Hmm....