ENGLISH

Just as I wrote last week at
this post
, today my class had our last farewell "party". For me, it's not really a party where we SPENT our time, but we WASTED our time (or at least my time). Why?? Yesterday one friend called me to arrive at school at 5 PM today, okay, I arrived 5 minutes before 5 PM, and guess what?? Most (or almost all) friends hadn't arrived yet, and we had to wait for about 1 hour... :( Well, we actually decided to go to one of our teacher's home and had dinner there (the menu is "special", dog tongseng, but for those who are Moslem and Hindu, they ate chicken tongseng).

At 5.50 PM, finally we left our school (we met at school), and arrived at about 6.30 PM at our teacher's house (it was pretty far from Jogja, about 15 km I think, but because his house is not on the main street, so it's pretty difficult to find... :( ). Well, when we arrived there, we still had to wait, and you know what?? He had to wait for almost 2 hours!! At 8.10 PM finally we started having dinner... . After that, my friend and I decided to go home earlier (well, it was no use staying there, some friends planned to get drunk and smoke... :( ). Then, because my friend was still hungry, so we went to KFC and had dinner again there, lol... :P After that we went back home.

Last week, I got a prize from school, and after unwrapping it, apparently I get 2 books and a jacket!! That's pretty nice... :D

Well, talking about the show Indonesian Idol last night. I think some of them did great, the best was, for me, Maria (I scored 9.3) and the worst was Christy (4.5). And Indonesia decided the bottom three was: Christy, Dirly, and Sisi. After surviving for 3 weeks from elimination of bottom three, finally Sisi got voted off.

Yaaay, finally

Oggix

has fixed the problem!! So, again, I go back to

Oggix

for my Shout Box!!


::: dog tongseng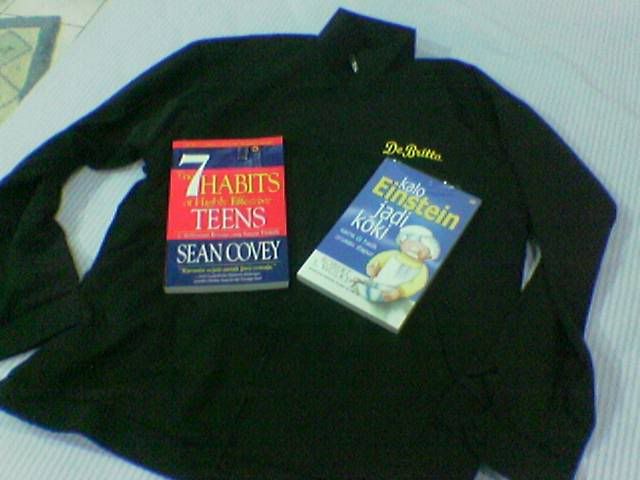 ::: My prize (jacket and 2 books)


::: Bottom three this week



BAHASA INDONESIA

Seperti yang sudah aku tulis minggu lalu di
postingan ini
, hari ini kelasku mengadakan "pesta" perpisahan kami. Untuk aku, itu bukan suatu pesta dimana kita MENGHABISKAN waktu kita, tapi kita MEMBUANG waktu kita (paling nggak untuk aku sih). Kenapa?? Kemarin temenku telepon aku untuk datang jam 5 sore hari ini, oke, aku datang jam 5 kurang 5, dan tebak apa?? Kebanyakan (atau hampir semua) temenku belum datang ternyata, dan kita harus menunggu sekitar 1 jam... :( Hmm, sebenernya sih kita merencanakan untuk pergi ke rumah salah satu guru kami dan makan malam disana (menunya "special", tongseng anjing, tapi untuk mereka yang Muslim dan Hindu, mereka makan tongseng ayam).
Jam 5.50 sore, akhirnya kita meninggalkan sekolah kita (kita bertemu di sekolah), dan sampai sekitar jam 6.30 sore di rumah guru kami (lumayan jauh sih dari Jogja, sekitar 15 km kayaknya, tapi karena rumahnya nggak di pinggir jalan utama, jadinya ya agak susah juga menemukannya... :( ). Trus, ketika kita sudah sampai disana, ternyata kita masih haris menunggu, dan tau nggak?? Kita harus menunggu selama hampir 2 jam!! Jam 8.10 malam akhirnya kita bisa mulai makan... . Habis itu, temenku sama aku memutuskan untuk pulang duluan (nggak ada gunanya lah tinggal disana, beberapa temen malah berencana mau mabuk sama ngerokok... :( ). Trus, karena temenku masih laper, jadinya kita pergi ke KFC dan makan lagi disana, lol... :) Habis itu kita balik ke rumah.

Minggu lalu, aku dapet hadiah dari sekolah, dan setelah membuka bungkusnya, ternyata aku dapet 2 buah buku dan sebuah jaket!! Lumayan juga tuh... :D

Ngomong-ngomong tentang show Indonesian Idol tadi malam, menurutku beberapa melakukannya dengan baik, dan yang terbak adalah, menurutku, Maria (aku kasi nilai 9.3) dan terjelek adalah Christy (nilai 4.5). Dan Indonesia memilih 3 terbawahnya adalah: Christy, Dirly, dan Sisi. Setelah bertahan selama 3 minggu dari ancaman eliminasi tiga terbawah, akhirnya Sisi tersisih.

Yaaay, akhirnya Oggix sudah memperbaiki permasalahannya!! Jadi, lagi, aku kembali ke

Oggix

untuk Shout Box-ku!!