ENGLISH
Well, if I could have
fun weekend
two times in a row
, then of course I can have another
crazy week
, right? Yup, that is my theme this week: I have another crazy week.
Anyway, before that, as you can read at
my previous entry
, I was really waiting for snow to come in Delft and I missed some of the first ones because it happened during my sleep-time in the night. But then, this week, I finally got it!! IT WAS SNOWING!!!! YEAAAAHHH!!!! I was really happy to finally experience snow in my life!! Well, aside from the really cold temperature (below 0) and many frozen stuffs (i.e: my bike's gear), snow is cool!! :-)
Back to topic. Yes, I am having a crazy week now. Now I am writing this entry because I am kinda in the middle of my resting time. I am really exhausted and continue working on stuffs
now
is (I think) a bad idea since my brain is definitely not in a 100% condition now, I will make some small unnecessary mistakes and I tend to overthink a problem when I am tired. Well...
So, I have another two assignments this week. Well, usually, having two regular assignments in one week was still okay, I could handle them. But this week, finishing them requires much more effort, time, brain-power, and more discussions. The assignments are (for me) more complicated and thus needing more focus on them. The thing is, the ammount of time we have is still the same. So ... . Well, wish me luck!! I have finished one of them (and finishing it took one day LONGER than I expected last week) and the second one, well, I should not take that for a granted and the deadline is next Friday...
The thing is, assignments is not the only "thing" I have this week. Last Sunday, I found something horrible. Apparently, there has been some leakages in my apartment causing water sipping in through the wall. This caused my apartment to be damp and of course it was not healthy. Plus, this is the most disgusting part: last Sunday, when I tried to replug my internet cable (because I accidentally unplugged it), I found out that there were apparently some
fungi
that grew in my room!! I was so shocked!! I had never seen them before because they (smartly) grew in a place that I always overlooked (in one secluded corner of my room). I immediately contacted the caretaker and he said that it was a really bad problem.
The problems caused by the leakages were that bad so that it would need a full-time reparation to repair my apartment. It would not be a quick repair as they have to repaint the wall, clean the fungi (of course), fix the leakages, and some other things. It means that I cannot stay there during the process and I need to move somewhere. Since it is not my fault, I asked the housing company to find a temporary housing for me this afternoon. They found one and luckily they arranged a housing just nearby my old apartment (if not, it would have been a hell for me as I will have to move back to my old apartment after the reparation is finished).
Well, so, that was part of my story today. I had to move
ALL
of my stuffs from my apartment to my temporary apartment. Plus, as you may know, Wednesday is a long day. Well, "lucky" the morning class was cancelled today so I could have a little bit longer rest last night which gave me more energy today. But still, it was so tiring. This is the reason why I do not really like
moving
.
At least the day is coming to an end now and basically everything is done. So I can dedicate all of my day tomorrow working on the second assignment. Well, wish me luck!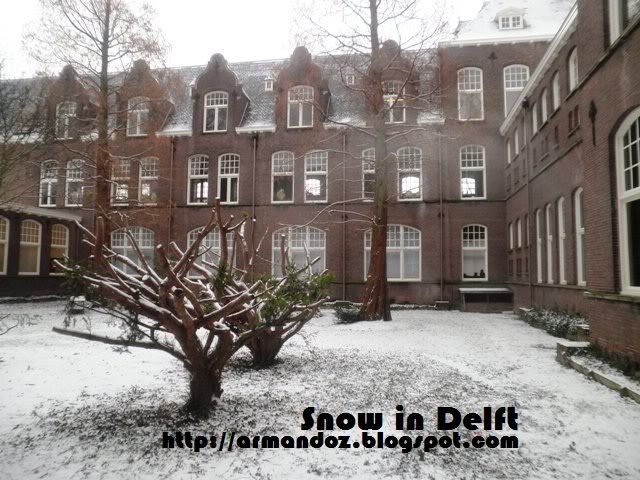 ::: Snow at TU Delft Science Center.
::: If you think this was a road, you are wrong,
big time
!!! It was a
FROZEN
canal (yea, it was that cold, a canal this big was frozen!!)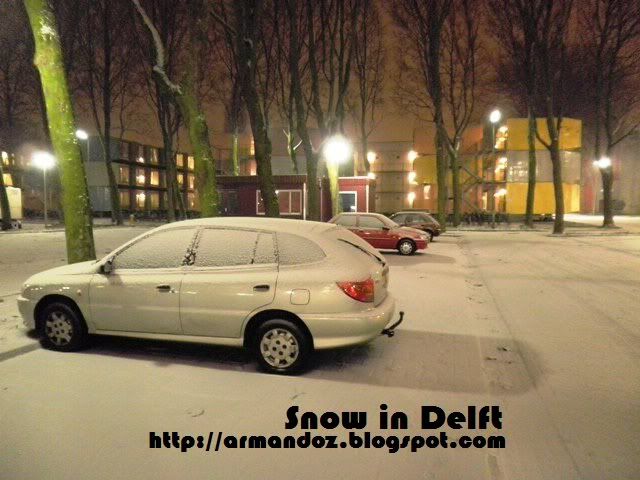 ::: White Snow and A Car.
::: White snow in Delft.
::: winter at TU Delft Campus.

BAHASA INDONESIA
Ya, kalau aku bisa mengalami
wiken yang menyenangkan
dua minggu berturut-turut
, tentu aku juga bisa mengalami
minggu gila
lagi kan? Yup, itulah temaku minggu ini: Aku mengalami minggu gila lainnya.
Ngomong2, sebelum itu, seperti yang bisa dibaca
di postingku sebelumnya
, aku sangat menantikan salju untuk turun di Delft nih dan aku melewatkan beberapa kesempatan pertama soalnya kejadiannya pas malam banget. Kan aku tidur jam sgitu. Tapi kemudian, minggu ini, akhirnya aku mendapatkannya!! Minggu ini BERSALJU!!!! YEAAAAHHH!!!! Aku senang sekali akhirnya bisa merasakan yang namanya salju dalam hidup ini!! Yah, selain suhunya yang dinginnya ga ketulungan (di bawah 0 loh) dan banyak hal yang membeku (misalnya gigi sepedaku), salju itu keren!! :-)
Balik ke topik. Ya, aku mengalami minggu yang gila sekarang. Aku bisa menulis
posting
ini sekarang karena aku berada di waktu istirahatku. Aku sangat lelah hari ini dan kembali mengerjakan pekerjaan
sekarang
adalah hal yang buruk (aku rasa) karena otakku jelas tidak sedang berada dalam posisi siap 100%. Aku akan membuat beberapa kesalahan tak penting kecil dan aku cenderung berpikir terlalu jauh ketika capek. Yah...
Nah, minggu ini tuh aku memiliki dua tugas yang harus dikupul. Biasanya sih, dua tugas dalam seminggu itu masih oke lah, aku masih bisa meng-
handle
-nya dengan baik. Cuma minggu ini, menyelesaikan dua tugas membutuhkan usaha yang lebih, waktu yang lebih, pemikiran yang lebih, dan lebih banyak diskusi. Tugasnya (menurutku) lebih rumit dan membutuhkan fokus lebih banyak. Masalahnya, jumlah waktu yang kami punya kan masih sama aja. Jadi ya... . Ya, doakan aku yah!! Aku sudah menyelesaikan satu diantaranya (yang beresnya sehari LEBIH LAMA daripada yang jangkaan awalku minggu lalu) dan yang kedua, yah, nggak bisa diremehkan juga dan
deadline
-nya Jumat ini nih...
Masalahnya, tugas bukanlah satu-satunya hal yang terjadi minggu ini. Hari Minggu kemarin, aku menemukan sesuatu yang sangat mengerikan. Ternyata, ada beberapa kebocoran di apartemenku yang menyebabkan air bisa merembes masuk melalui dinding. Ini menyebabkan udara di dalam kamar menjadi lembab dan tentu ini nggak sehat. Dan, ini nih hal yang paling menjijikkan: Hari Minggu lalu ketika aku akan membenarkan posisi kabel internet (aku nggak sengaja menarik kabelnya), aku menemukan bahwa ternyata ada beberapa
jamur
yang tumbuh di dalam kamar!! Aku sangat kaget sekali!! Aku tidak pernah melihatnya sebelumnya karena mereka (dengan cerdiknya) tumbuh di tempat yang selalu nggak aku perhatiin (di pojokan kamar yang sangat terpencil). Aku langsung mengontak
caretaker
apartemenku dan dia berpendapat bahwa ini adalah masalah yang sangat buruk.
Masalah yang ditimbulkan kebocoran ini parah banget sampai reparasi penuh dibutuhkan untuk memperbaiki masalahh ini. Proses ini nggak akan berlangsung cepat karena mereka kan harus mengecat ulang tembok, membersihkan jamur (tentu saja), memperbaiki kebocoran, dan hal-hal lainnya. Artinya, aku tidak bisa dong tinggal disana selama proses ini dan aku harus pindah kemana gitu. Karena ini bukan salahku, aku meminta perusahaan penyedia tempat tinggal ini buat mencarikan tempat tinggal sementara buatku siang ini. Mereka menemukan satu dan untungnya mereka mencarikan tempat tinggal yang dekat banget sama apartemen lamaku (kalo engga bisa mati deh aku soalnya nanti aku juga harus balik lagi ke apartemen lama setelah proses reparasi selesai).
Yah, itulah satu bagian dari ceritaku hari ini. Aku harus memindahkan
SEMUA
barang-barangku dari apartemenku ke apartemen sementaraku. Plus, seperti yang mungkin uda pada tahu, Rabu adalah hari yang panjang di kampus. Yah, "untungnya" kelas pagi tadi ditiadakan jadi aku bisa beristirahat agak lamaan semalam yang memberikanku lebih banyak energi hari ini. Tapi masih aja, capek banget nih. Inilah alasan mengapa aku nggak gitu suka
pindahan
.
Setidaknya hari ini sudah selesai sih dan semua urusan hari ini sudah selesai. Jadi aku bisa menggunakan seluruh waktuku besok untuk mengerjakan tugas kedua. Yah, doakan aku ya!