ENGLISH
Okay, it has kinda been awhile since
my last update
, and it was longer than I expected it to be. Not that I was "that" busy this week (click that link above to get what I meant by "that"), but I was kinda not feeling about writing something up earlier this week, haha. Anyway, also stated in that link, I had a funtastic weekend last week. I'll try to keep everything in a nutshell now:
On Saturday, I joined an excursion held by the international office of TU Delft for international students to the Neeltje-Jans
Delta Works
in Zeeland. Some sources said it was considered to be the eight wonder of the world, and this even made me more excited to get there. It was really a great deal as we only needed to pay 7.50 euro for the entrance fee and to bring our own lunch (or buy there).
So, there I went last Saturday. It was pretty far away, about 90 minutes bus-ride from Delft. Though it was not sunny that day, but at least it was not raining, so I was really pleased with that. Anyway, there, we watched a (supposedly) 3-D documentary about the project (but up to now, I still do not understand what was so "3-D" about that as to me, it was just an ordinary 2-D movie, LOL). Then, we went around the park. And in the afternoon, we joined a 1 hour boat-tour around the delta. I really think the place was fantastic and marvelous but to me, it is not a touristy place. Yes, engineers (like many of TU Delft's students) will be so interested and happy to go there, but I do not think people will go there for a vacation (at least me). I think that's why it was called "excursion" and not "picnic", LOL. Btw, there were several attractions there, like some slides, a water park, etc but they were all
NOT
working while we went there, whatta shame!!
Saturday night, I went to my friend's place to have a Mexican dinner there while also planning about our
year-end trip to Italy
. It was a really fun night! And also I had my first ever taste of an: enchiladas! LOL
On Sunday, my friends and I went to a city called Leuven, in Belgium. I took my first ever international train-ride that day, quite exciting, rite?? :-) At first the weather was not that great as it was drizzling a bit when we arrived at Leuven. But some minutes later, it stopped, thanks God! :-) Anyway, Leuven was a really nice small town. I really like one park there (I do not know the name but it was beautiful).
We spent the whole day in Leuven and took the 7.45 PM train back to Delft. O yea, with train, it was a three hour trip from Delft to Leuven as it was pretty far away. On our trip from Mechelen until Antwerpen, we did not get any seat as the train was so damn full. Lucky after that we got some, haha...
Well, that is pretty much my fun weekend last week. I am expecting another funtastic weekend this week as I am going to Belgium again this Saturday, and I am going to Den Haag this Sunday!! hehe :-)
::: Dam as part of the Delta-Works.
::: The boat used in the boat-trip in Neeltje-Jans.
::: Enchilada my friend cooked.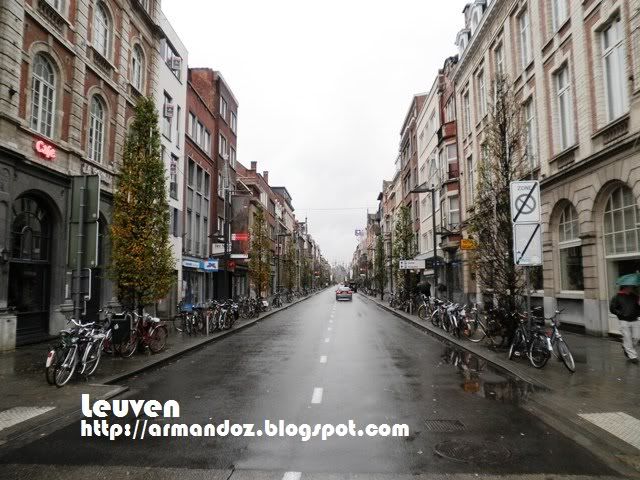 ::: One spot in Leuven, Belgium.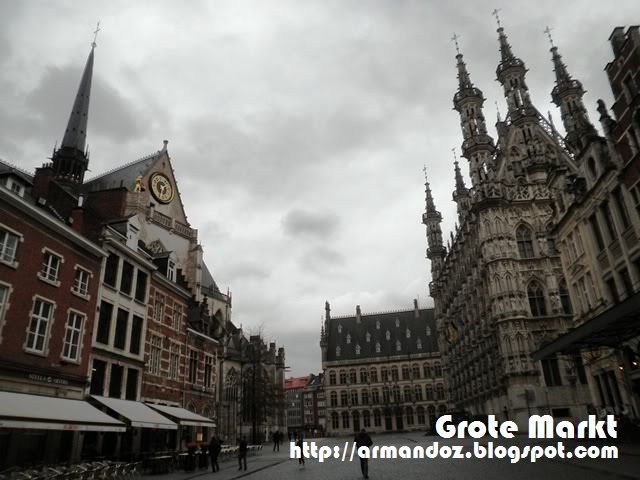 ::: Grote-Markt in Leuven.
::: Oude-Markt in Leuven.
::: Cool picture of autumn in Leuven.
::: Autumn in Leuven.
::: Grote-Bijgenhof. The site reminded me of some movies about the World Wars.
::: Library in Leuven.
::: A really weird monument about a back-stabbed bug in the square of the library of Leuven.

BAHASA INDONESIA
Oke, agak lama juga ya sejak terakhir kali aku
update
disini, lebih lama dari sangkaan awalku. Yah, bukannya aku sesibuk "itu" minggu ini (klik
link
di atas untuk mengetahui apa yang aku maksud dengan "itu"), tapi rasanya rada angin2an untuk nulis aja awal minggu ini, haha. Ngomong2, seperti yang kusebut di
link
di atas, wikenku minggu lalu sangat asik banget. Aku coba tuliskan secara singkat ya:
Di hari Sabtu, aku mengikuti studi ekskursi yang diadakan kantor internasionalnya TU Delft untuk mahasiswa internasional ke Neeltje-Jans
Delta Works
di Zeeland. Beberapa sumber menyebutkan tempat ini dibilang sebagai keajaiban kedelapan di dunia, dan ini membuatku makin penasaran aja. Acara ini ok banget loh soalnya kami cuma perlu membayar 7,5 euro sebagai biaya masuk dan membawa makan siang sendiri (atau beli disana).
Jadi, kesanalah aku pergi Sabtu minggu lalu. Tempatnya lumayan jauh juga, sekitar 90 menit naik bus dari Delft. Walau hari itu nggak cerah, tapi setidaknya nggak hujan lah, makanya aku senang karenanya. Trus, disana, kami menonton film dokumenter (yang seharusnya) 3-D tentang proyek itu (tapi sampai sekarang aku masih nggak ngerti film itu "3-D" darimananya sih, soalnya untukku kerasa kaya film 2-D biasa aja, LOL). Trus, kami berkeliling taman di sekitarnya. Siangnya, kami ikutan tur dengan kapal selama sejam mengelilingi delta itu. Aku rasa tempatnya memang hebat dan keren tuh tapi untukku, tempatnya bukan untuk turis deh. Ya, insinyur (kaya kebanyakan mahasiswa TU Delft) tentu akan bersemangat dan senang pergi kesana, tapi aku rasa orang nggak akan kesana untuk liburan (paling nggak untuk aku). Makanya ya disebutnya "studi ekskursi", bukan "piknik", LOL. Btw, sebenarnya ada beberapa atraksi sih kaya luncuran, taman air, dll tapi semuanya
NGGAK
beroperasi ketika aku disana, nyebelin banget!!
Sabtu malam, aku pergi ke tempat temanku untuk makan malam ala Meksiko disana sambil merencanakan acara
akhir tahun ke Italia
nanti. Benar2 malam yang asyik! Aku juga memakan untuk pertama kalinya sebuah: enchiladas! LOL
Di hari Minggu, aku dan teman-temanku pergi ke sebuah kota bernama Leuven di Belgia. Untuk pertama kalinya seumur hidup aku naik kereta internasional loh, asik kan?? :-) Pertamanya cuacanya agak nggak berkompromi soalnya gerimis kecil waktu kami tiba di Leuven. Tapi beberapa menit kemudian, untungnya hujannya berhenti, untunglah! :-) Ngomong2, Leuven adalah kota kecil yang sangat indah. Aku benar-benar suka sebuah taman disana (aku nggak tahu namanya tapi indah banget).
Kami menghabiskan waktu seharian di Leuven dan naik kereta jam 7.45 malam balik ke Delft. Oya, dengan kereta, Leuven lumayan jauh loh soalnya perjalanannya sekitar tiga jam tuh. Di perjalanan balik dari Mechelen sampai Antwerpen, kami nggak dapat kursi tuh di kereta soalnya lagi penuh banget. Untungnya setelahnya kami dapat kursi, haha...
Yah, itulah kira-kira ringkasan wiken mengasyikanku minggu lalu. Aku bisa berekspektasi wiken ini juga bakal asik sih soalnya aku akan pergi ke Belgia lagi Sabtu ini dan pergi ke Den Haag hari Minggu ini!! hehe :-)