ENGLISH
The end of the year is still a bit more than a couple of months ahead. But I have been thinking about it :-) I am very sure that I am
not
going back to Indonesia this end of the year because it will cost a lot (it is the peak season), beside I will also have exam in January and this holiday is only about 2 or 3 weeks. So, I don't think it is wise to go back home :D.
In the other hand, I also don't want to just stay miserably in my apartment during Christmas and New Year. Well, most of my European friends will go back to their homes because they live "nearby" here :D. So, what do I have? Only one option: travelling :-) Some friends and I, who are not going back home this end of the year, had been talking about it and we concluded that we need to go somewhere this Christmas. Beside, it is also going to be great if we go somewhere south so that it is not going to be as cold as in the Netherlands (even though we perfectly understand that we cannot expect something "warm" unless we go really south to, let's say, Africa or even South Africa or Australia or Southern America where it is going to be summer there, but that is, for sure, out of context).
Anyway, so, we were looking some informations about it. One of my friend was really eager to go to Italy. I was basically up for any country. My other friend at first was kinda more eager to go somewhere within train-distance. Then, I found an interesting offer from one LCC in Europe,
easyjet
, about flight ticket from Amsterdam to Milan, in northern Italy. I brought this info up to the table, and because it was a really good offer, we were all really "in" to it. And yesterday, we bought it!! WOW!! So, it is official now:
I am going to ITALY
this December - January!! YEAAHHH!!! Well, we bought Amsterdam - Milan ticket, and because we are scheduled to get back to Amsterdam after 2 weeks, we have a plan to go around Italy. I really want to go to Rome (Roma), Pisa, and Venice (Venezia). My friend wanted to go to Florence. Well, we will see. But I think it is going to be great if we spend Christmas in Rome and Vatican City!! And I know I
MUST
visit Venice before it sinks, LOL!! Yeah, I am so excited!! :)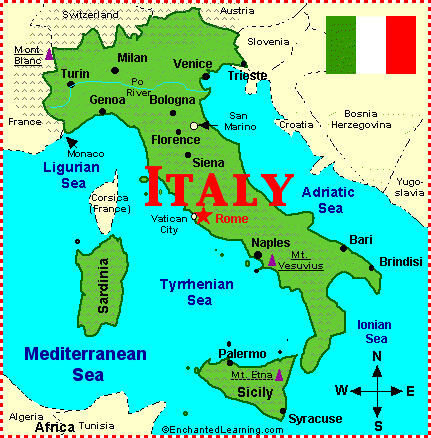 note : photos taken from here and here
.

BAHASA INDONESIA
Akhir tahun masih sekitar lebih dari dua bulan ke depan. Tapi aku sudah memikirkannya :-) Aku sangat yakin kalau aku
tidak
akan balik ke Indonesia akhir tahun ini karena biayanya mahal (kan lagi musim liburan tuh), disamping aku juga ada ujian di bulan January dan liburannya juga cuma sekitar 2 atau 3 minggu. Jadi, aku rasa bukanlah keputusan yang bijak untuk pulang :D .
Di sisi lain, aku juga nggak mau dong tinggal di apartemen aja dengan menyedihkan selama Natal dan Tahun Baru. Hampir semua temanku yang orang Eropa akan pulang ke rumah mereka karena mereka kan tinggalnya "dekat" dari sini :D. Jadi, apa dong pilihan yang tersisa untukku? Hanya satu pilihan: jalan-jalan :-) Beberapa teman dan aku, yang nggak akan pulang akhir tahun ini, sudah membicarakannya dan kami berkesimpulan bahwa kami harus pergi ke suatu tempat deh Natal ini. Disamping itu, kan ok juga ya kalau kita pergi ke suatu tempat yang agak selatan dikit yang nggak akan sedingin Belanda (walau kami sangat sadar koq kalau nggak mungkin deh kami bisa mengharapkan suatu tempat yang "hangat" kecuali kalau kami pergi benar-benar ke selatan kaya ke Afrika, atau malah sekalian Afrika Selatan atau Australia atau Amerika Selatan yang sedang musim panas, tapi itu kan, jelas, nggak dihitung lah).
Jadi, kami kemudian mencari info tentangnya. Satu teman sangat ingin pergi ke Italia. Aku sih kemana aja hayukk aja. Satu teman lain agak lebih senang untuk pergi ke suatu tempat yang bisa dijangkau dengan kereta. Kemudian, aku mendapatkan satu tawaran menarik dari maskapai LCC di Eropa,
easyjet
, mengenai penerbangan dari Amsterdam ke Milan, di Italia utara. Aku kemudian memberi-tahu mereka tawaran ini, dan kami sangat "tertarik" kepadanya. Dan kemarin, kami membelinya!! WOW!! Jadi, resmi deh sekarang:
Aku akan pergi ke ITALIA
bulan Desember - awal Januari ini!! YEAAHHH!!! Yah, kami membeli tiket Amsterdam - Milan memang, tapi karena kami dijadwalkan kembali ke Amsterdam setelah 2 minggu, kami berencana untuk sekalian keliling Italia deh. Aku sangat ingin pergi ke Roma, Pisa, dan Venezia. Temenku ada yang ingin pergi ke Firenze. Ya liat nanti deh. Tapi kayanya keren ya kalau Natalan di Roma dan Kota Vatikan!! Dan aku juga tahu kalau aku
HARUS
mengunjungi Venezia sebelum kotanya tenggelam, LOL!! Yeah, aku udah sangat bersemangat nih!! :)