ENGLISH
Okay, apparently, I have not been as productive (in blogging) as I expected to be on November, kinda weird though.
Anyway, so last weekend, I went to Belgium, again, for the second consecutive weekend. But this time, my friends and I went to a different city: Ghent. Wait, you have never heard of Ghent before?? Well, in that case, you are not alone, me too. Before my friend posted this
link from lonelyplanet
in Facebook about three weeks ago, I had never heard of Ghent before. The two closest cities in that list to where I live now were Ghent and Valencia. And because Ghent was waaay closer to Delft than Valencia, so suddenly this trip was planned.
So, last Saturday, this plan was executed. We took an international train ride to Antwerpen and took a local train there to get us to Ghent. We learnt from our experience that traveling on Sunday in Europe was a bad idea since many places were closed (I did not write this detail in
my last entry
. In that Sunday trip to Leuven, a
small
town in Belgium, most things (like stores, cafes, restaurants) were
closed
and of course it kinda sucked! It was a
small
town and everything in it was
closed
!! What would be the worse combination??). So we decided to go on Saturday :-)
Anyway, so we finally arrived in Ghent after about three hours of train-ride from Delft. Ghent was a much bigger city and it was more "alive" than Leuven (maybe it was because of the fact that I went to Ghent on Saturday while I went to Leuven on Sunday). There were many beautiful and classical buildings (like churches, cathedral, spire) and we could climb up the clock tower.
Aside from the magnificent architecture, I was really in love with one of the local delicacy (and I still remember the name, so that is a thing). It was stoverij. Stoverij was tender meat cooked for three hours in dark beer with a brown gravy. We tried this delicacy at one restaurant in the Historic Centrum (this might explain why it was kinda expensive (well, not "that" expensive tho for Europe standard): 15 euro). But it was daaaaamn goood!!! I encourage you all to try this menu if you visit Ghent! :-)
Anyway, that day we went to Ghent was apparently the day where the sinterklaas parade took place. And my professor said that the sinterklaas (and Zwarte Pit (Pit the Black)) would be in Delft the whole day. I was a little disappointed with this because I would not be in Delft that day and there would be something going on in Delft that day!?!? That sucked!!! (beside, I had not seen sinterklaas probably since I was in elementary school, LOL). Anyway, so that day in Ghent, apparently they celebrated the same tradition as I also met sinterklaas there!!! Yeaaahhh!!! Sure I did not get any present (c'mon, I was not a little boy anymore) but I was still happy! :D
Well, that pretty much summed up my Saturday. We went back to Delft later that evening after missing the 7.24 PM train (and we gotta take the 8.24 train because of that). Lucky this time the train was not "that" full so we got seat quite easily.
On Sunday, I got my first haircut in Europe and it cost me 12 euro. Well, the price was okay. Then, my friends and I had dinner at an Indonesian restaurant in Den Haag. I had soto babat :-)
::: Ghent's Historic Centrum.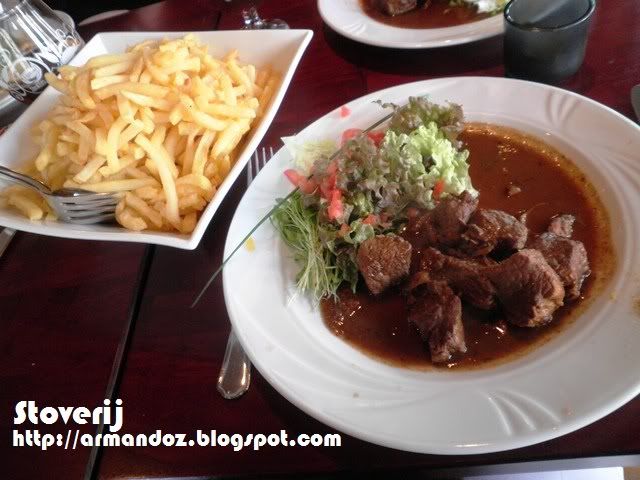 ::: A really delicious Stoverij with french fries.
::: Sinterklaas Parade in Ghent, really interesting to see!!
::: sinterklaas!!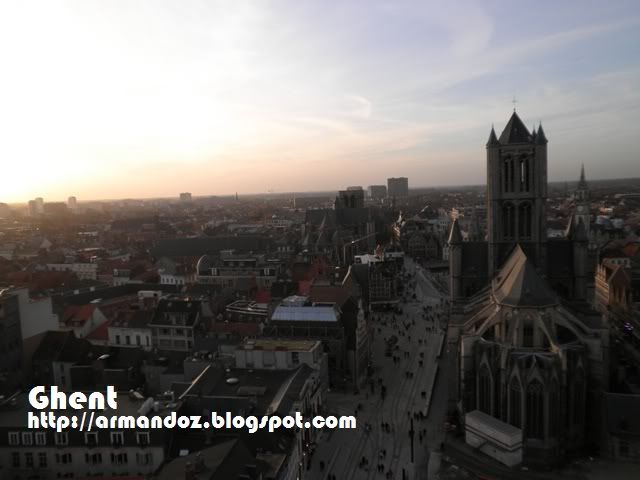 ::: The city of Ghent as seen from the top of Ghent Clock Tower.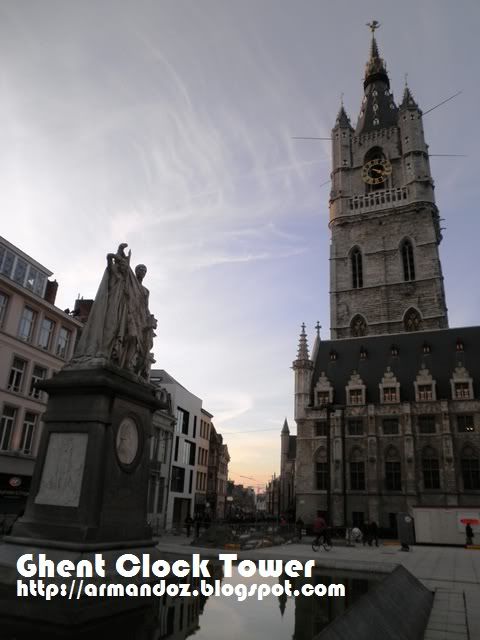 ::: Ghent Clock Tower.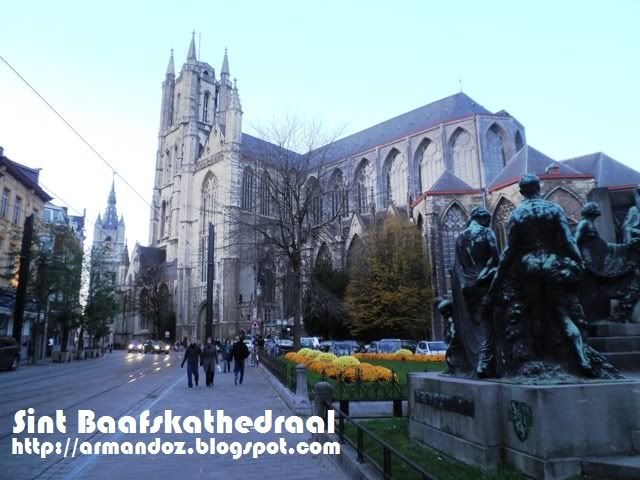 ::: Sint Baafskathedraal, Ghent, Belgium.
::: Sint Baafskathedraal, Ghent, Belgium with lights on.
::: The city of Ghent at night.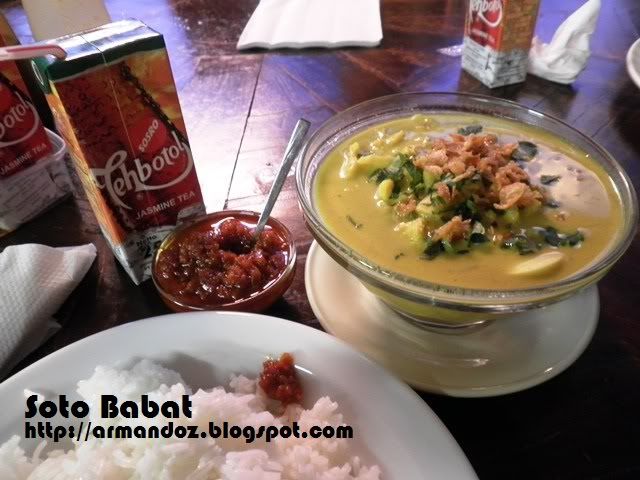 ::: Soto Babat!!

BAHASA INDONESIA
Hmmm, ternyata, aku tidak seproduktif (dalam hal nge-
blog
) yang aku bayangkan di bulan November ini, agak aneh nih.
Ngomong2, jadi wiken lalu, aku pergi ke Belgia, lagi, dua minggu berturut-turut. Kali ini, aku dan teman2 pergi ke kota yang lain: Ghent. Eh, belum pernah dengar Ghent sebelumnya?? Tenang aja, Anda nggak sendiri koq, aku juga. Sebelum temanku merujuk
tautan dari lonelyplanet
ini di Facebook sekitar tiga minggu yang lalu, aku juga belum pernah mendengar Ghent. Dua kota terdekat di daftar kota itu adalah Ghent dan Valencia. Dan karena Ghent itu jauh lebih dekat ke Delft daripada Valencia, direncanakanlah perjalanan wiken lalu ini.
Jadi, Sabtu lalu, rencana ini dijalankan. Kami naik kereta internasional menuju Antwerpen kemudian pindah ke kereta lokal tujuan Ghent. Kami belajar dari pengalaman bahwa jalan-jalan di hari Minggu di Eropa itu adalah ide yang sangat buruk karena buanyak tempat tutup (aku nggak menulis detail ini di
posting sebelumnya
nih. Hari Minggu itu, dalam rangka perjalanan ke Leuven, sebuah kota
kecil
di Belgia, banyak tempat (kaya toko-toko, kafe, dan restoran)
tutup
dan tentu saja ini sangat menyebalkan!! Leuven adalah kota yang
kecil
dan apa-apa disana
tutup
!! Coba deh kombinasi apa yang lebih buruk lagi??). Makanya kami memutuskan untuk pergi di hari Sabtu :-)
Ngomong2, akhirnya kami tiba di Ghent setelah perjalanan tiga jam dengan kereta dari Delft. Ghent adalah kota yang lebih besar daripada Leuven dan lebih "hidup" (ini mungkin karena aku pergi ke Ghent di hari Sabtu sementara aku pergi ke Leuven di hari Minggu). Ada banyak gedung-gedung (kaya gereja, katedral, menara, dll) yang sangat indah dan klasik dan kami juga bisa naik ke atas menara jamnya loh.
Di samping arsitektur yang menawan, aku sangat suka sama salah satu masakan lokalnya (dan aku masih ingat namanya, jadi pertanda bagus tuh). Namanya adalah stoverij. Stoverij adalah daging empuk yang dimasak selama tiga jam dengan
dark beer
dengan kuah daging. Kami mencoba masakan ini di sebuah restoran di
Historic Centrum
(ini mungkin menjelaskan mengapa harganya agak mahal (ya sebenarnya nggak mahal-mahal amat sih untuk standar Eropa): 15 euro). Tapi memang enaaaaak banget loh!!! Aku sarankan kalau pas berkunjung ke Ghent, harus mencoba menu ini deh! :-)
Ngomong2, hari dimana kami berkunjung ke Ghent itu ternyata adalah hari dimana diadakannya parade sinterklaas (sinterklas). Dan dosenku bilang kalau akan ada parade sinterklas (dan Zwarte Pit (Pit Hitam)) di Delft sepanjang hari. Aku agak kecewa dengan ini karena aku nggak akan berada di Delft hari itu dan pada hari itu ada sesuatu spesial yang berlangsung di Delft!?!? Nyebelin banget!!! (di samping itu, aku kan uda lama nggak liat sinterklas, mungkin sejak SD kali ya, LOL). Ngomong2, di hari itu di Ghent, ternyata mereka juga merayakan tradisi yang sama karena aku bertemu dengan parade sinterklas!!! Yeaaahhh!!! Tentu saja aku nggak dapat hadiah apa-apa (iya lah kan uda bukan anak kecil lagi :D) tapi masih senang tuh! :D
Yah, kurang lebih itulah hari Sabtuku. Kami balik ke Delft malam harinya setelah ketinggalan kereta yang jam 7.24 malam (dan kami harus naik kereta berikutnya yang berangkat jam 8.24 malam). Untungnya kali ini keretanya nggak penuh-penuh amat jadi kami bisa dapat kursi dengan mudah.
Di hari Minggu, aku potong rambut untuk pertama kalinya di Eropa loh dan ongkosnya adalah 12 euro. Harganya ok sih menurutku. Trus, aku dan teman2 makan malam di sebuah restoran Indonesia di Den Haag. Aku makan soto babat :-)