ENGLISH
Well, my life has been okay as for now. I apparently survived the
crazy week
and now my room is being renovated. To update my story, I will put this entry in three parts:
#1 Crazy week ahead
I just realized that I am going to Italy in two weeks!! How exciting is that!?!? Well, no. It is because before I reach that date, I will have tons of things to work on first. I have four assignments due before Italy and maybe I will have to move back to my apartment before that! Well, at this point I feel that a point two weeks in the future is still so far away!!
#2 Adventure to Amsterdam and Utrecht
Anyway, last weekend I went to Amsterdam with my friends. It was nice and fun, except for the damn snow-storm that happened earlier that day. Well, all I can say is that walking outside in a snow-storm is definitely not fun, unless you like the feeling of snow hitting your face hardly (and at some points snow hit my lips and I felt that the nature forced me to eat some ice, LOL). The thing is, at one point we decided to get in a cafe and had a coffee there to warm ourselves. From inside, the snow-storm looked
beautiful
!!! Kinda an ironic, isn't it? :-)
Later that day, after visiting some place in the city, we decided to go to Utrecht as we had a day pass train ticket. Something was wrong as the train was late from Amsterdam Centraal but we did not really think about it. We reached Utrecht, about 40 minutes LATE behind the scheduled time arrival of the train (we even stopped some hundred of meters before the station for about 20 minutes). By then we realized that something was terribly wrong!! The snow-storm that occurred earlier that day had affected the railway network in the Netherlands!! It was so severe that many trains were delayed and had to be canceled! It meant that the frequency of train to Den Haag or Rotterdam (two big cities closest to Delft) was reduced significantly. To make things worse, the actual information and update about the upcoming train was the one announced in the station every time a train is passing, which was only in Dutch!! Well, the thing is, I understand Dutch,
to some extent
, but when it is in an extra-ordinary case where it involves many "foreign" words for me, I get confused :-) And this was one of the case. Lucky we found a Dutch lady who told us that a train heading for Den Haag is coming :-)
#3 New phone or not??
Well, my phone has kinda been annoying these past couple of months. I fully charged my battery, but then when I accessed the internet, the battery dropped (it dropped just
one
minute after I accessed the internet! Kinda sucks!). It also frequently drops in several other occasions, like when I snap pictures (just after three or four pictures, it dropped) or when I received a phone call (just after one or two minutes, it dropped). It sucks!!
This led me to think about buying a new battery for my phone. But then I realized something. My phone is now
two years old
and maybe it is already the time to get a new one. After some researches and suggestions from friends, I think a smart phone would be
cool
to have. I dug some further research and got a really interesting deal from one of provider here in the Netherlands. I did some calculation and basically I can afford this new phone with my own money, because I will pay for it in installments for two years. I have not made the deal since I want to take some time to really think about it first :-)
Now I am in a dilemma. Well, I can just buy a new battery for my (current) phone which does not cost that much OR I can buy this new smart-phone which is kinda expensive but I
can
afford it. Hmmm.... . What do you think?? :-)
::: Snow-Storm in front of Amsterdam Centraal Station.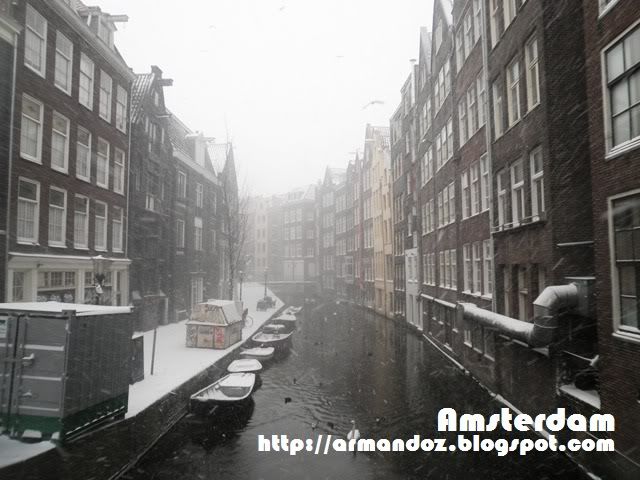 ::: Amsterdam.
::: The Dam in a Snow-Storm.
::: Inside the Koninklijke Paleis Amsterdam.
::: One spot in Amsterdam.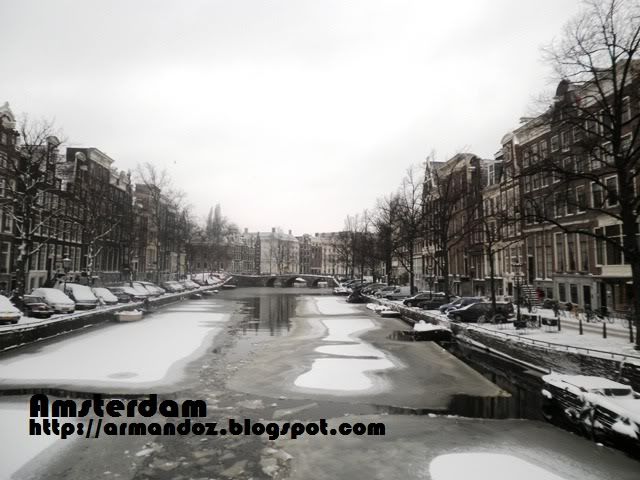 ::: One of many canals in Amsterdam.
::: Winter Plaza.
::: Another canal in Amsterdam.
::: Utrecht.

BAHASA INDONESIA
Yah, kehidupanku baik2 saja saat ini. Ternyata aku bisa selamat dari
minggu gila
dan sekarang apartemenku sedang direnovasi. Untuk meng-
update
ceritaku, aku membagi
posting
ini dalam tiga bagian:
#1 Minggu gila akan datang
Aku baru sadar kalau aku akan pergi ke Italia dua minggu lagi!! Nah, mendebarkan sekali kan!?!? Hmmm, jawabannya adalah tidak. Ini karena sebelum aku mencapai tanggal itu, ada banyak hal yang harus aku kerjakan dulu. Aku ada empat tugas yang harus kuselesaikan sebelum Italia dan ada kemungkinan aku harus balik ke apartemenku sebelum aku pergi ke Italia! Yah, di titik ini, satu waktu di dua minggu ke depan terasa masih jauh sekali!!
#2 Petualangan ke Amsterdam dan Utrecht
Ngomong2, wiken lalu aku pergi ke Amsterdam bersama teman2. Acaranya asyik dan menyenangkan, kecuali badai salju yang terjadi di pagi harinya. Yah, yang bisa aku katakan adalah berjalan di luar di tengah badai salju itu nggak asyik loh, kecuali Anda suka muka Anda dihantam salju dengan lumayan keras (dan pada beberapa saat saljunya mengenai bibirku dan aku merasa seakan-akan alam ingin aku makan es, LOL). Hal yang menarik adalah, di satu titik akhirnya kami memutuskan masuk ke sebuah kafe dan minum kopi sambil menghangatkan badan disana. Nah, dari dalam, badai saljunya terlihat
indah
loh!!! Ironis juga kan? :-)
Kemudian di hari itu, setelah berkunjung ke beberapa lokasi di Amsterdam, kami memutuskan untuk pergi ke Utrecht karena kami memiliki tiket kereta seharian. Ada yang salah dengan keretanya karena berangkatnya terlambat dari Amsterdam Centraal tapi kami tak terlalu memperhatikannya. Kami kemudian tiba di Utrecht, 40 menit TERLAMBAT dari jadwal kedatangan kereta (kami bahkan berhenti beberapa ratus meter dari stasiun selama sekitar 20 menitan tuh). Baru kemudian kami sadar bahwa ada yang sangat salah!! Badai salju yang terjadi pagi hari itu ternyata berakibat buruk pada jaringan kereta di Belanda!! Saking parahnya, banyak kereta jadi terlambat dan dibatalkan! Ini artinya frekuensi kereta ke Den Haag atau Rotterdam (dua kota besar terdekat ke Delft) berkurang secara signifikan. Membuat hal tambah buruk, informasi aktual dan
update
tentang kereta yang akan datang adalah pengumuman yang diumumkan tiap kali ada kereta datang, yang hanya ada dalam bahasa Belanda!! Ya, aku ngerti sih bahasa Belanda,
sampai jangkaan tertentu
, tapi kalau sudah melibatkan kasus tidak biasa yang melibatkan banyak kata-kata yang masih "asing" buatku, aku jadi bingung juga :-) Dan ini adalah satu dari kasus itu. Untungnya, ada ibu2 orang Belanda yang memberi tahu kami ketika ada kereta tujuan Den Haag tiba :-)
#3 Telepon baru atau tidak??
Yah, hp-ku bersikap menyebalkan dua bulan belakangan ini. Aku menge-
charge
penuh batere hape dan kemudian ketika aku internetan dengannya, baterenya langsung
drop
(
drop
hanya setelah
satu
menit dipake! Nyebelin!). Baterenya juga lumayan sering
drop
di beberapa waktu lainnya, misalnya ketika aku mengambil foto (baru tiga atau empat foto sudah
drop
) atau ketika aku menerima telepon (baru semenit dua menit uda
drop
). Nyebelin banget!!
Ini membuatku berpikir untuk membeli batere baru untuk hapeku. Tapi kemudian aku jadi berpikir. Hapeku kan sudah
dua tahun lebih
nih umurnya dan mungkin ini sudah waktunya ganti baru kan? Nah, setelah beberapa riset dan saran dari beberapa teman, aku berpikir bahwa
smart phone
adalah pengganti yang
keren
. Aku kemudian menggali informasi lebih dalam dan kemudian mendapat tawaran menarik dari satu
operator
di Belanda. Aku menghitung-hitung dan dasarnya sih aku mampu membeli hape ini dengan uangku sendiri, karena aku akan membayarnya dengan cara mencicil selama dua tahun. Aku belum
deal
sih, soalnya aku mau waktu untuk memikirkannya dulu dengan benar-benar :-)
Nah, sekarang aku menghadapi dilema nih. Yah, aku kan bisa aja beli batere baru untuk hapeku yang sekarang dan ini adalah opsi yang tidak terlalu mahal. Atau aku bisa membeli
smart phone
baru yang harganya lumayan mahal tapi aku
mampu
membelinya. Hmmm.... . Menurut kalian bagaimana nih?? :-)