ENGLISH
Well, I just realized that apparently the trilogy about my trip to Portugal has kinda been postponed for a while now. Well, before it is being way out of date and while I have the time now, I am going to finish the trilogy with this entry :-)
Actually all of what I did and visited in Portugal have kinda been shared in
both
previous
entries. What I want to share in this entry is about my experience in Portugal. Well, what I will write here is just based on what I experienced and
I have no mean
to be rude or judgmental towards all who are mentioned in this entry :-)
Language Barrier
I bet you are not surprised with this. Portuguese people spoke Portuguese as their native language, and only small percentage of them spoke English. Well, they
did
understand English to some extent, but not that advance enough to be able to communicate with me with no problem. This kind of thing happened several times during my stay there:
Setting :
in a restaurant and I was looking at a menu book which was only in Portuguese and I did not understand a single thing written there and I decided to call the waiter to ask something.
Me : "
Hi, can you please explain to me what is this
?" *pointing at one menu*
Waiter : *explaining things in Portuguese and I did not understand what he said*
Me : "
Umm, I am sorry but I do not speak Portuguese. Do you speak English
?"
Waiter: "
No
" *then he continued explaining things in Portuguese
slowly
hoping that I would understand in which of course I still did not understand*
I ended up picking a random menu from the book and thanks God it was good! :-)
This incident also happened once: My friend and I went into a crowded restaurant ('crowded' is a good sign for a restaurant, right?). We walked in and a maître d' greeted us in Portuguese. We then said we would like to get a table and so on. We got in, and another maître d' asked us something in Portuguese, and we said we wanted a table. He asked us something in Portuguese, again, making us to realize that we did not really answer his question. We asked him if he spoke English, and apparently he could not. He then called another waiter there, who also had a limited English proficiency, to communicate with us and we by then understood that we had to make a reservation first as that day there was a big group already reserved that whole restaurant.
Another thing also happened. We were looking for Oceanorium (we got lost because there was no clear sign pointing where the Oceanorium was, damnit!) and we decided to ask direction to a lady. Well, she understood what we were asking but she could not explain the direction in English. So what she did was she mimicked the direction using her hands.
Well, all these incidents taught me that we can not take language for granted. We can not expect everyone to speak English, and even I think it is going to be better and
more respectful
if we learn some phrases in local language before going to a country.
Portuguese People
My general impression about Portuguese is that they are really nice and helpful! But based on my experience, there were two steps before I could feel that friendliness. In fact, the first impression I got was the exact opposite: they were annoying. These are several incidents that happened:
Annoying #1
During the second day in Portugal, I had an incident: I stepped on dog poo and I did not realize it until I was sitting in a boat tour and crapped my jeans with that poo. (yea, it sucked to hell). I then decided to get my jeans laundered in my hostel.
The next morning, I went to the reception and met a lady there (it was the first time I met her) and I told her about my intention to get my jeans laundered (of course I was willing to pay a reasonable price for that). At first she was really
not
helpful by responding: "
You want me to wash your jeans
?" in a not-so friendly tone. Now having felt the not so nice tension, I backed down and basically said "
never mind
" to her. I then walked back to my room. But then, about 10 minutes later when I was about to leave the hostel to explore the city, she "changed". She said that she could wash my jeans and I had to pay 1.5 euro for that. I thought it was a reasonable price and I said okay. I went back to my room, took my jeans, and gave it to her. She even joked that my jeans was heavy. From here on, suddenly the evil-not-so-friendly image was gone from her!! She became a really nice and friendly woman right after that!! She even expressed how she loved Portugal's weather as it was sunny all week long in a cheerful and funny way!!
Annoying #2
One day I had no idea how to get to Cristo-Rei, so I thought it would be wise to ask some help from the locals. There was one information booth nearby and I decided to get there. Then this sort of conversation happened:
Me : "
Hi, do you know how to get to Cristo Rei
?"
Guy in the information booth (GIIB): "
No
"
*well, at this point, I remember thinking that this guy was so rude as he blatantly said "no" with no "sorry" nor sympathetic voice nor what, but then some seconds later, he continued*
GIIB : "
But maybe you can go to the information booth in the city center. You can get there by catching bus number
#"
I think there were several other incidents but I can not recall them now (damn, this is what we get if we postpone to write things for too long: we forget some details!).
Food
Well, to me, the food in Portugal is not bad, in fact, I enjoyed some of the delicacies!!
I did a little survey and one website suggested that I should try Tripas à moda do Porto in Porto. I wrote something about it in the first part of this trilogy. So, if you are interested enough, just browse it! :-)
Then, a friend told me that I must try "bacalhau". He said it was something like a salted fish cooked in Portuguese style. Well, "bacalhau" sounded exotic and I was really interested in it. Of course, in Portugal, I ate "bacalhau". Apparently, "bacalhau" is a name of a fish and so it can be cooked in several different ways. And I enjoyed some of the bacalhau menus, especially the fried one! hahaha. There was one bacalhau menu I had in Belem where it was cooked in a way such that it looked like a fried rice!! Being curious, my friend asked one of the restaurant what bacalhau was. Then, he said it was a Portuguese word for: "COD"!! My friend, who was from Canada, just said that bacalhau officially lost its exoticity, hahaha....
There was also another exotic food in Portugal: octopus!! Yes,
octopus
, not cuttlefish or squid! Well, (lucky enough, I guess) I did not eat its head, but its tentacles. It tasted kinda weird, because the tentacles were thick and fat enough so you could taste its chewiness and what was in that tentacles!
Well, I think that is pretty much what I want to share in this blog about my trip to Portugal. Hopefully all of you enjoy this, and future me (a note to myself), do not forget this: never postpone at least writing a draft about a trip or you will forget more details as time goes by!! :-)
::: Tripas à moda do Porto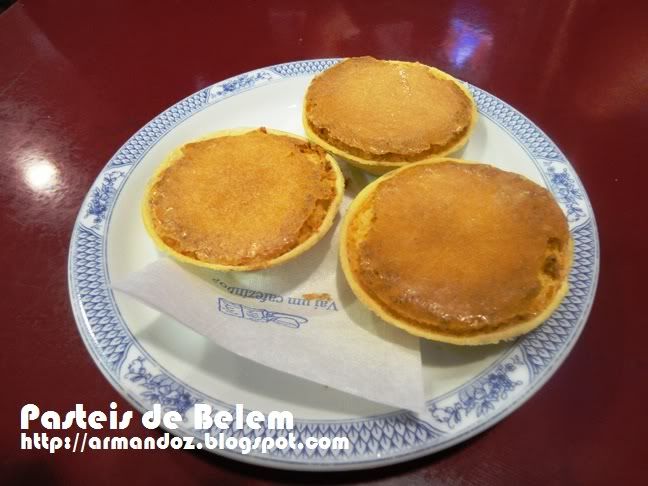 ::: Pasteis de Belem.

BAHASA INDONESIA
Yah, baru saja aku sadar bahwa ternyata trilogi tentang perjalananku ke Portugal sudah agak tertunda beberapa waktu nih. Hmm, sebelum menjadi terlalu basi dan sementara lagi ada waktu sekarang, aku akan menyelesaikannya melalui
posting
ini :-)
Sebenarnya, semua hal yang aku lakukan dan kunjungi di Portugal telah aku tulis di
kedua
posting
sebelum ini. Yang ingin aku tulis disini lebih ke pengalamanku di Portugal. Yah, sebelum aku memulai menulis, aku ingin berkata dahulu bahwa
aku tidak ada maksud sama sekali
menyindir apalagi mengejek pihak yang disebut di
posting
ini ya :-)
Kendala Berbahasa
Aku yakin pasti pada nggak kaget dengan hal ini. Orang Portugal itu berbahasa Portugis sebagai bahasa ibu mereka, dan hanya sedikit yang berbahasa Inggris dengan lancar. Yah, mereka
mengerti
bahasa Inggris koq sampai tingkat tertentu, hanya saja tidak semahir itu untuk dapat berkomunikasi dengan lancar. Hal-hal seperti ini terjadi beberapa kali ketika aku disana:
Setting :
di sebuah restoran dan aku sedang melihat sebuah buku menu yang ditulis hanya dalam bahasa Portugis dan aku nggak ngerti satu hal pun yang tertulis disana sehingga aku memutuskan untuk bertanya pada pelayan.
Aku : "
Hi, can you please explain to me what is this
?" *menunjuk satu menu*
Pelayan : *menjelaskan dalam bahasa Portugis dan tentu saja aku nggak ngerti apa yang ia bicarakan*
Aku : "
Umm, I am sorry but I do not speak Portuguese. Do you speak English
?"
Pelayan: "
No
" *kemudian ia kembali menjelaskan dengan bahasa Portugis dengan
pelan-pelan
sambil berharap aku akan mengerti dan tentu saja aku masih nggak ngerti maksudnya apa*
Akhirnya aku milih menu secara acak dari buku dan untungnya menunya enak! :-)
Insiden ini juga terjadi sekali: Aku dan temanku masuk ke sebuah restoran yang rame ('rame' itu pertanda bagus bagi sebuah restoran kan?). Kamu masuk dan pelayannya menyambut kami dengan bahasa Portugis. Kami berkata kami ingin mendapat meja dan seterusnya. Kami masuk, dan seorang pelayan lain datang dan bertanya dalam bahasa Portugis, dan kami bertanya kami ingin duduk. Dia kemudian bertanya lagi, dalam bahasa Portugis, dan akhirnya kami sadar kalau kami tidak memberikan jawaban yang tepat. Kami bertanya apakah ia bisa berbahasa Inggris dan ternyata tidak. Dia kemudian memanggil pelayan lain, yang juga berbahasa Inggris dengan terbata-bata, untuk berkomunikasi dengan kami dan akhirnya kami baru tahu kalau kami harus pesan tempat dulu karena di hari itu lagi ada grup besar yang sudah memesan tempat di seluruh restoran.
Hal lain juga terjadi. Kami mencari Oceanorium (kami kesasar karena nggak ada petunjuk yang jelas sih yang nunjukin lokasi Oceanorium, sial!) dan memutuskan untuk bertanya ke seorang wanita. Yah, ia sih mengerti apa yang kami tanyakan tapi masalahnya ia tidak bisa menjelaskan dengan bahasa Inggris. Oleh karenanya ia menggunakan tangannya untuk menunjukkan arah.
Yah, semua insiden itu mengajarkan aku bahwa kita tidak bisa menyepelekan masalah bahasa. Kita tidak bisa mengharapkan semua orang untuk dapat berbahasa Inggris, dan aku rasa bahkan akan lebih baik dan
lebih menghormati
apabila kita juga belajar beberapa frasa dalam bahasa lokal sebelum pergi ke suatu negara.
Orang Portugis
Impresi umumku tentang orang Portugis adalah mereka sangat baik dan ramah! Tapi menurut pengalamanku sih, untuk mencapai level itu, ada dua langkah terlebih dahulu. Malah, impresi awal yang kudapat sangatlah berlawanan: mereka menyebalkan. Ini adalah beberapa insiden yang terjadi:
Menyebalkan #1
Di hari kedua di Portugal, aku mengalami sebuah insiden: aku menginjak kotoran anjing dan aku nggak sadar sampai aku duduk di kapal di tur kapal dan mengotori celana jins-ku dengan kotoran itu. (ember, menyebalkan sekali kan). Aku kemudian memutuskan untuk mencuci celana jinsku melalui jasa
laundry
di hostel.
Keesokan paginya, aku pergi ke resepsi hotstel dan bertemu seorang wanita disana (ini adalah kali pertama aku bertemu dengannya) dan aku mengutarakan niatku untuk mencuci celana jinsku disitu (tentu saja aku berniat membayar harga yang masuk akal untuk itu). Awalnya, ia sangat
tidak
membantu dengan merespon: "
Kamu ingin saya mencuci celanamu
?" dengan nada yang nggak terlalu ramah. Ya karena aku merasa koq ada sedikit ketegangan, ya sudah aku mundur saja dan berkata kira-kira "
lupakanlah kalau gitu
". Aku kemudian balik ke kamar. Kemudian, sekitar 10 menit kemudian ketika aku akan meninggalkan hostel untuk jalan ke kota, dia "berubah". Ia berkata ia bersedia mencuci celana jinsku dan aku harus membayar 1,5 euro untuknya. Aku merasa harga itu masuk akal dan aku berkata oke. Aku balik ke kamar, mengambil celana jinsku, dan memberikannya padanya. Ia bahkan kemudian bercanda dengan berkata celana jinsku berat. Setelahnya, kesan jahat-dan-nggak-ramahnya hilang sama sekali darinya!! Ia menjadi sangat baik dan ramah setelahnya!! Dia bahkan menceritakan kecintaannya pada cuaca Portugal yang cerah sepanjang minggu dengan cara yang sangat lucu dan riang!!
Menyebalkan #2
Di satu hari aku nggak tahu bagaimana caranya untuk pergi ke Cristo-Rei, jadi aku rasa adalah bijaksana untukku bertanya kepada beberapa orang lokal. Ada sebuah pusat informasi di dekat lokasiku waktu itu dan aku memutuskan untuk menuju tempat itu. Kemudian, percakapan kaya gini terjadi:
Aku : "
Halo, apakah Bapak tahu bagaimana cara pergi ke Cristo Rei
?"
Bapak-bapak di pusat informasi (BBPI): "
Enggak
"
*di titik ini, aku sangat ingat berpikir bahwa orang ini nggak ramah amat sih koq cuma gitu aja ngomong "enggak"-nya dengan tanpa kata "maaf" atau kata lain yang lebih simpatik kek, atau solusi kek, tapi kemudian beberapa detik kemudian ia melanjutkan omongannya*
BBPI : "
Tapi mungkin kamu bisa pergi ke pusar informasi di pusat kota. Kamu bisa kesana dengan naik bus nomer #
"
Aku rasa ada beberapa insiden lain tapi aku nggak bisa ingat nih (sial, inilah yang kita dapat kalau kelamaan menunda menulis: melupakan beberapa detail!).
Makanan
Untukku, makanan di Portugal lumayan tuh, malah, aku suka beberapa menunya!!
Aku melakukan survey kecil dan satu
website
menyarankanku untuk mencoba Tripas à moda do Porto di Porto. Aku menulis sesuatu tentang ini di bagian pertama trilogi ini. Jadi, kalau mau tahu, buka aja
link
di atas! :-)
Trus, seorang teman memberitahuku bahwa aku harus mencoba "bacalhau". Kayanya sih "bacalhau" ini semacam ikan asin yang dimasak alah Portuhis. Nah, "bacalhau" terdengar eksotis kan? Makanya aku tertarik. Dan tentu saja, di Portugal, aku makan "bacalhau" dong. Ternyata "bacalhau" itu adalah nama sejenis ikan yang bisa dimasak dalam beberapa cara. Aku suka beberapa menu bacalhau ini, terutama yang digoreng! hahaha. Ada satu menu bacalhau yang aku makan di Belem yang dimasak sedemikian rupa sehingga mirip nasi goreng loh!! Penasaran, temanku bertanya ke salah satu restoran sebenarnya apa sih bacalhau itu. Kemudian, pelayannya berkata bahwa "bacalhau" adalah kata Portugis untuk ikan: "KOD"!! Temanku, yang orang Kanada, langsung bilang kalau keeksotisan bacalhau langsung hilang seketika, hahaha....
Ada juga menu eksotis lain di Portugal: gurita!! Ya,
gurita
loh, bukan sotong atau cumi-cumi!! Yah, (untungnya, mungkin) aku nggak makan kepalanya, tapi makan tentakelnya. Rasanya rada aneh gimanaa gitu, soalnya tentakelnya kan tebal jadi bener-bener deh terasa kekenyalan dan ketebalan dagingnya itu!
Yah, kurang lebih ini deh yang ingin aku bagikan di
blog
ini tentang perjalananku ke Portugal. Mudah2an pada menikmatinya ya, dan untuk diriku di masa depan (catatan untuk diri sendiri ceritanya), jangan lupa ini: jangan pernah menunda setidaknya menulis
draft
tentang perjalananmu atau kamu akan lupa banyak detail seiring dengan berjalannya waktu!! :-)