ENGLISH

Some things came up during this last few days. The first big thing is that my brother was diagnozed suffering dengue fever. We brought him to the doctor last Thursday but since it was still day two and his trombosite level was still acceptable, he was advised to go home and come back this Saturday. Of course last Saturday we brought him to the doctor and yes, he had to stay in the hospital because his trombosit level was dropping. Now, he's still in the hospital and hopefully he will get over it soon and be healthy again.

Another thing is that my family and I are planning to go to Surabaya this early July. We will stay there for two days then we will go to Tanjung Kodok. Tanjung Kodok is a beach on the northern part of East Java and there is a fancy resort there. We will spend two night there before going back to Yogyakarta. July is gonnabe exciting, we will go to East Java in the early month then Singapore and Penang near the end of the month.

Anyway, I have been craving to watch Star Trek. However, 21, cinema operator in Jogja, still hasn't played it in Jogja!! Damnit 21!! :(

It's also exciting that tomorrow the third grandslam of the year,
2009 Wimbledon Championships
will start. Gentlemen's singles' defending champion, Rafael Nadal, decided to pull off the tournament due to knee injury. Well, this puts Roger Federer in a better place and gives him bigger chance to win his sixth title there. Even so, some other players like Andy Murray, local favorite, and Novak Djokovic should be bewared. In the ladies singles, I think Dinara Safina will be on fire to get the crown this year. However, Venus Williams' domination has also been strong, winning the championships the last two years. She has won Wimbledon five times up to now. I'm rooting for Andy Murray and Venus Williams this year, hehe.


::: dusk at Yogyakarta, near Lempuyangan Skybridge.


::: mie kuah


::: one spot at Panti Rapih Hospital. It's not visible in this picture, but the water used in the pond is processed sewage water!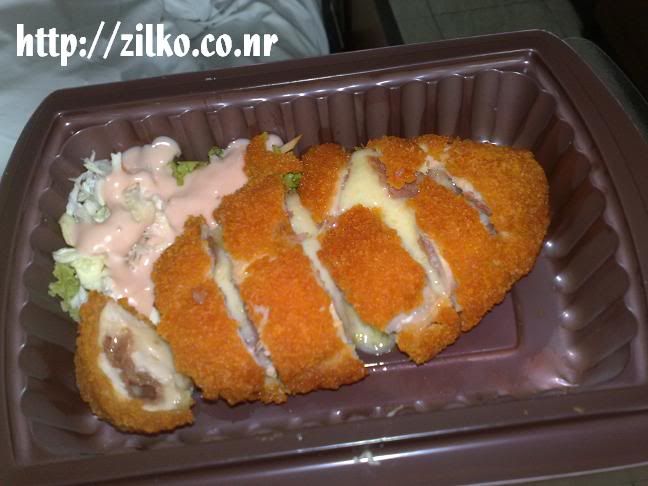 ::: chicken cordon blue, I love the cheese :D


::: Wimbledon



BAHASA INDONESIA

Beberapa hal terjadi selama beberapa hari terakhir ini. Hal besar pertama adalah adikku didiagnosa terkena Demam Berdarah. Kita membawanya ke dokter Kamis kemarin dan karena waktu itu masih hari kedua dan tingkat trombositnya masih normal, ia diperbolehkan pulang dan untuk kembali lagi Sabtunya. Tentu saja Sabtu kita bawa dia lagi ke dokter dan ya, dia harus dirawat di rumah sakit karena tingkat trombositnya turun. Sekarang dia masih dirawat di rumah sakit dan mudah2an segera sembuh. .

Hal lain adalah aku dan keluarga berencana pergi ke Surabaya awal Juli ini. Kita akan menginap di sana selama dua hari kemudian pergi ke Tanjung Kodok. Tanjung Kodok adalah sebuah pantai di utara Jawa Timur dan ada resort yang bagus di sana. Kita akan menginap selama dua hari di sana sebelum kembali ke Yogyakarta. Juli akan mengasyikkan nih, kita akan ke Jawa Timur awal Juli kemudian ke Singapore dan Penang dekat akhir bulan.

Ngomong2, aku kan udah pengen banget nonton Star Trek nih. Namun, 21, operator bioskop di Jogja, masih belum menayangkannya di Jogja!! Sialan kau 21!! :(

Sekarang juga menarik karena besok, grandslam ketiga tahun ini,
2009 Wimbledon Championships
akan dimulai. Juara bertahan tunggal pria, Rafael Nadal, memutuskan untuk mengundurkan diri karena cedera lutut. Yah, ini menempatkan Roger Federer pada posisi yang lebih enak dan memberikannya kesempatan untuk memenangkan gelar keenamnya di sana lebih besar. Walau begitu, beberapa pemain lain seperti Andy Murray, favorit lokal, dan Novak Djokovic juga perlu diperhatikan. Di tunggal putri, aku rasa Dinara Safina akan sangat berapi-api mengejar gelar juara. Namun, dominasi Venus Williams di pertandingan ini juga kuat sekali, memenangkan pertandingan ini dua tahun belakanga. Ia telah memenangkan Wimbledon lima kali sampai saat ini. Aku sih mendukung Andy Murray dan Venus Williams ah tahun ini, hehe.