ENGLISH
Nothing really special happened these last two days. Yesterday I hanged out with a friend. He offered me an MLM business opportunity. Well, I have never been interesting with this kind of business so I had to refuse it.
Today was no different. I was still able to maintain my spirit to go to the gym everyday (and today is the fourth back to back day, haha). One different thing I feel after doing this routine is that I feel more healthy than before. It's a good thing, right? Yea, of course we are tired after working out, it's normal, but the healthy feeling we have after that is really precious ;)
This evening my family and I had dinner at Sawa Resto. It's a western resto serving (mainly) steaks. I ordered a grade 5 wagyu steak beef (which is really expensive if we just look at the price, not comparing it with the quality). Yea, it was tasty for me and it cost: Rp 259,000.- plus 10% tax and 5% service fee.
::: my meal yesterday at Kona. I didn't eat the rice, just the beef slices and vegies.
::: stuffed-crust chicken favorite pizza.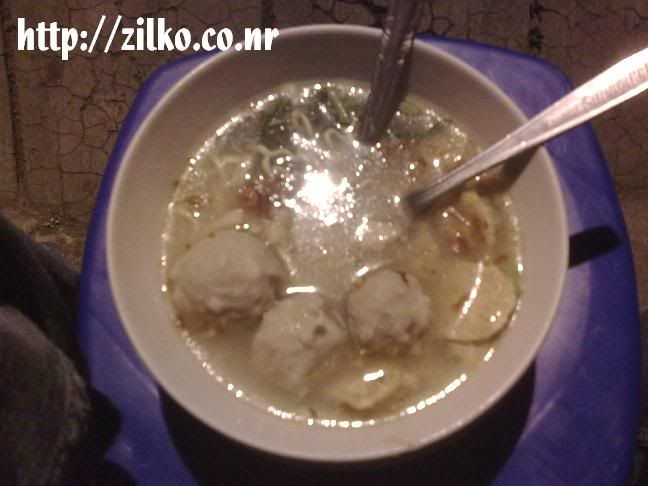 ::: bakso
::: a Rp 259,000.- grade 5 wagyu American beef steak with black pepper sauce.

BAHASA INDONESIA
Nggak ada yang spesial yang terjadi belakangan ini. Kemarin aku jalan2 sama seorang teman. Dia menawari aku sebuah kesempatan bisnis MLM. Yah, karena memang pada dasarnya aku nggak suka sama jenis bisnis ini, makanya aku menolaknya.
Hari ini nggak jauh berbeda. Aku masih bisa mempertahankan semangat untuk fitness setiap hari nih (dan hari ini adalah hari keempat berturutan loh, haha). Satu hal yang memang aku rasakan berbeda setelah menjalankan rutinitas ini adalah setelah fitness badanku jadi terasa lebih sehat daripada sebelumnya. Bagus kan? Yea, tentu saja melelahkan setelah berolahraga, normal itu, tetapi perasaan sehat setelah melakukannya itu yang sangat berharga ;)
Malam tadi aku dan keluarga makan malam di Sawa Resto. Itu adalah rumah makan barat yang menyediakan (umumnya) steak. Aku pesan steak sapi wagyu
grade
5 (yang kalau kita melihat harganya saja tanpa membandingkan dengan kualitasnya, akan nampak mahal). Yea, memang enak sih untuk aku dan harganya adalah: Rp 259.000,- ditambah pajak 10% dan biaya pelayanan 5%.