ENGLISH
Yeah, last Saturday I went back to Yogyakarta. This time, I drove my car to get back here since it is a pretty long holiday. Actually my plan was to leave Bandung as early as possible, at 9 or 10 AM would be the best. It was because I was looking for daylight so that we would drive mostly during day time. However, because some stuffs, we left Bandung at 12.45 PM.
Nothing much to say about the trip. I just noticed that Indonesia now adopts a new street numbering system from abroad (The USA as I know). Now, we have street numbers (I'm not gonna say highway number since technically, it's not a highway) on main streets connecting main cities. Bandung - Yogyakarta street is now street number 3. I also noticed some other street numbers like street number 8 and street number 10, all connecting Purwokerto with street number 3, haha... .
At 9.45 PM we arrived at my home. So, it was a 9 hours drive, haha... . After that, we ate bakso nearby, which is really tasty :D
Anyway, now I'm really excited. This afternoon, I bought A*rAsia's Yogyakarta - Singapore vv tickets for my family and me, haha. It was an economy promo fare so we only paid Rp 518,000.- per pax, vv. Well, it's not the cheapest fare A*rAsia sells for this route tho since the cheapest would be the one with zero base fare. However, with base fare of Rp 79,000.oo, it's the cheapest now, haha. So, we're going to Singapore this July, it's still a long time in the future tho, which gives us flexibility of our destination. I mean, we are probably not gonna stay in Singapore the whole time, hehe. There's still time to survey reachable areas from Singapore, hehe. Anyway, my last time visit to Singapore was 5.5 years ago, so long!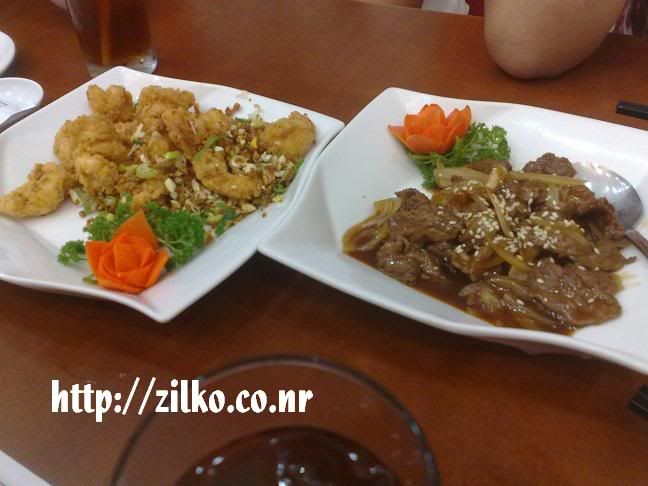 ::: our meal at TaWan last Friday
::: ayam goreng Suniaraja I had Saturday afternoon
::: ayam goreng Mergosari I had Saturday afternoon, at 4 PM, after Banjar
::: bakso nearby
::: soto kridosono I had Sunday morning

BAHASA INDONESIA
Yeah, Sabtu kemarin aku balik ke Yogyakarta. Kali ini, aku nyetir mobil untuk balik karena liburan kali ini adalah liburan yang lumayan lama. Sebenarnya rencanaku adalah untuk meninggalkan Bandung sepagi mungkin, dengan paling baik ya jam 9 atau jam 10 pagi. Ini karena aku mencari waktu siang selama mungkin jadi nyetirnya tuh pas belum gelap. Namun, karena beberapa hal, kita baru meninggalkan Bandung jam 12.45 siang.
Nggak ada banyak hal yang dapat ditulis tentang perjalanan. Aku cuma menyadari bahwa Indonesia kini mengadopsi sistem penomoran jalan dari luar negri (setauku sih dari Amerika). Sekarang, kita memiliki sistem penomoran (aku nggak akan nulis penomoran jalan tol karena memang bukan jalan tol) di jalan utama yang menghubungkan kota-kota utama. Misalnya, sekarang jalan utama Yogyakarta - Bandung adalah jalan nomor 3. Aku juga menyadari ada nomer jalan seperti jalan nomor 8 dan 10, keduanya menghubungkan Purwokerto dengan jalan nomor 3, haha... .
Jam 9.45 malam kita tiba di rumah. Jadi, kemarin adalah perjalanan selama 9 jam, haha... . Habis itu, kita makan bakso deket rumah, enak lho :D
Ngomong2, sekarang seneng banget nih. Siang tadu, aku beli tiket A*rAsia Yogyakarta - Singapore pp untuk aku sekeluarga, haha. Harganya yang ekonomi promo jadi seorang cuma bayar Rp 518.000,- pp. Bukan yang paling murah karena A*rAsia menjual paling murah tuh dengan harga dasar nol rupiah, nah yang ini dengan harga dasar Rp 79.000,oo. Cuma dengan harga dasar segitu, yang sekarang ini memang yang paling murah yang tersedia, haha. Jadi, kami akan ke Singapore Juli nanti, masih lama sih, yang memberikan kami fleksibilitas. Yang aku maksud dengan fleksibilitas adalah mungkin kita gak akan cuma di Singapore aja, hehe. Masih ada waktu survey untuk cari area-area yang bisa dijangkau. Ngomong2, terakhir kali aku ke Singapore adalah 5,5 tahun yang lalu! Lama yah...