ENGLISH
Haha, now I'm back in Bandung again.
Anyway, finally last Saturday I ate Bakso Cornelan, hehe.... :) I really like it. Actually on Sunday (20/01) evening I went there but it had been sold out! Grrr.... . It is really really delicious, hehe... . The last time I ate it was at
this time
. Actually on Saturday my friends also asked me to go to Salatiga, but I didn't go. A story about it will be written later, on the private blog... ;)
Sunday was an exhausting day. I got up at 6.15 AM and went to the church for the 7 AM mass liturgy with my mom and my bwo. After that, we had breakfast at Soto Kridosono (Pak Parmo). Then, we went back home, I continued my sleep for 2 hours but unfortunately I had bad dreams, grrr.... . At 12 PM my friend came, then at 1.20 PM we went to Soto Sawah. The last time I ate at Soto Sawah was at
this time
. Then, we went to Togamas Bookstore (I bought 2 comics and until now I haven't finished reading it, dang, haha). After that we went to Galeria Mall and at 5 PM we went back home. At 7 PM, the electricity went off again! Arrrggghhhh, dang it. PLN Yogyakarta really sucks. I decided to go to Malioboro Mall rather than staying at the dark house, haha... . At 9.30 PM I went back home and at 10.30 PM my parents brought me to Jogjakarta Tugu Railway Station.
At 11 PM Turangga Express arrived at the #3 platform. At 11.10 PM, the train departed (it was on time, nice...). This morning it arrived in Bandung at 6.28 AM, only 9 minutes late from the schedule. Well, I think The Train Company has worked so hard on this, 9 minutes late can be considered as good for trains in Indonesia, rite? hehe... ;) However, I still couldn't sleep well on the train... :(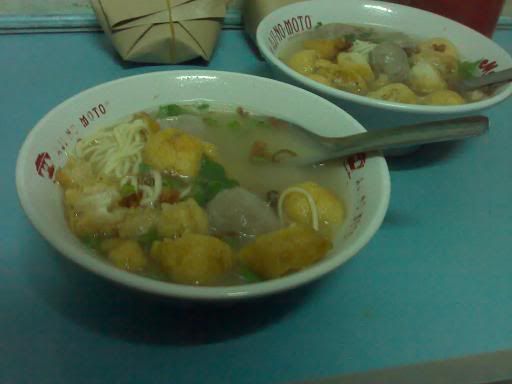 ::: Bakso Cornelan, so tasty.. ;)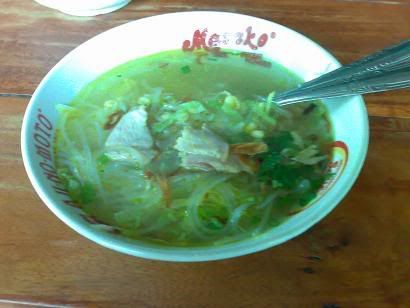 ::: Soto Kridosono as my breakfast yesterday
::: One view from Soto Sawah, Godean (you can see rails there, about 9 hours later, my train passed that rail, hehe... :D)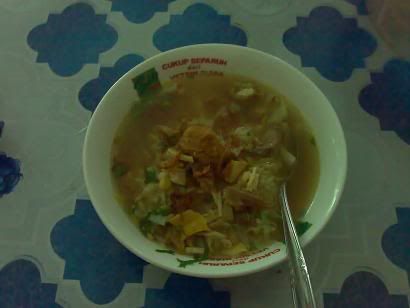 ::: Soto Sawah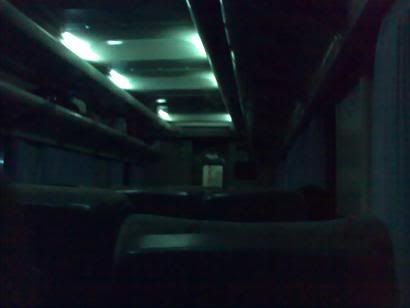 ::: Inside Turangga Express

BAHASA INDONESIA
Haha, sekarang udah balik di Bandung lagi nih.
Ngomong2, akhirnya Sabtu kemarin aku makan Bakso Cornelan deh, hehe.... :) Aku bener2 suka tuh, enak banget loh. Sebenernya Minggu (20/01) malem aku udah kesana tapi udah habis! Grrr.... . Uenak banget deh pokoknya, hehe... . Terakhir kali aku makan disana tuh adalah pada
waktu ini
. Sebenernya Sabtu kemarin temenku ngajak pergi ke Salatiga, tapi aku gak pergi. Cerita tentang ini akan ditulis kemudian, di blog private deh.... ;)
Minggu kemarin tu melelahkan deh. Aku bangun jam 6.15 pagi dan pergi ke gereja buat ikutan misa yang jam 7 pagi tuh bareng sama mamaku dan adikku. Trus habis misa kita makan pagi di Soto Kridosono (Pak Parmo). Trus balik deh dan aku melanjutkan tidur saya selama 2 jam yang sayangnya malah mendapatkan mimpi buruk, grrr.... . Jam 12 siang temenku dateng, dan jam 1.20 siang kita pergi makan deh di Soto Sawah. Aku terakhir kali makan Soto Sawah ya pada
waktu ini
. Trus kita pergi ke Toko Buku Togamas (aku beli 2 buah komik yang malah sampe sekarang aja blom sempet nyelesein baca, sial, haha). Habis itu kita ke Galeria Mall dan jam 5 sore balik deh. Jam 7 malem, listriknya mati lagi! Arrrggghhhh, sialan tuh. PLN Yogyakarta bener2 menyebalkan. Aku memutuskan untuk pergi ke Malioboro Mall lah daripada tinggal di rumah yg lagi ga ada listrik, haha... . Jam 9.30 malem aku balik ke rumah dan jam 10.30 gitu papa sama mamaku nganterin aku ke Stasiun Kereta Api Tugu Jogjakarta deh.
Jam 11 malem Kereta Ekspres Turangga tiba di jalur 3. Jam 11.10 malem keretanya berangkat (on time tuh, bagus...). Pagi ini keretanya sampe di Bandung jam 6.28 pagi, cuma 9 menit telat dari jadwal. Hmm, menurutku PT Kereta Api udah bekerja keras deh, telat 9 menit ya tergolong bagus lah untuk kereta di Indonesia, kan? hehe... ;) Tapi ya semalem gabisa tidur dengan nyaman ey di kereta... :(