ENGLISH
Huhuhu, I dunno why, my allergy stroke back last week, grrr.... . My body was so itchy and some small red spots appeared on my body... :( Grrr... . I dunno what stimulated it since I didn't eat shrimps nor any kind of seafood. I just ate my ordinary meals in Bandung. Err, then what caused it ya? Then, I bought a
anti-histamine
which was
Xyzal
which doesn't cause drowsiness. After consuming it, the itch went away just in hours eventho the spots didn't disappear that quick (it took about 3 days). Phiuhh... . I dunno what happened but now I think I'm fine, hehe...
Anyway, I think God really bless me... :) Thanks God!! Since 2 weeks ago, I had been trying to find a flight to go back to Jogjakarta for Sin Cia (Chinese New Year next Thursday) but guess what?? All flights from Jakarta have been fully booked, and if I still wanna get a seat, the remaining seat is on the higher sub-class, which means more expensive. I contacted Garuda Indonesia, Lion Air, Adam Air, Mandala, etc and all of them offered a Rp 600,000.00 ++ ticket, wah. That's damn too expensive and I gave up (Merpati planned to reopen the Bandung - Jogja route next April, grrr, so long). I already gave up. Guess what? This early February, Jakarta was flooded again!! Wah!! Wow, the new governor who claimed as the 'master' on his campaign, couldn't do anything to prevent it. Huh!! Anyway, back to topic, even Soekarno-Hatta International Airport was closed for several hours due to low visibility and dangerous runway (a 10 cm deep water layered the runways!! wah!!). I think God saves me by not giving me the ticket I want, since if I still go back to Jogja via Jakarta, I would find a big problem there, haha... :) I dun think the problem will have been solved by Wednesday, hmm... . Pathetic...
Then, two days ago, my mum said to me that if I really want to go back to Jogja, then I just should catch a train to save
more
much money. Err, I dun really like traveling by train but what the hell, I'll just catch the over-night train so it won't be that uncomfie, hehe... :D. So yesterday I went to Bandung Railway Station and purchased a Turangga Express Executive Class Ticket, hehe... :D So, it's official now that on 6th February 2008 I'm going back to Jogja catching Turangga Express which depart at 7 PM (arriving at 2.10 AM in Jogja based on the schedule). I'm going back to Bandung also catching Turangga Express which departs at 11 PM on Sunday, 10th February evening and arriving at Bandung at 6.17 AM (on schedule) on Monday morning, hehe... :D Btw, yesterday I got my car its annual maintenance, hehe... :)
::: Xyzal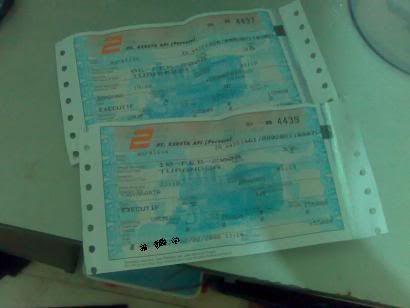 ::: My Turangga Express Tickets

BAHASA INDONESIA
Huhuhu, gatau kenapa tp alergiku kumat lagi neh minggu lalu, grrr... . Badanku gatel2 semua dan beberapa bintik2 merah gitu muncul di badanku... :( Grrr... . Nggak tau deh apa yang menyebabkan soale aku juga nggak makan udang atau pun seafood lainnya tuh. Aku cuma makan makanan yang biasa2 aja deh di Bandung. Kira2 apa ya penyebabnya? Trus, jadinya aku beli
anti-histamine
yang berupa
Xyzal
yang nggak menyebabkan ngantuk. Habis mengonsumsinya, gatel2nya hilang loh dalam beberapa jam walau bintik2nya nggak segera hilang tuh (membutuhkan sekitar 3 hari deh). Phiuhh... . Nggak tau deh kenapa tp sekarang sih aku baik-baik saja, hehe...
Ngomong2, Tuhan bener2 memberkati aku nih... :) Makasih Tuhan!! Sejak 2 minggu lalu aku tu udah mencoba untuk nyari tiket pesawat balik ke Jogjakarta untuk Sin Cia (taun baru Imlek) besok Kamis tapi gimana?? Semua penerbangan dari Jakarta udah penuh dan kalaupun ada ya hanya ada di sub kelas yang lebih tinggi atau dengan harga yang jauh lebih mahal. Aku menghubungi Garuda Indonesia, Lion Air, Adam Air, Mandala, dll dan semuanya harganya di atas Rp 600.000,oo tuh, gila. Kemahalan banget la dan aku udah nyerah aja (Merpati malah rencananya mau buka lagi rute Bandung - Jogja April depan tuh, masih lama ya). Aku udah nyerah deh. Dan bagaimana? Awal Februari ini, Jakarta BANJIR lagi!! Wah!! Wow, gubernur baru yang mengeklaim dirinya sebagai 'ahlinya' pas kampanye koq ga bisa ngapa2in yah untuk mencegah banjir. Huh!! Ngomong2, bahkan Bandara Internasional Soekarno-Hatta sampe harus ditutup tuh beberapa jam soale jarak pandang yang rendah dan runway yang berbahaya (genangan air sedalam 10 cm menutupi runway!! wah!!) Kayanya Tuhan memberkati saya nih dengan nggak ngasi tiket yang aku mau, soale kalo misale aku balik ke Jogja lewat Jakarta, aku jelas akan menemui tuh masalah disana, haha... :) Kayanya sih masalah ini belum akan benar2 beres deh Rabu besok, hmmm... . Menyedihkan...
Trus, dua hari lalu, mamaku ngomong kalo emang aku pengen balik ke Jogja, ya udah, mendingan naik kereta aja untuk menghemat
lumayan
banyak uang. Err, aku ga gitu suka nih naik kereta tapi ya udah lah, aku akan naik kereta malam aja jadinya kan nggak akan semenyebalkan itu, hehe... :D Jadinya kemarin aku pergi ke Stasiun Kereta Api Bandung dan beli tiket Turangga deh Kelas Eksekutif, hehe... :D Jadinya resmi deh aku akan balik ke Jogja tanggal 6 Februari 2008 naik Kereta Ekspres Turangga yang berangkat jam 7 malam (sampe di Jogja jam 2.10 subuh menurut jadwal). Aku akan balik lagi ke Bandung Minggu malam tanggal 10 Februari naik Turangga juga yg berangkat dari Jogja jam 11 malem dan sampe di Bandung Senin pagi jam 6.17 pagi menurut jadwal, hehe... :D Btw, kemarin aku jg nyervis-in mobilku tuh buat perawatan, hehe... :)