ENGLISH

Last Sunday was very exhausting for me since all almost all of us, math students, went on hiking from Jayagiri (near Lembang, to the north of Bandung) to Tangkuban Perahu, you can see the map below.Here it is the complete story

We met at Unpar at 7 AM in the morning, and just like what most all Indonesian people do, they started late, we departed from Unpar at 8 AM and finally arrived at Jayagiri, Lembang at 8.45 AM. Well, then we started hiking from Jayagiri. The first "field" was the hardest and most exhausting one since the road went steadily upward with the average inclination of around 20 - 30% I think plus we also had to pass accross a forest. On the way, we met some old talkative women who went down the hill, and they really discouraged some of us by saying the track was still SO long (eventhough that's probably right but that really discouraged us, they were playing on us I think since they said those words to us with smiling and giggling). That was truly exhausting and finally, after for about 1 hour walking in that "field", we finished it and could take a rest at a small stall. Then, we continued our trip, the next "field" was not as hard, as inclining, and as exhausting as before. Then, we took the wrong road and we arrived at an asphalt road. That's not wrong actually because we still could go to Tangkuban Perahu by choosing that road, but the sorrounding was not really natural ... :P, but that's okay.

>> fast forward

Finally, after walking for SOOO LONG and made my legs were so "burnt" and stiff, at 11.35 AM we arrived at Tangkuban Perahu. Then, we took some photos (you can see some of them below) and walked around the crater. That time had already been noon and we were starving, so we dropped by at a restaurant, and it was CRAZY. The price was very very expensive (probably because Tangkuban Perahu is a tourist destination)... :( Then, after having lunch, we happily continued our trip to Upas Crater. Upas Crater was located just across Ratu Crater (Tangkuban Perahu), so we had to walk on the edge of Ratu Crater to reach that crater... . Upas Crater was beautiful, and there was a place like the sand dessert near Bromo Mountain, and some friends went down to that dessert and crafted a relief read "MATH UNPAR" there. Then, after taking a rest (the wind was SO fast and big) we went back to Ratu Crater and finally we went back home. Right now my legs are still stiff and so exhausted... :( And one "good" news is that tomorrow we have morning lecture at 7 AM... :( Arrrggghhhhhhh..........


::: Hiking Map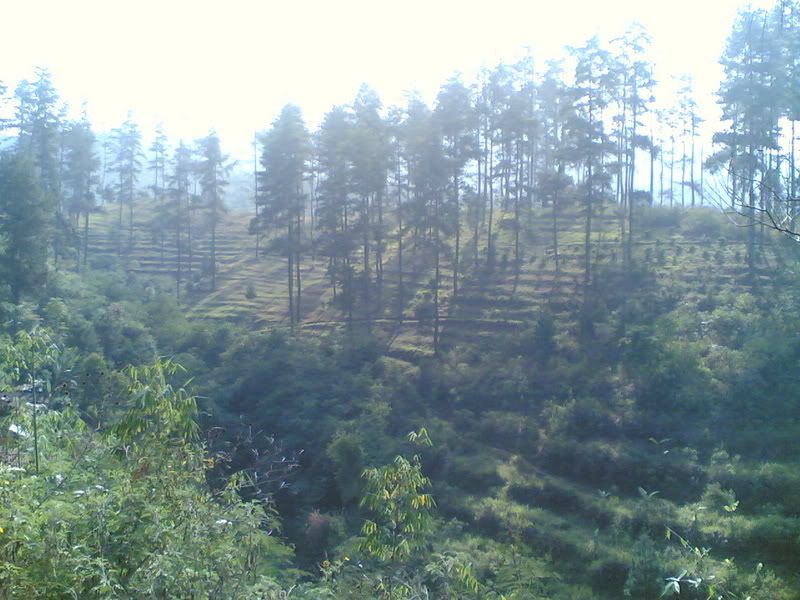 ::: Beautiful Morning Landscape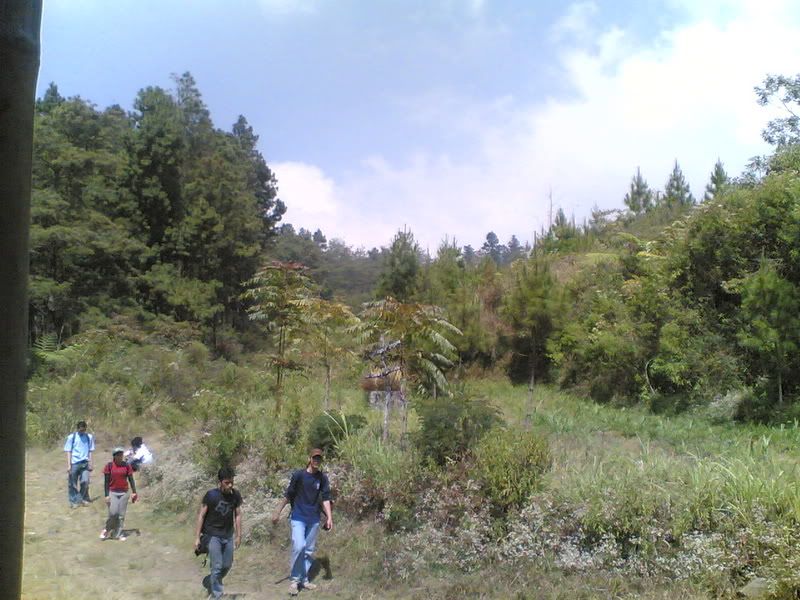 ::: Scenery at Post 1, when we took a rest


::: The Beautiful Scenery after Post 1


::: Ratu Crater (taken from another side of Ratu Crater) >> different with other Ratu Crater's pics that have been uploaded before


::: Upas Crater, look at some "reliefs" at the bottom of it... :)

PS: Click pictures to ENLARGE them



BAHASA INDONESIA

Minggu kemarin tuh sangat melelahkan untuk aku soalnya semua hampir semua mahasiswa mat pergi hiking dari Jayagiri (deketnya Lembang, ke arah utaranya Bandung) ke Tangkuban Perahu, bisa dilihat koq petanya di atas. Ini dia cerita komplitnya

Kita berkumpul di Unpar jam 7 pagi, dan seperti kebanyakan orang Indonesia lainnya, mereka tuh telat, kita berangkat dari Unpar jam 8 pagi dan akhirnya sampai di Jayagiri, Lembang jam 8.45 pagi. Hmm, trus langsung aja kita mulai hiking dari Jayagiri. "Medan" yang pertama adalah yang terberat dan paling bikin capek soalnya jalannya tuh menanjak banget dengan rata-rata kemiringan mungkin sekitar 20 - 30% deh menurutku plus kita juga harus menyeberangi sebuah hutan. DI tengah jalan kita ketemu sama beberapa ibu-ibu tua nan cerewet yang berjalan menuruni bukit, dan mereka tuh malah menurunkan semangat beberapa dari kita dengan mengatakan bahwa jalannya masih jauh (walaupun mungkin yang mereka katakan itu benar, namun kan tetep aja menghancurkan semangat, mereka main-main sih kayanya, soalnya sambil senyum2sama ketawa-ketiwi gitu ngomongnya). Bener-bener bikin capek deh "medan" yang pertama itu dan akhirnya, setelah berjalan sekitar 1 jam di "medan" tersebut, kita menyelesaikannya dan bisa istirahat di sebuah warung kecil. Trus kita melanjutkan perjalanan kita, "medan" selanjutnya nggak seberat, semenanjak, dan se-bikin capek "medan" yang sebelumnya. Trus kita mengambil jalan yang salah sehingga kita malah sampe di jalan yang beraspal. Nggak salah sih sebenernya soalnya kan kita masih bisa sampai di Tangkuban Perahu, tapi kan kita jadi agak kehilangan nuansa alamnya karena itu... :P, tapi nggak papa sih itu.


>> dicepetin

Akhirnya setelah berjalan dengan SANGAAT JAUUH dan membuat kedua kakiku tuh "terbakar" dan agak pegal, jam 11.35 pagi akhirnya kita sampai di Tangkuban Perahu. Trus kita foto-foto (bisa dilihat tuh beberapa di atas) dan jalan-jalan di sekitar kawahnya. Waktu itu kan udah mendekati jam makan siang dan kita kelaparan. Jadi kita mampir di salah satu restoran dan ternyata GILA bener. Harganya tuh SANGAT mahal SEKALI (mungkin karena Tangkuban Perahu tuh tempat wisata sih) .... :( Trus habis makan siang, kita dengan senang hati melanjutkan perjalanan ke Kawah Upas. Kawah Upas tuh terletak di seberangnya Kawah Ratu (Tangkuban Perahu), jadi kita harus berjalan di tepi Kawah Ratu untuk mencapai Kawah Upas... . Kawah Upas bagus sih, dan ada tempat yang semacam padang pasir yang kayak di deketnya Gunung Bromo, dan beberapa temen turun ke padang pasir itu dan membuat ukiran bertuliskan "MATH UNPAR" disana. Trus, habis istirahat (anginnya tuh kenceng banget dan besar) kita balik ke Kawah Ratu dan akhirnya kita balik deh ke rumah. Sekarang kakiku masih agak pegal dan capek banget nih... :( Dan satu berita "bagus" untuk besok, kita ada kuliah pagi yang dimulai jam 7.... :( Arrrgghhhhh....