ENGLISH
Yesterday, I watched the top 3 show of Indonesian Idol season 3, where Gea, Dirly, and Ihsan were competing for the two grandfinal seats. I think all of them did pretty well, and the judges were all kind last night, even Indy Barendz. From their performances last night, if I had to choose the grandfinalists, I didn't sway from my last week opinion (you can read
here
), I would choose Gea and Dirly as the grandfinalists. But you know what?? Gea was voted off last night!!!!
Well, Ihsan did pretty good actually last night, BUT I don't think he owns the quality as Indonesian Idol, if he becomes the next winner, I think he will have to face a similar fate as Veri AFI has faced. Ihsan was good last night, but all weeks before last night, he was just so-so and didn't really show something special. Dirly, at first (until 2 weeks ago), I always thought he didn't deserve to stand on the top 12 stage. He was not my favorite at all. But honestly, he actually has showed us great improvement and progress during the whole show. He became better and better. Different with Ihsan, even Dirly's voice for me is not as good as some other contestants (Maria, Gea, Nobo, Sisi, Depe, and Christy) he still owns a bright future, almost similar with what has happened to Delon. So, for next week (grandfinal), if I have to vote, I will vote Dirly :)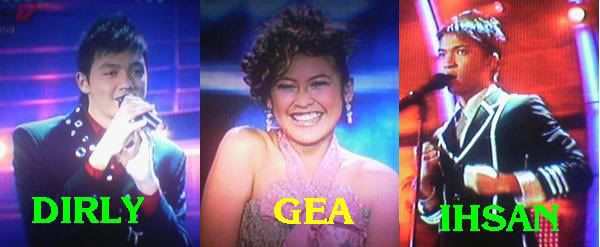 ::: Top three this season

BAHASA INDONESIA
Kemarin, aku nonton show 3 besar Indonesian Idol musim ketiga dimana Gea, Dirly, dan Ihsan berkompetisi untuk mendapatkan dua kursi grandfinal. Menurutku semuanya tampil lumayan deh, dan juri-nya juga baik semalam, bahkan Indy Barendz. Dari penampilan mereka semalam, jika aku harus memilih grandfinalisnya, aku nggak beralih dari pendapatku minggu lalu (yang bisa dibaca
disini
), aku akan memilih Gea dan Dirly sebagai grandfinalisnya. Tapi tau nggak?? Gea tersisih semalam!!!!
Hmm, sebenernya Ihsan lumayan bagus juga semalam, cuma menurutku dia nggak punya aura sebagai seorang Indonesian Idol deh, kalau dia menjadi pemenang selanjutnya, aku rasa dia akan menghadapi situasi yang sama dengan situasi yang sudah dihadapi oleh Veri AFI. Ihsan lumayan semalam, tapi di semua minggu sebelum semalam, dia tuh biasa-biasa aja dan nggak bener-bener menunjukkan sesuatu yang spesial. Dirly, pertamanya (sampai 2 minggu yang lalu), aku selalu mikir dia nggak berhak untuk berdiri di panggung 12 besar. Dia benar-benar bukanlah favoritku. Tapi sejujurnya, dia sebenernya sudah menunjukkan pada kita kemajuan dan progres yang hebat selama show ini. Dia menjadi semakin baik dan semakin baik. Berbeda dengan Ihsan, walaupun menurutku suaranya Dirly masih kalah dari beberapa kontestan lain (Maria, Gea, Nobo, Sisi, Depe, dan Christy) dia masih punya masa depan yang cerah, hampir mirip sama apa yang terjadi sama Delon. Jadi, untuk minggu depan (grandfinal), kalo aku harus memilih, aku akan memilih Dirly :)