ENGLISH

Today my little toe is still swollen. I think it's worse than I thought.... . Hmmm... . I hope it gets over soon because it's very uncomfortable walking with this swollen toe... :(

This afternoon at 3.30 PM I went to Plaza Ambarrukmo with my friends. I thought it was not as crowded as last Monday (because the street's traffic in front of the mall was okay), but when I entered Carrefour inside, it was VERY crowded. The mall is cool and I think it's the greatest mall that Jogja (and Central Java probably) has ever had. The mall actually hasn't 100% finished yet, only some tenants have started to operate and the other tenants will open soon (probably next June all tenants will have already operated).

After that, we went to Hartz Chicken. Probably some of you know that I don't really like Hartz Chichken, but why did we go there?? The answer is easy: my friend paid that for me... . Ha3... . If it's like that, it's a different story then.... . Then, after having dinner at HC, we went to my house and watched the result show of American Idol. The result apparently really surprised me... . Ayla is out!! What!?!?! I think she deserves to make it to the top 12.... :( However, it's all about voting and if the result says that, what can I do?? At least I still have Katharine and Mandisa in the top 12, he3... :)

Then, my friends copied some mp3s from my computer and at 10.15 they went back home....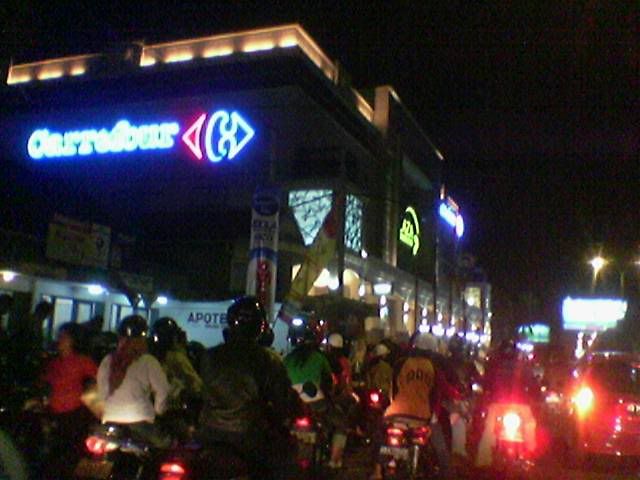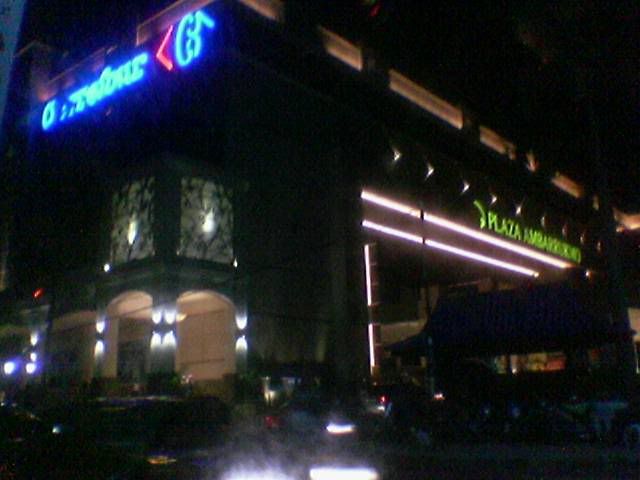 ::: Plaza Ambarrukmo



INDONESIAN

Hari ini jari kakiku masih bengkak. Kayaknya sih ternyata lukanya lebih buruk daripada yang aku kira deh... . Hmmm... . Moga-moga lukanya cepet sembuh soalnya nggak enak banget nih jalan dengan jari kaki yang bengkak.... :(

Siang ini jam 3.30 sore aku pergi ke Plaza Ambarrukmo sama temenku. Aku kira nggak serame Senen kemarin soalnya kan jalan di depannya tuh nggak macet, tapi ternyata waktu aku masuk ke Carrefour di dalamnya, ternyata SANGAT ramai. Mallnya keren dan menurutku ini adalah Mall paling bagus yang pernah dimiliki oleh Jogja (dan Jawa Tengah mungkin). Mallnya sebenernya belum 100% selesai, baru beberapa penyewa aja yang sudah mulai beroperasi dan tenants yang lain bakalan beroperasi segera (mungkin besok Juni semuanya sudah beroperasi).

Habis itu, kita pergi ke Hartz Chicken. Mungkin beberapa dari kalian ada yang dah tau kalo aku tuh nggak gitu suka makan di Hartz Chicken, tapi kenapa kita kesana?? Jawabannya tuh gampang banget: temenku mau nraktir... . Ha3... . Kalo begini sih, ceritanya jadi lain donk.... . Trus, habis makan di HC, kita pergi ke rumahku trus nonton Reslut Shownya American Idol. Ternyata hasilnya bener-bener mengagetkan aku.... . Ayla keluar!! Apa!?!?!? Menurutku sih dia berhak loh lanjut ke 12 besar.... :( Tapi bagaimanapun juga ini kan semua tentang voting dan kalo hasilnya berkata begini ya mau gimana lagi?? Paling gak kan masih ada Katharine sama Mandisa di 12 besar, he3... :)

Trus, temenku mengopi beberapa mp3 dari komputerku trus jam 10.15 mereka pulang...