ENGLISH

Last weekend was a boring weekend for me. I went nowhere and just stayed at home and studied because starting this morning I have a test we called TPHBS (Pre-Final Examination Test).

Talking about last Saturday, my orange fermentation was finished. At first we thought that my team's fermentation was not successfull because on Friday when we checked it, there was no bubble (there should be some bubbles). But, when we and our teacher checked it, she said that it was succesful (yaaay.... !!!) and we could drink it if we want. So, we boiled it first and then we brought it to class, and drank it when the breaktime. Well, it was bitter actually (because I didn't take the fiber away, and those fiber caused the bitterness on the drink). It smelt like a tape and I think it contained a pretty high alcohol (of course la, alcohol fermentation clearly created alcohol). But unfortunately, when my orange fermentation succeed, my tempe fermentation failed. Not only me, some other team also failed on this experiment. But the tape experiment succeed just like the orange alcohol.

This morning, just like what I have said above, I had the first day of my TPHBS. I had Indonesian and Biology this morning. They were not very hard but also not very easy. For biology, I had to memorize a very very large ammount of things and it was unpleasant. But that's okay.... :) Tomorrow I have math and PPKn test....


::: My Orange Fermentation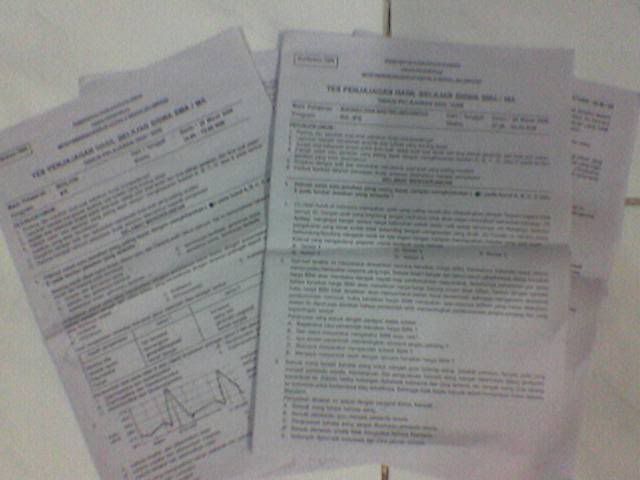 Two tested subjects (Biology and Indonesian)



INDONESIAN

Akhir minggu kemarin adalah akhir minggu yang membosankan untuk aku. Aku nggak kemana-mana dan cuma diem aja di rumah sambil belajar soalnya mulai pagi ini kan aku ada tes yang disebut sebagai TPHBS (Tes Penjajakan Hasil Belajar Siswa / Pra - Ebta).

Ngomong-ngomong tentang Sabtu kemarin, fermentasi jeruknya akhirnya selesai. Pertamanya aku kira fermentasi kelompokku gagal soalnya pas hari Jumat dicek, dah nggak ada gelembungnya (padahal seharusnya kan ada gelembung-gelembungnya tuh). Tapi waktu kami sama guruku ngecek, ternyata berhasil (yaaayy.... !!!) dan kita bisa meminumnya kalo kita mau. Jadi, kita pertama-tama merebusnya dulu, trus habis itu dibawa ke kelas, trus diminum pas istirahat. Ternyata rasanya agak pahit (soalnya aku nggak ngambil serabut-serabutnya, dan sayangnya serabut-serabutnya itu yang bikin pahit). Baunya kayak bau tape gitu dan kayanya ih mengandung banyak alkohol (jelas lah, namanya aja fermentasi alkohol ya pasti ada alkoholnya donk...). Tapi sayangnya, ketika fermentasi jerukku berhasil, fermentasi tempeku gagal. Nggak cuma kami, tapi kelompok-kelompok lain juga gagal fermentasinya. Tapi fermentasi tapenya berhasil koq kayak fermentasi jeruknya.

Pagi ini, kayak yang udah aku bilang i awal tadi, adalah hari pertama dari tes TPHBS. Tadi tuh ulangan Bahasa Indonesia sama Biologi. Nggak susah-susah amat sih, tapi juga nggak gampang-gampang amat. Untuk biologi, aku mesti ngapalin banyaaaaaaaaak banget dan nggak menyenangkan tuh. Tapi nggak papa koq... :) Besok aku ulangan matematika dan PPKn...