ENGLISH
By the end of this week, one chapter of my life officially comes to an end: Living in Bandung. Next Sunday, I am going back to my hometown, Yogyakarta.
Having lived for about 46 months in Bandung right now has been one important and colorful part of my life. I think I have become a different and better person now, than I was 46 months ago. Looking back at my 46 months life in Bandung, I think I can put them into four different phases.
Phase 1 : Moving In
I still remember the day I moved to Bandung. It was Monday and my parents drove me to this city, bringing all the things I might need, including a TV!! Well,
this
was my first entry in this blog in Bandung. Not long after moving in, I had
this bad experience
, where my cellphone was stolen! I had my first day as a college student
this time
and met new people and be friend with them.
At that time, moving to Bandung felt like a pretty big deal. I mean, it would be my first time living on my own. At that time, the distance of only 400 km seemed to be that "far" away from my comfort zone, in Yogyakarta. But, I am REALLY glad I came out of my comfort zone!! I am becoming the person I am now because I made a decision to leave Yogyakarta!! :-)
Anyway, the first phase was the hardest one, because I was completely a stranger to this new city and environment. Bandung is so different with Yogyakarta. But in the end I adjusted myself to this new city, and I entered the second phase.
Phase 2 : Settling In
After living for about two months in Bandung, I was getting used to all the new things surrounding me. I was adjusting myself to get used to the transition from high-school student to a college student. At that time I was so occupied with all the workloads from campus, but I still managed my time to be officials at two campus' activities, BTS (an internal magazine) and Komat (a national mathematics competition held by my department). If you are interested enough, you can read my entries from
October 2006
to
January 2007
.
Though this phase was still not my favorite one, but I started to like living in Bandung. I made some new friends, I knew some places to hang out and surf the net (I still hadn't subscribed to an internet operator at that time), and I started to make myself comfortable living in Bandung. I wouldn't call myself a Bandung citizen, but I DID live in Bandung :-).
Phase 3 : Citizen-ized
This is the longest phase out of all, in fact, most of my 46 months of life in Bandung is within this phase. At this phase, I completely became a citizen of Bandung. I was very comfortable with the city and even though the workload was huge, I didn't feel them as a big burden upon my shoulder anymore. Sure the workload was still much, but I could handle it really really well. In fact, I even became much more active in campus activities, with the peak was achieved with me being elected to be the president of my department's student council, at
this time
. Anyway, at that time I was also official on some other programs.
This phase was my favorite phase of all. I enjoyed living in Bandung and the city had been the second home for me. I had such a great time, with a good balance between college and fun. If you are interested, this phase covered most 2007 until 2009. You can find the link at the archive of this blog ;-)
So yeah, those time was such a super busy time ;-) I am so proud of myself for being able to manage my time really well and got through all those time with flying colors.
Phase 4 : Moving Out
There is a start, there is an end. Actually, this phase started at around my graduation day last February. But some considerations about my future which would eventually lead to this phase had occurred since months before.
As I was approaching the end of my under-graduate study, I had to figure out what I wanted to do next. The answer was easy for me: continuing my study to a higher degree. The harder question was: "
Where?
". I had an option to continue Phase 3, by taking my master degree in Bandung. But deep down, I had a bigger ambition, a bigger dream. I really want to study abroad, to broaden my horizon, to have that kind of experience. Beside, staying in Bandung would mean that I will stay in my comfort zone while getting out of my comfort zone has been proved to be a great thing for me.
My prayer was answered through
this great news
. Well, the news also meant that my life in Bandung should come to an end really soon :-) I have a working contract which will expire this May, and I decided to stay in Bandung until this working contract expires. Beside, I also need time to move out, right? :-) After that, I will go back home to Yogyakarta to prepare for the next chapter of my life. Hopefully there won't be many problems.
Well, this week, it officially comes to an end. I have bought a flight ticket back to Yogyakarta this Sunday. I have also packaged most of my stuffs back to home. This is really it, leaving Bandung. I am excited but somehow a bit sad at the same time, but I know I have to look forward and be ready for what the future has in store for me :-)
The details about this last week will be posted soon :-) Be patient.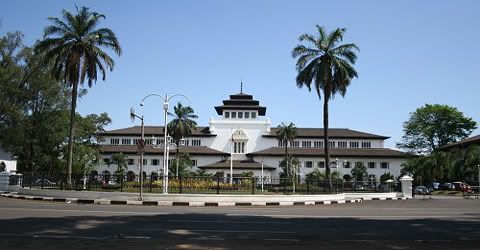 ps :
picture was taken from this page

BAHASA INDONESIA
Dengan berakhirnya minggu ini, satu bab dari hidupku juga berakhir: hidup di Bandung. Minggu besok, aku akan kembali ke kota asalku, Yogyakarta.
Hidup selama 46 bulan di Bandung sudah menjadi bagian yang penting dan berwarna-warni dari hidupku. Aku rasa aku telah berubah menjadi seseorang yang berbeda dan lebih baik dibandingkan 46 bulan yang lalu. Menilik 46 bulan kehidupanku di Bandung, aku rasa aku bisa membaginya ke dalam empat fase yang berbeda.
Fase 1: Moving In (Pindahan Awal)
Aku masih ingat hari ketika aku pindah ke Bandung. Waktu itu adalah hari Senin dan orangtuaku bersamaku naik mobil menuju Bandung, membawa semua barang yang akan aku butuhkan, termasuk sebuah TV!! Yah,
ini
adalah
posting
pertamaku di blog ini di Bandung. Tidak lama setelah pindah ke Bandung, aku mengalami
pengalaman buruk ini
, dimana hp-ku dicuri orang! Aku memulai hari pertamaku sebagai mahasiswa
pada waktu ini
dan bertemu banyak orang baru dan memiliki banyak teman baru.
Waktu itu, pindah ke Bandung serasa seperti hal yang sangat besar. Maksudnya, untuk pertama kalinya aku akan hidup sendiri. Waktu itu, jarak yang hanya sekitar 400 km saja terasa "jauh" loh dari zona nyamanku, di Yogyakarta. Tetapi, aku SANGAT lega aku berani keluar dari zona nyamanku!! Aku menjadi sekarang ini kan karena aku memutuskan untuk meninggalkan Yogyakarta!! :-)
Ngomong2, tentu fase pertama ini adalah yang terberat, karena aku benar-benar seorang asing di kota dan lingkungan yang baru. Bandung benar-benar berbeda dari Yogyakarta. Tetapi akhirnya aku mampu untuk menyesuaikan diri, dan masuk ke fase kedua.
Fase 2 : Settling In (Menyamankan Diri)
Setelah hidup selama sekitar dua bulan di Bandung, aku merasa semakin terbiasa dengan semua hal baru yang mengelilingi aku. Aku membiasakan diri dengan transisi dari seorang pelajar SMA ke seorang mahasiswa. Waktu itu, aku benar-benar disibukkan dengan banyak pekerjaan dari kampus, tetapi aku masih bisa meluangkan waktu untuk menjadi panitia di dua acara kampus, BTS (majalah internal), dan Komat (kompetisi matematika nasional yang diadakan jurusanku). Kalau tertarik, bisa dibaca di posting-postingku dari
Oktober 2006
hingga
Januari 2007
.
Walau fase ini bukanlah fase favoritku, tapi di fase ini aku mulai menyukai Bandung. Aku memiliki beberapa teman baru, aku tahu tempat untuk jalan-jalan dan internetan (aku masih belum memasang internet di kos waktu itu), dan mulai menyamankan diriku di Bandung. Aku masih belum menyebut diriku orang Bandung, tetapi aku MEMANG tinggal di Bandung :-)
Fase 3 : Citizen-ized (Ter-Bandung-isasi)
Fase ini adalah fase terlama dari semua, malah, sebagian besar dari kehidupan 46 bulanku di Bandung ada di dalam fase ini. Di fase ini, aku benar-benar menjadi penduduk Bandung. Aku merasa nyaman dengan kotanya dan walau pekerjaan ada banyak sekali, aku tidak terlalu merasakannya sebagai beban berat di pundakku. Memang ada banyak pekerjaan, tapi aku bisa meng-
handle
-nya dengan baik. Malah, aku menjadi semakin aktif juga di kegiatan kampus, dengan puncaknya adalah menjadi ketua himpunan mahasiswa jurusanku, pada
waktu ini
. Oh ya, waktu itu aku juga menjadi panitia di banyak acara lain.
Fase ini adalah fase favoritku. Aku benar-benar menikmati tinggal di Bandung dan kota ini telah menjadi rumah kedua bagiku. Aku memiliki masa-masa yang indah, dengan keseimbangan yang bagus antara kampus dan kesenangan. Kalau tertarik, fase ini ter-
cover
di sepanjang 2007 hingga 2009. Bisa dicari deh
link
-nya di
blog
ini ;-)
Jadi, ya, waktu-waktu itu memang waktu yang sangat menyibukkan ;-) Aku bangga dengan diriku yang mampu mengatur waktuku dengan baik dan melewati semuanya dengan sangat lancar sekali.
Fase 4 : Moving Out (Keluar dari Bandung)
Ada awal, ada akhir. Sebenarnya, fase ini dimulai pada saat wisudaku akhir Februari lalu. Hanya saja memang beberapa pertimbangan tentang masa depanku yang akhirnya membuat fase ini untuk dimulai telah muncul sejak beberapa bulan sebelumnya.
Dengan mendekatnya masa akhir studi tingkat sarjanaku, aku harus memikirkan apa yang akan aku lakukan selanjutnya. Bagiku, jawabannya sederhana: melanjutkan studi ke jenjang yang lebih tinggi. Pertanyaan yang lebih sulit adalah: "
Dimana?
". Aku memiliki pilihan untuk melanjutkan Fase 3, yaitu dengan kuliah S2 di Bandung. Cuma di dalam lubuk hatiku, aku memiliki ambisi yang lebih besar, mimpi yang lebih besar. Aku sangat ingin belajar di luar negeri, untuk memperluas wawasanku, dan memiliki pengalaman itu. Di samping itu, tinggal di Bandung berarti aku tetap tinggal di zona nyamanku padahal keluar dari zona nyaman telah terbukti merupakan suatu hal yang hebat yang pernah terjadi dalam hidupku.
Doaku dikabulkan melalui
berita hebat ini
. Hmm, berita itu juga berarti hidupku di Bandung harus berakhir segera :-) Aku memiliki kontrak kerja yang akan berakhir Mei ini, dan aku memutuskan untuk tetap tinggal di Bandung hingga kontrak kerjaku habis. Di samping, aku tentu butuh waktu untuk keluar dari Bandung kan? :-) Setelah itu, aku akan balik ke Yogyakarta untuk mempersiapkan bagian selanjutnya dari hidupku. Mudah2an tidak akan ada banyak masalah.
Hmm, minggu ini, semua benar-benar akan berakhir nih. Aku sudah beli tiket pesawat balik ke Yogyakarta hari Minggu ini. Aku juga sudah mengirimkan kebanyakan barang-barangku di Bandung ke rumah. Ini memang adalah saatnya, meninggalkan Bandung. Aku merasa sangat bersemangat tetapi sekaligus sedikit sedih juga, cuma aku tahu aku harus terus memandang ke depan dan siap dengan apa yang telah disiapkan oleh hidupku kepadaku kan :-)
Detail mengenai minggu terakhir ini aku tulis segera :-) Sabar yah.