ENGLISH
Yesterday, I bought my flight ticket back to Yogyakarta. I decided to get back there by the end of this week, one week faster than my original plan (next week). After looking at all available fares from several different days, I decided to buy the Sunday flight. It is official now, I am leaving Bandung this week :-)


Speaking of tennis, I am kinda happy this week. My favorite women players, the Williams sisters, officially occupy world no.1 and world no.2 in the singles world ranking! Well, after seven years, it is happening again! Plus, they won doubles title at a Premier Mandatory event at Madrid last week, making them co-world no.2 (not far behind the current world no.1, Liezel Huber. Well, I thought by winning Madrid the Williamses would occupy world no.1 also in doubles, but apparently Liezel Huber still had some more points). Anyway, in the men's side, it is still pretty much the same, Roger Federer and Rafael Nadal are still dominating the tour. Even though watching them play is entertaining, I feel kinda bored because noone else really steps up and match their level, yet. There is not so much fluctuation in the men's rankings.


I really hate those parking-man who don't do their job appropriately. I don't know whether they are legal or not, but the annoying thing is that they never show up when we arrive (thus, not helping us park our car, we gotta rely on our own parking ability) but then they magically pop-up from somewhere mysterious when we are about to leave. Their intention? No other than money. Whatta cr*p, I hate those guys.


One of my (then) favorite tv-show, Heroes, is now officially canceled after four seasons. Well, I find it no surprise, as it has kinda been "rambling" for the last three seasons. The first season was awesome, I even wrote a very short review about it here. However, after that, I didn't find it that much interesting anymore. The story got somehow much more complicated and there were so many things going on, "rambling" is the main reason.


Last week, finally I watched the new season of Indonesian Idol, finally. I was deeply super disappointed with its previous season. My review about the horrible season 5 can be found here

. It apparently still had some effects on me, making me not interested in watching season 6. However, some friends said this season was much better, with some promising contestants. I was still not that interested so I skipped all the episodes prior to the Spectacular Show. Last week was the first Spectacular Show and I decided to watch it (because Heroes, which is aired in the same time slot, isn't interesting anymore, I am willing to change my channel to RCTI, leaving Heroes unwatched :-) ). Apparently, true, this season has some promising talents. Still, not as great as season 1 (my favorite), but it is definitely a major step forward from the previous season. Btw, I think a girl will win this season.



A friend of mine posted this article on Facebook two weeks ago, and I like it. Now I know that it's not just me who likes to photograph meals :-) Here I post a picture of a meal I had last week and some weeks ago.


About ten days ago, I finally created an account at twitter. Well, I never understood what was so fun with twitter, and I still don't! Can anyone enlighten me please?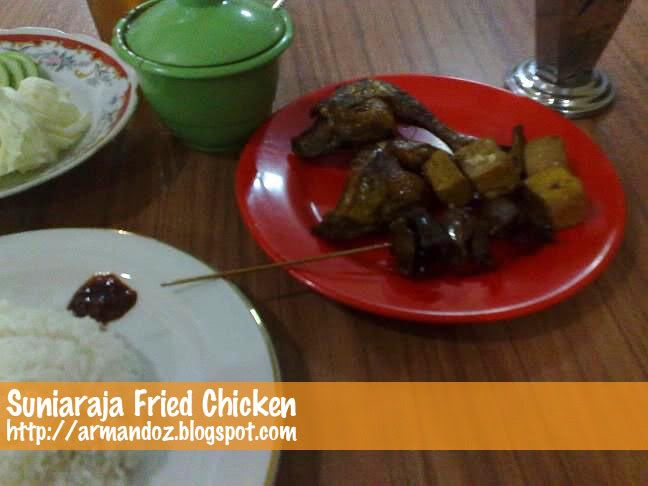 ::: Suniaraja Fried Chicken I had some weeks ago. I like it :-)
::: Nasi Kalong I had last week. It was pretty tasty but kinda expensive for that taste, but it's famous...

BAHASA INDONESIA
Kemarin, aku membeli tiket pesawatku untuk kembali ke Yogyakarta. Aku memutuskan untuk pulang akhir minggu ini, seminggu lebih cepat dari rencana awalku (minggu depan). Setelah melihat semua harga di beberapa hari, aku memutuskan untuk membeli tiket pesawat yang hari Minggu. Jadi, resmi deh, aku meninggalkan Bandung minggu ini :-)


Ngomong2 tentang tenis, aku senang nih minggu ini. Dua petenis wanita favoritku, Williams bersaudara, secara resmi menempati peringkat 1 dan 2 dunia di ranking dunia tunggal putri! Yah, setelah tujuh tahun, terjadi lagi nih! Di tambah lagi, minggu lalu mereka memenangi gelar ganda di turnamen level Premier Mandatory di Madrid, menjadikan mereka berdua peringkat 2 dunia (nggak jauh dari peringkat 1 dunia yang sekarang, Liezel Huber. Hmm, pertamanya aku kira mereka akan menjadi nomor 1 dunia jika menjuarai Madrid, cuma ternyata Liezel Huber masih memiliki sedikit poin keunggulan). Ngomong2, di bagian putra, masih sama aja sih, Roger Federer dan Rafael Nadal masih mendominasi tur. Walau menonton mereka bermain selalu menghibur, cuma aku agak bosan saja karena yang lain masih nggak ada yang bener-bener naik tingkat dan menyamai level permainan mereka. Nggak banyak fluktiasi di peringkat putra kan.


Aku benar-benar membenci tukang parkir yang tidak melakukan pekerjaan mereka dengan baik. Aku nggak tahu ya mereka resmi atau tidak, hanya saja hal yang menyebalkan adalah mereka tidak pernah muncul pada waktu kita datang (makanya mereka tidak membantu kita memarkir mobil, dan kita harus bergantung sama keahlian kita sendiri), tetapi kemudian mereka tiba-tiba muncul dari tempat antah-berantah ketika kita mau pergi. Tujuan mereka? Ya jelas uang lah. Dasar nggak berguna, aku benci orang-orang kaya gitu.


Satu acara tv favoritku (dulu), Heroes, sekarang secara resmi telah dihentikan setelah empat musim. Hmm, nggak heran sih, karena menurutku ceritanya sudah sangat "bertele-tele" selama tiga musim terakhir. Musim pertamanya keren banget, aku juga menulis sebuah review sangat singkat tentangnya disini. Namun setelah itu, aku nggak merasa tertarik dengannya lagi. Ceritanya menjadi semakin rumit dan ada banyak hal yang terjadi, "kebertele-telean" itu adalah alasan utamanya.


Minggu lalu, akhirnya aku menonton musim terbaru dari Indonesian Idol. Aku benar-benar kecewa berat dengan musim sebelumnya. Review-ku tentang musim 5 yang super jelek bisa dibaca disini. Kejelekan itu ternyata masih memiliki efek padaku, sehingga aku nggak tertarik nonton musim 6. Namun, beberapa teman bilang musim ini jauh lebih baik, dengan beberapa kontestan yang menjanjikan. Aku masih nggak begitu tertarik makanya aku melewatkan semua episode sebelum babak spektakuler. Minggu lalu adalah babak spektakuler pertama dan aku memutuskan untuk menontonnya (karena Heroes, yang ditayangkan di jam yang sama, nggak menarik lagi sih. Jadi nggak papa deh memindah channel ke RCTI, nggak nonton Heroes :-) ). Ternyata, benar bahwa musim ini memiliki beberapa kontestan menjanjikan. Masih belum sekeren musim 1 (favoritku), cuma jelas musim ini adalah sebuah langkah yang maju dari musim yang sebelumnya. Ngomong2, kayanya yang menang musim ini perempuan nih.


Seorang teman menulis link artikel ini di Facebook dua minggu lalu, dan aku menyukainya. Sekarang aku tahu deh kalo ternyata bukan cuma aku saja yang suka memotret makanan :-) Jadi sekarang aku unggah foto makanan yang aku makan minggu lalu dan beberapa minggu lalu deh.


Sekitar sepuluh hari yang lalu, akhirnya aku membuat account di twitter. Yah, aku nggak pernah mengerti apa sih asyiknya twitter, hingga sekarang lho. Ada yang bisa memberi tahu?