ENGLISH
Okay, as I promised
here
, I will now write about the detail of my last week in Bandung. My last week in Bandung was bittersweet. I mean, there were several bad moments which sucked to hell, but there were also some fun moments!! Which one should I write first? the bitter or the sweet?? Ah, I think it is always better to go on the bad ones first.
The first sucky thing was the super bad internet connection. You can read
here
that one thing I hated about last April was the poor internet connection I had in Bandung. The sucky internet connection apparently continued to May. Even, one day last week, it sucked to hell, being super unstable until after midnight. That means it was on and off (with mostly being off) the whole day!! It really frustrate me and made me feel to go back home a.s.a.p, hahaha. The second thing which I hated was my car's driver's window power, which stuck sometimes. Last week, when I was hanging out with my friends, it somehow stuck and wouldn't go up. It was the worst stuck-incident my car ever had, as I recall, because it stuck really tight and we had to work on it for about 20 minutes. About this incident, I think my car was being "cranky" to me because it probably now I was leaving it (I left my car in Bandung for my brother), hahaha.
Anyway, let's move to the good part. Last week, I hanged out with my college friends. On Wednesday, we went karaoke-ing, finally, after a really long time. It was also when the sucky stuck-window-incident happened. I ate A LOT that day. Because the karaoke center was full-booked, we had to wait until the evening to get a small room. While we were waiting, we had meal at Bakso Anggrek and snack at Mr. Lumpia. After karaoke-ing, we went up north to Lembang and had dinner at Ayam Goreng Brebes (Brebes Fried Chicken) there. The day was not over yet. After that, we went to "
Surabi Enhai
" and had some snacks there. Well, actually it was just me who had the surabi, whose portion was bigger than I expected!! I was so full and called the day to be over, haha...
On Friday, I went with my college friends, in a bigger group, and played bowling at BSM. I played pretty good for my standard, scoring 128 and 123. After that, we had dinner at ETC Cafe. Later that evening, we went to a small warung in Dago and had
pisang goreng
(fried banana) and of course had a chat. It was a very nice and fun evening! My friend also gave me a photo of remembrance for our friendship in college. Thanks Guys!!
On Sunday, I went back to Yogyakarta catching Wings Air's flight. Well, if I concluded that Wings Air only operated one plane on this route (ATR 72-500 with reg code PK-WFG)
here
, now they have a newer ATR 72-500. My plane which brought me back to Yogyakarta was registered PK-WFI, hahaha. Anyway, it was a really nice and super smooth flight. Now I am already back in Yogyakarta.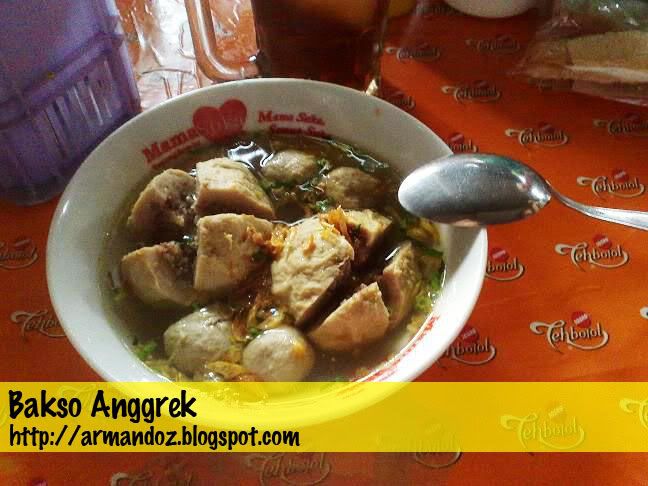 ::: Bakso Anggrek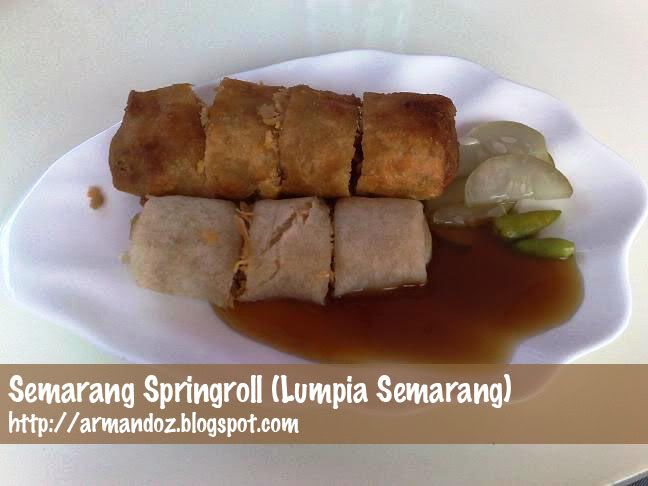 ::: Lumpia Semarang
::: A tasty Mozarella Hot Stuff. It was a French Fries with mozarella cheese and mushroom.
::: A grilled T-Bone, my meal at ETC Cafe. It was tasty and cheap, at Rp 37,000.-.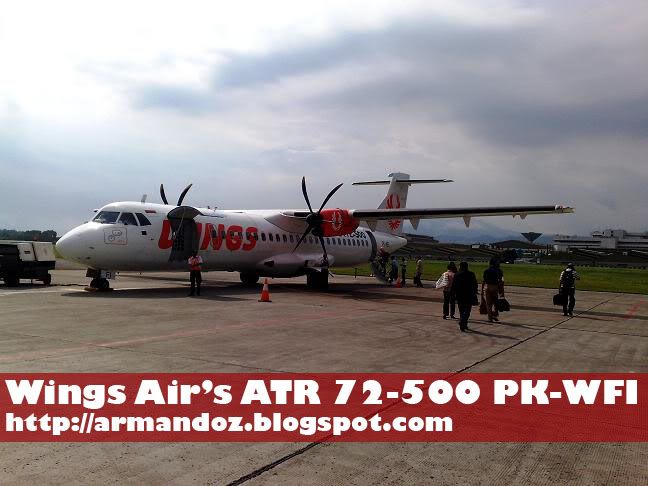 ::: Wings Air's ATR 72-500 reg code PK-WFI flight no JT/IW 1812 which brought me back to Yogyakarta. This aircraft was delivered to Wings Air from the manufacturer in France on April 22nd, 2010, a brand new aircraft.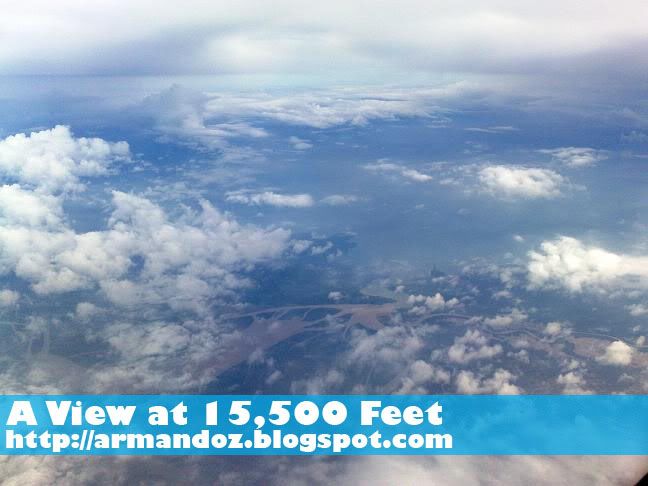 ::: A view from 15,500 feet. You can see the end of a big river (probably the Serayu River) with some big deltas.
::: Progo River with the famous Bantar Bridge and two railroad bridges. About four minutes before touching down at Yogyakarta Adisutjipto International Airport.

BAHASA INDONESIA
Oke, seperti yang aku janjikan
disini
, sekarang aku akan menulis
detail
mengenai minggu terakhirku di Bandung. Minggu terakhirku di Bandung terasa asam manis. Maksudku, ada beberapa hal sangat menyebalkan sekali, tapi juga ada hal yang sangat menyenangkan!!
Enakan
menulis yang mana dulu ya? yang asam atau yang manis??Ah, rasanya sih lebih enak menulis yang
nggak
enaknya dulu ya.
Hal menyebalkan pertama adalah koneksi internet yang parah banget. Bisa dibaca
disini
bahwa satu hal yang aku benci dari April lalu adalah koneksi internet yang payah. Ternyata kepayahan itu berlanjut hingga bulan Mei. Malah, di suatu hari minggu lalu, payahnya keterlaluan sekali, yaitu koneksinya tidak stabil hingga lewat tengah malam. Artinya, koneksinya nyala mati (dengan lebih sering mati) sepanjang hari!! Benar-benar membuatku jengkel tuh sampai aku merasa ingin cepat-cepat pulang, hahaha. Hal menyebalkan kedua yang aku benci adalah
power window
mobilku agak soak. Minggu lalu, waktu jalan2 sama temenku, tiba2 jendelanya macet
nggak mau
naik. Itu adalah kejadian jendela macet paling buruk yang pernah dialami mobilku, seingatku sih, karena kami harus mengurusnya selama sekitar 20 menit supaya benar lagi. Mengenai insiden ini, kayanya mobilku "ngambek" deh karena mungkin ia tahu aku akan meninggalkannya (kan aku meninggalkan mobilku di Bandung untuk adikku), hahaha.
Ngomong2, mending sekarang berpindah ke hal-hal yang baik saja deh. Minggu lalu, aku jalan-jalan bersama teman kampusku. Di hari Rabu, kami
karaokean
, akhirnya, setelah sekian lama. Hari itu jugalah hari dimana insiden-jendela-macet terjadi. Aku makan BANYAK BANGET hari itu. Karena tempat karaoke-nya penuh, kami haris menunggu sampai malam untuk mendapat ruangan yang kecil. Sambil menunggu, kami makan di Bakso Anggrek, kemudian makan
snack
di Mr. Lumpia. Setelah karaokean, kami bergerak menuju utara ke arah Lembang dan makan malam di Ayam Goreng Brebes. Belum selesai lho. Setelahnya, kami pergi ke Surabi Enhai dan makan
snack
disana. Yah, cuma aku
seh
yang makan surabinya, yang porsinya jauh lebih besar dari bayanganku!! Aku kenyang banget dan memutuskan pulang saja deh setelahnya, haha...
Di hari Jumat, aku pergi dengan teman kampus lagi, tetapi dalam grup yang lebih besar, dan bermain
bowling
di BSM. Aku main lumayan baik untuk standarku, dengan skor 128 dan 123. Setelahnya, kami makan di ETC Cafe. Kemudian malamnya, kami pergi ke sebuah warung kecil di Dago untuk makan pisang goreng dan tentu saja sambil ngobrol. Benar-benar hari yang asyik dan menyenangkan! Teman2ku juga memberiku sebuah foto kenang-kenangan mengenai persahabatan kami selama kuliah. Terima kasih teman2!!
Di hari Minggu, aku kembali ke Yogyakarta naik penerbangan Wings Air. Kalau aku menyimpulkan bahwa Wings Air hanya mengoperasikan satu pesawat di rute ini (ATR 72-500 dengan kode registrase PK-WFG)
disini
, kini mereka menggunakan ATR 72-500 yang lebih baru. Pesawat yang membawaku kembali ke Yogyakarta bernomor-registrasi PK-WFI, hahaha. Yah, penerbangan kemarin adalah penerbangan yang ok dan sangat mulus. Sekarang, aku sudah kembali di Yogyakarta deh.