ENGLISH
As you can read at my
second to last entry
, last Sunday, there was a lightning striking and apparently it affected my internet connection. Well, apparently my analysis was wrong! Dang it! I think now I have the same frustrating problem as I had
last year
. However, I just found a way to fix it (which didn't work last year but it's worth a shot since if it worked I would be able to save about Rp 1,600,000.-, haha). I tried two days ago and apparently, this time
it works
!! YEAAH!! So, I don't have to bring my laptop to the service center (which is in the bottom of my options list right now since I have a lot of works to be completed using my laptop this semester), haha...
Last Wednesday was really tiring tho. I had two seminar projects due last meeting and I gotta stayed up late to finish it, haha. Overall last Wednesday was a really tiring day with so many agendas to do.
Anyway, I just watched the latest episode of American Idol. This week's theme is Motown. Somehow, I didn't find this week as amusing as some previous weeks. Some contestants (many of them) didn't perform their best. Overall, my top three this week:
1. Allison Iraheta
2. Adam Lambert
3. Matt Giraud/Kris Allen/Danny Gokey
My bottom three this week:
8. Megan Joy
9-10. Scott MacIntyre/Michael Sarver
I think, the one who deserves to be voted off this week is either Scott MacIntyre or Michael Sarver. However, from these two, I think Michael Sarver is more likely to be voted off tho, since maybe some people still give their sympathetic votes for Scott (for his blindness). We will see tho.
Anyway, I think Megan Joy's version of "

For Once in My Life

" is the same with Jaclyn Victor's when she sang it on Asian Idol last year. Unfortunately, Megan's voice and style don't really suit this version of this song making her "vulnerable" this week. Compare these two performances:
::: Jaclyn Victor's version of "For Once in My Life" on last year's Asian Idol.
::: Megan Joy's version of "For Once in My Life", this week on American Idol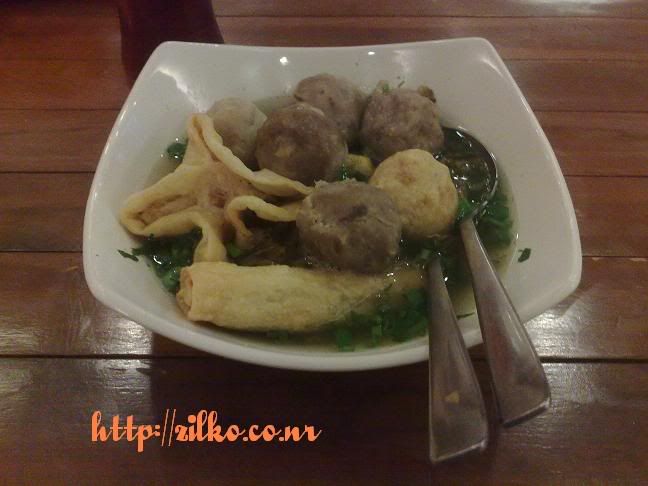 ::: '
bakso malang
' as my dinner today.

BAHASA INDONESIA
Seperti yang bisa dibaca pada
posting kedua terakhirku
, hari Minggu kemarin, ada sebuah kilat menyambar dan kilat itu mempengaruhi koneksi internetku. Ternyata, analisaku itu salah! Sial! Aku rasa aku sekarang sebenernya sedang mengalami masalah yang membuat frustasi yang sama seperti
tahun lalu
. Namun, aku baru saja menemukan cara untuk membetulkannya (yang nggak berhasil tahun lalu tetapi tidak ada salahnya mencoba soalnya jika berhasil aku bisa menghemat Rp 1.600.000,- loh, haha). Aku mencobanya dua hari yang lalu dan ternyata kali ini
berhasil
!! YEAAH!! Aku jadinya gak harus membawa laptopku ke pusat servis (yang jujur sangat tidak aku inginkan karena sekarang aku lagi ada banyak banget kerjaan yang harus dikerjakan dengan laptopku semester ini), haha...
Rabu kemarin benar2 melelahkan. Aku ada dua tugas seminar yang harus selesai pertemuan kemarin dan aku mesti begadang untuk menyelesaikannya, haha. Secara keseluruhan Rabu kemarin benar2 melelahkan dengan banyak agenda yang harus diselesaikan.
Ngomong2, aku baru aja nonton episode terbaru dari American Idol. Tema minggu ini adalah Motown. Namun, koq aku merasa bahwa minggu ini tidak seasik minggu-minggu sebelumnya ya? Beberapa kontestan (banyak sih) yang tidak tampil maksimal. Secara keseluruhan, tiga teratasku minggu ini:
1. Allison Iraheta
2. Adam Lambert
3. Matt Giraud/Kris Allen/Danny Gokey
Tiga terbawahku minggu ini:
8. Megan Joy
9-10. Scott MacIntyre/Michael Sarver
Aku rasa yang berhak untuk keluar minggu ini ya antara Scott MacIntyre atau Michael Sarver. Namun, dari dua ini rasanya Michael Sarver lebih berpeluang untuk tereliminasi sih, karena aku rasa mungkin sebagian orang masih mau memberikan

votes

simpati mereka ke Scott (karena kebutaannya). Kita akan lihat.
Ngomong2, aku koq merasa bahwa versinya Megan Joy atas lagu "

For Once in My Life

" koq sama seperti versinya Jaclyn Victor di Asian Idol tahun lalu yah? Coba deh bandingkan kedua video di atas. Sayangnya, suaranya dan gayanya Megan kurang cocok untuk versi ini, makanya dia jadi 'lemah' minggu ini.