ENGLISH
Of course I must enjoy this first long weekend, a really rare thing to enjoy this semester (up to midterm tho since next April, there will be another long weekend because of Easter, haha). At first I planned to just relax this weekend but then on Friday night one friend asked me to go surveying for TA (Temu Akrab) on Saturday. Okay, I was in.
Well, the place of this year's TA is the same with
two years's ago
, at Istana Bunga Villa, but just this year it will be on different villa. What were we surveying for while we already did that
this February
? Yesterday we were surveying for one part of the TA, the outdoor activity on the second day. What is it? Well, because this is an open blog and to make it a surprise, I can't write it here since there's a possibility some friends who will join TA read this blog, bwahahaha....
Anyway, it went well and I think we already had a pretty good concept for it. So, at about 12.45 PM we left Istana Bunga and went to Lembang. It was raining pretty hard otw there, but not for really long. We then had lunch at a warung by the side of the Lembang - Subang road. It was really cheap, I love its' kangkung hotplate!! It's tasty and really cheap, just Rp 6,000.oo per portion (which I consider it as a pretty big portion), haha. Then, at 3 PM we went back to Bandung.
My Sunday? It is just another ordinary Sunday tho. I think tonight I'm gonna go to a supermarket. Tomorrow I'm gonna have one exam, Linear Control, haha
::: One spot near Istana Bunga village.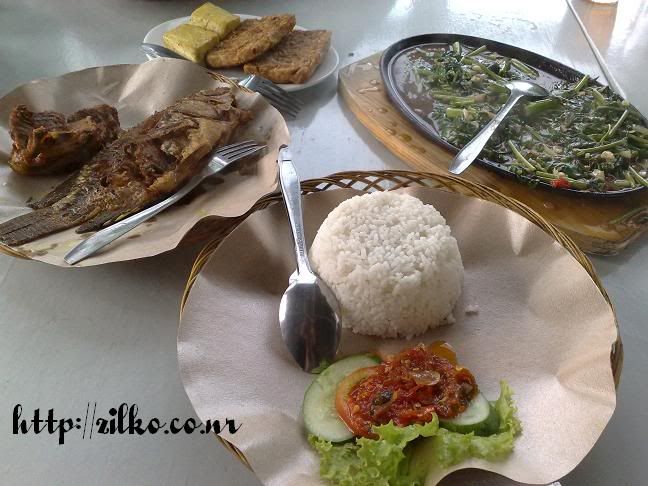 ::: Some of our meal. I love the kangkung hotplate, haha.
::: One spot near Lembang - Subang road.

BAHASA INDONESIA
Tentu saja dong aku harus menikmati long weekend ini, sebuah hal yang jarang terjadi semester ini (terutama sampe UTS soalnya besok April kan ada lagi tuh, long weekend karena Paskah, haha). Yah, pertamanya sih aku berencana untuk santai sejenak long wiken kali ini. Namun, Jumat malam seorang teman ngajakin untuk ikutan survey buat TA (Temu Akrab) hari Sabrunya. Ya udah, ikut deh.
Hmm, tempat untuk TA tahun ini sama kaya
dua tahun lalu
, di kompleks Villa Istana Bunga, cuma tahun ini di villa yang lain sih. Nah, trus kita survey apa dong padahal kita kan udah melakukannya
Februari kemarin
? Ya kemarin sih kita survey buat salah satu acara dari TA-nya, untuk hari kedua yaitu acara outdoor. Apakah acaranya? Saat ini tidak bisa aku tulis disini karena kan ini blog terbuka dan acara ini biar jadi kejutan gitu, makanya aku gabisa nulis disini soalnya kan selalu ada kemungkinan salah satu peserta TA ntar berkunjung ke blog ini dan baca, bwahahaha....
Truss, semuanya berjalan lancar dan kayanya konsepnya sudah terbentuk dengan bagus sih. Sekitar jam 12.45 siang kita meninggalkan Istana Bunga dan pergi ke Lembang. Hujan lumayan deres tuh di perjalanan kesana, tapi gak terlalu lama sih. Kita trus makan di sebuah warung di samping jalan Lembang - Subang. Murah bgt loh dan aku suka banget sama hotplate kangkungnya!! Lumayan enak dan harganya murah banget tuh, cuma Rp 6.000,oo per porsi (yang satu porsinya uda aku anggap besar), haha. Trus jam 3 sore balik deh ke Bandung.
Hari Mingguku? Yah, cuma hari Minggu yang lain sih. Mungkin nanti malam aku akan ke supermarket. Besok aku ada ujian neh, Kontrol Linear, haha