ENGLISH
Lately AXN aired
The Amazing Race
. Until last week, it aired The Amazing Race 9 (whose winner was BJ & Tyler), then started yesterday, it aired The Amazing Race 10. It airs TAR 5 times weekly, huehehehe... . The reason was obvious, since in about 1 month AXN is gonna air
The Amazing Race Asia 2
.
Btw, talking about TARA 2, I read
here
that it might be interesting. Out of 10 teams (why only 10 teams?? if it was more it would have been a lot more interesting), 4 of them were all-female teams. India and Pakistan are no longer represented (on season 1 India was represented by Sahil&Prashant, and Pakistan by Howard&Sahran), but were replaced by Japan (Daichi&Sawaka) and 1 team from Hong Kong (now there were 2 teams from HK, while on season 1 it was only 1 team).
Hmm, the interesting part is that Indonesia was represented by one team, Kinar&Brett. Guess what?? It turned up that Kinar was

KINARYOSIH

!! Yea, the celeb, huehehehe.... . Yesterday when I read the contestants' names I didn't realize it, even after seein the 9 teams pic even though I recognized one of them, huehehehe... .
One team from Hong Kong (Monica&Edwin) might be interesting since they claimed themselves as TARA's Rob&Amber dan said that the contestants of season 1 were boring as hell. Rob&Amber were the villain of The Amazing Race US series, and it's interesting to see how they did on this race.
Ah, I can't wait next month...
::: TARA Logo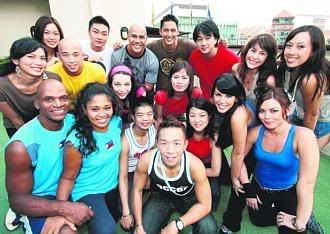 ::: TARA2's contestants (9 teams, missing one).

BAHASA INDONESIA
Akhir2 ini AXN nayangin
The Amazing Race
. Sampe minggu kemarin yang ditayangin tuh The Amazing Race 9 (pemenangnya BJ & Tyler), trus mulai kemarin yg ditayangin The Amazing Race 10. Nayanginnya 5x seminggu tuh, huehehehe.... . Alasannya jelas sih, soalnya mulai bulan depan AXN bakal mulai nayangin
The Amazing Race Asia 2
.
Ngomong2 ttg TARA 2, aku baca
disini
kayanya bakalan lumayan menarik. Dari 10 tim (koq cuma 10 tim sih?? padahal klo lebih banyak pasti lebih menarik tuh), 4 di antaranya tim semua wanita. India dan Pakistan nggak berpartisipasi lagi (di musim 1 India diwakili Sahil&Prashant dan Pakistan diwakili Howard&Sahran), tp digantikan sama Jepang (Daichi&Sawaka) sama 1 tim dari Hong Kong (HK skarang ada 2 tim, klo di musim 1 cuma 1 tim).
Nah, menariknya, Indonesia diwakili oleh 1 tim, Kinar&Brett. Dan gimana?? Ternyata Kinar itu

KINARYOSIH

loh!! Iya, artis itu, huehehehe... . Kmarin waktu baca nama pesertanya ga nyadar klo Kinar itu Kinaryosih, padahal udah liat foto 9 tim rasanya koq ada yang pernah liat gitu, huehehehe.... .
Satu tim dari Hong Kong (Monica&Edwin), kayanya menarik juga soalnya mereka mengeklaim diri mereka sebagai Rob&Amber-nya TARA dan ngomong kalo para kontestan musim 1 tuh nggak menarik. Rob&Amber kan tokoh 'penjahat'nya di The Amazing Race versi Amerika tuh, nah menarik jg liat sepak terjangnya mereka di musim ini.
Ah, nggak sabar ni nunggu bulan depan...