ENGLISH
Today was an ordinary lecture-day for me. My first lecture today started at 9 AM (but I was late and arrived at 9.10 AM, ha3... :D). Well, after UTS, the matery was not getting any easier, in fact, it becomes harder... :( I think I really have to work harder this semester...
At 10.30 AM, the lecture finished, and my friends and I had lunch at one canteen in our campus. At 11.30 AM, we finished having lunch and we had no idea what to do next since the next lecture would be at 3 PM. So, at about 12 PM we went to my boarding house and made what we are supposed to do as Komat's officials, he3... :) But at 1 PM, we then played cards, wakakakaka.... lol.

>> Fast Forward >>

At 3 PM, we went to our campus to have our next lecture.
At 4.30 PM, our lecture finished, and I went back to my boarding house. After having dinner and watching the first three performances in American Idol (Lakisha Jones, Chris Sligh, and Gina Glocksen), I left my boarding house to go to Bandung Railway Station. Unfortunately, otw there, I got a flat-tire!!! Arrrggghhhhh.... . That really sucks!! Okay, so I pulled over and got help from one kind guy. After 30 minutes, it was all fixed (I felt so relieved). Btw, Lakisha Jones sang "Last Dance" really really great, so far a lot better than Brenna Gethers who sang that song last year and was eliminated in the top 20 after singing that song, ha3... :) Btw, Gina Glocksen also did very very well, that was her best performance, and for me, twas kinda a bit neck to neck with Lakisha's performance, or even better!!
I then went to Bandung Railway Station to reserve my mudik ticket next Saturday, he3... :) I'm catching Argo Wilis Express again. Well, train is getting slower rite now. According to the schedule, my train will depart at 7 AM and arrive at 2.20 PM. My last trip catching Argo Wilis Express last January, on schedule, it departed at 7 AM and was supposed to arrive at 1.22 PM. Hmmmmm....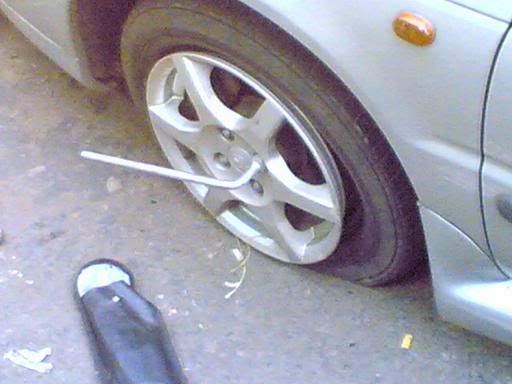 ::: Flat-tire

BAHASA INDONESIA
Hari ini adalah hari kuliah yang biasa untuk saya. Kuliah pertamaku hari ini dimulai jam 9 pagi (tapi aku si datengnya telat, jam 9.10 pagi, ha3... :D). Hmm, habis UTS, materinya ternyata nggak tambah gampang loh, kebalikannya, malah tambah susah... :( Memang ni harus kerja lebih keras semester ini...
Jam 10.30 pagi, kuliahnya selesai, dan temen2ku dan aku makan siang dulu di sebuah kantin di kampus. Jam 11.30 pagi, makan siangnya selesai dan kita nggak tau mau ngapain soale kuliah berikutnya tuh baru jam 3 sore. Jadi, jam 12an gitu akhirnya kita ke kosku deh mengerjakan hal yang seharusnya dikerjakan oleh panitia Komat, ha3... :) Tapi jam 1 siang akhirnya malah main kartu deh, wakakakaka.... lol.

>> Fast Forward >>

Jam 3 sore, kita ke kampus buat kuliah.
Jam 4.30 sore kuliah selesai, dan aku balik deh ke kosku. Habis makan malam dan nonton 3 penampilan pertama di American Idol (Lakisha Jones, Chris Sligh, dan Gina Glocksen), aku meninggalkan kosku dan mau ke Stasiun Kereta Api Bandung. Malangnya, otw kesana, ban mobilku bocor!!! Arrrggghhhhh.... . Menyebalkan sekali!! Oke deh, akhirnya aku menepi dan ditolong sama orang baik. Habis 30 menit, semuanya selesai (aku lega sekali). Btw, Lakisha Jones nyanyi "Last Dance" bagus tu, sangat jauh sekali lebih bagus daripada Brenna Gethers tahun lalu yang tereliminasi di 20 besar habis nyanyi tu lagu, ha3... :)
Btw, Gina Glocksen juga bagus banget loh, yg ini adalah penampilan terbaiknya, dan untuk aku, malah agak ketat sama penampilannya Lakisha, atau malah lebih bagus!!
Aku trus pergi ke Stasiun Kereta Api Bandung untuk pesen tiket mudik besok Sabtu, he3... :) Aku bakal naik Kereta Api Argo Wilis lagi. Hmm, kereta sekarang tambah lamban ya. Berdasarkan jadwal, keretaku akan berangkat jam 7 pagi dan sampe jam 2.20 siang. Padahal, terakhir kali aku naik kereta Januari kemarin, Argo Wilis berangkat jam 7 pagi dan di jadwal seharusnya sampe jam 1.22 siang. Hmmmmm....