ENGLISH
Note: sorry, I guess yesterday I clicked the "Don't Allow Comments" on my previous entry about Karma... :( I didn't mean that, and I have fixed it and now it's open for commentaries (again)... :)

Finally I have passed 3 subjects in this UTS... :) This morning I had linear programming test and I think I did pretty well. Well, even though my answer was different my my friends' but I kinda confident with it, hmm... . I'll recheck my answer once again later since even though I'm confident but when my answer is different, I just don't feel really good about it... :) Btw, yesterday I didn't study for the test this morning since twas an open-book test... lol.
Btw, this week, I watch the top 12 round of American Idol 2007. The theme this week was "tribute to Diana Ross". All 12 contestants sang Diana Ross' hits, and just as I predicted before, the gals really owned the guys this week. The weakest performer of the gals was Haley Scarnato, but I think she was still stronger than some other performances by the guys.
The best three (for me): Melinda Doolittle, LaKisha Jones, and Jordin Sparks
The worst three (for me): Sanjaya Malakar, Brandon Rogers, and Chris Richardson
The bottom three: Brandon Rogers, Phil Stacey, and Sanjaya Malakar.
Who got voted off?? Hmm, actually I don't want to write this info here, but since the info seems to have been spread, so I'll just write it down: Brandon Rogers!!
I dunno why but Sanjaya Malakar seems to have so many fans out there. From his 4 performances since the top 24 round, none of them was even in an 'okay' level, all were not really good (for me). But he is still sticking around there. Hmm, even though it's not really fair for the other contestants (such as Sundace who got voted off last week), but I'm still okay with his presence there as long as none of my most fave singers gets voted off before him... :) Let's wait for his performance next week.
Btw, I still prefer Sanjaya Malakar to Brandon Rogers, he3... :D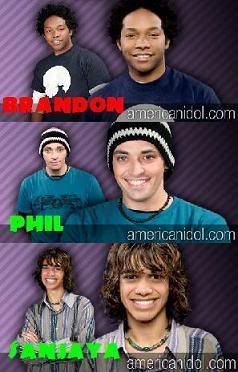 ::: Bottom three this week

BAHASA INDONESIA
Catatan: sorry, kayake kemarin aku nge-klik "Don't Allow Comments" di entry-ku sebelumnya tentang Karma... :( Aku nggak bermaksud begitu, dan aku sudah membenarkannya dan sekarang bebas deh untuk dikomentari (lagi)... :)

Akhirnya aku sudah melewati 3 mata kuliah di UTS kali ini... :) Pagi ini aku ada tes pemrograman linear dan kayaknya aku mengerjakan dengan baik sih. Hmm, walaupun jawabanku beda sama jawaban temen-temenku, tapi aku lumayan percaya diri deh sama jawabanku, hmmm... . Aku ntar ngecek jawabanku lagi ah soale walaupun aku lumayan pede tapi ya tetep aja ada perasaan gak enak tuh... :) Btw, kemarin aku ga belajar loh buat tes tadi soale kan open book... lol.
Btw, minggu ini, aku nonton babak 12 besar dari American Idol 2007. Tema minggu ini adalah "tribute to Diana Ross". Semua 12 kontestan menyanyikan lagunya Diana Ross dan seperti yang aku prediksikan, kontestan cewe jauh lebih bagus daripada kontestan cowonya. Yang terlemah dari kontestan cewe adalah Haley Scarnato, tapi untuk aku dia masih lebih bagus daripada beberapa kontestan cowo yang lain.
Tiga terbaik (untuk aku): Melinda Doolittle, LaKisha Jones, dan Jordin Sparks
Tiga terjelek (untuk aku): Sanjaya Malakar, Brandon Rogers, dan Chris Richardson
Tiga terbawah: Brandon Rogers, Phil Stacey, dan Sanjaya Malakar.
Siapa yang tereliminasi?? Hmm, sebenernya aku gamau nulis disini sih, tapi karena kayaknya infonya emang dah nyebar, ya udah lah aku tulis aja: Brandon Rogers!!
Gatau kenapa tapi kayake Sanjaya Malakar punya banyak bgt fans yah. Dari 4 penampilannya sejak babak 24 besar, ga ada yang masuk dalam bahkan kategori 'biasa' aja, semuanya nggak bagus (menurutku loh). Tapi dia masih aja bertahan disana. Hmm, walau agak ga adil untuk beberapa kontestan yang lainnya (misale Sundance yg tereliminasi minggu lalu), tapi masi gpp sih asal favoritku ga tereliminasi sebelum dia aja... :) Mari kita tunggu penampilannya minggu depan.
Btw, tapi masih mendingan Sanjaya Malakar si daripada Brandon Rogers, he3... :D