ENGLISH
Well, even though the title of this entry is kinda serious and the label is
My Lil' Thought
, actually this entry was inspired by some (similar) things that happened at many episodes of
The Amazing Race
.
Take a look at the list below:
-

TAR10

: Dustin&Kandice yielded Lyn&Karlyn and D&K arrived last at the pitstop, and indirectly caused their elimination the leg after
-

TARA

: Andy&Laura stole Sandy&Francesca's cab and they got eliminated even if they had been very strong the last few legs
-

TARA

: Zabrina&Joe-Jer were the nicest team amongst all 10 teams in TARA and they won the season!!
- etc
And two of the most spectacular happened last night at TAR All-Stars episode 4:
Well, as I wrote before, Rob&Amber had been the strongest team, winning consecutively all the first three legs. Well then, last episode they screwed a bit and fell into the 6th or 7th position (of 8) during the race. Charla&Mirna (my most fave team along with Rob&Amber, Dustin&Kandice, and Uchenna&Joyce) were struggling on the back of the pack because they started the leg last and about 2 hrs behind the other teams and as a result were pretty neck to neck with Rob&Amber. Guess what Rob&Amber did to them??
- Rob&Amber stole Charla&Mirna's cab (Charla&Mirna already secured the cab via telephone but otw, Rob&Amber stole it!!)
- Rob&Amber lied to Charla&Mirna and tried to throw them out of the race. They said the clue-box was down the hill (actually twas not)
And guess what?? Charla&Mirna caught up and passed them. After 3 consecutive winning the first three legs, Rob&Amber really fell down to the really back of the pack and

got eliminated

!!! Hmmmm......
Extra-Note:
- in the previous episode, Charla&Mirna really really saved Joe& Bill's life by telling them the complete clue (Joe&Bill didn't write it completely). If Charla& Mirna hadn't met and helped them, well, obviously Joe&Bill would have been the third team to get eliminated instead of David and Mary. But then, Joe&Bill left Charla & Mirna behind. I guess they would "pay" for it later... :)
Well, from many things that happened, do I believe that "karma" is real?? Hmmm, I don't really know, but the fact is that if we do something good to others even when we are on the competition atmosphere (as long as it's not dirty), I guess we will also get the pay back. Well, even though probably I don't trust it 100%, but I guess (unconsciously) I also "do" that on my daily life... :)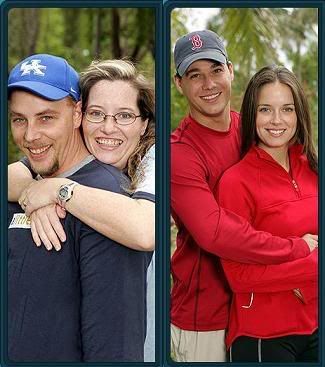 ::: David&Mary (left) and Rob&Amber (right), the third and fourth team to be eliminated

BAHASA INDONESIA
Hmm, walaupun judul dari postingan kali ini kayaknya serius dan labelnya adalah
My Lil' Thought
, sebenernya postingan ini terinspirasi oleh beberapa hal (yang mirip) yang terjadi di banyak episode di
The Amazing Race
loh.
Lihat daftar singkat berikut ini:
-

TAR10

: Dustin&Kandice menge-yield Lyn&Karlyn dan D&K sampai di pitstop terakhir, yang secara nggak langsung menyebabkan tereliminasinya mereka satu babak selanjutnya
-

TARA

: Andy&Laura mencuri taksinya Sandy&Francesca dan akhirnya mereka tereliminasi walau mereka tuh sebenernya kuat pada beberapa babak terakhir
-

TARA

: Zabrina&Joe-Jer adalah tim yang paling baik hati dari 10 tim di TARA dan mereka memenangkan musimnya!!
- dll
Dan dua yang paling spektakuler menurutku terjadi semalem di TAR All-Stars episode ke4:
Hmm, seperti yang udah aku tulis sebelumnya, Rob&Amber sudah menjadi tim terkuat, memenangkan secara berturut-turut tiga babak pertama. Kemudian, episode terakhir ini mereka agak kacau sedikit dan akibatnya jatuh ke posisi sekitar 6 atau 7 (dari 8) selama pertandingan. Charla&Mirna (tim favorit saya bersama dengan Rob&Amber, Dustin&Kandice, dan Uchenna&Joyce) berjuang keras di posisi terakhir soalnya mereka memulai babaknya paling terakhir dan sekitar 2 jam di belakang tim-tim yang lainnya dan akibatnya persaingannya lumayan ketat dengan Rob&Amber. Tebak apa yang Rob&Amber lakukan kepada mereka??
- Rob&Amber mencuri taksinya Charla&Mirna (Charla&Mirna udah mesen taksi lewat telepon, tapi dalam perjalan Rob&Amber mencuri taksinya)
- Rob&Amber berbohong ke Charla&Mirna dan mencoba mengeluarkan mereka dari pertandingan. Mereka ngomong kotak petunjuknya ada di bawah bukit padahal engga
Dan tebak gimana?? Charla&Mirna mampu mengejar dan menyalip mereka. Setelah 3 kali berturut-turut memenangkan 3 pertandingan pertama, Rob&Amber beneran jatuh banget ke posisi paling belakang dan

tereliminasi

!!! Hmmmm......
Catatan Tambahan:
- di episode sebelumnya, Charla&Mirna bener-bener menyelamatkan nyawa Joe and Bill dengan memberi tahu mereka petunjuk yang utuh (Joe&Bill nggak mencatat petunjuk dengan utuh). Kalau Charla&Mirna nggak ketemu mereka dan nggak ngasi tau mereka, jelas banget tuh kalo Joe&Bill pasti sudah jadi tim ketiga yang tereliminasi dan bukan David and Mary. Tapi kemudian, Joe&Bill meninggalkan Charla&Mirna. Hmm, menurutku mereka akan "membayarnya" kemudian... :)
Hmm, dari banyak hal yang terjadi, apa aku percaya akan keberadaan "karma"?? Hmm, nggak tahu saya, tapi kenyataannya kalau kita melakukan hal yang baik ke orang lain walaupun dalam suasana kompetisi (sejauh nggak kotor lho yaa), aku rasa kita juga akan mendapat bayarannya. Hmm, walaupun aku juga nggak mempercayainya 100%, tetapi aku rasa (secara nggak sadar) aku juga "melakukannya" dalam kehidupan sehari-hari... :)