ENGLISH
This morning at around 6.50 AM WIB, another air crash tragedy happened in Indonesia. Garuda Indonesia Boeing 737-400 GA 200 PK-GZC flying from Jakarta to Yogyakarta crashed and burst into flames after over-shooting the runway (just after landing at Adisutjipto Airport Yogyakarta) and as a result 21 people were killed.
According to the eye-witnesses, the landing was a bit strange just after the gears of the plane touched the runway. One third of the runway, there appeared fire on the gear of the plane. Two third of the runway, the fire just got bigger and bigger, then the fuselage overshot the runway about 300 meters leaving it not in one piece.
Well, this is a kinda shocking tragedy since Garuda Indonesia is considered as Indonesia's best airline, and not a low cost carrier. So, what really happened?? Hmmm, it's still unknown right now, but I guess there was a problem on the aircraft that caused the fire. So, in about 2 months, there have been 3 air crash tragedies in Indonesia, the missing (and later known as falling) Adam Air flying from Surabaya to Manado, Adam Air's tragedy in Juanda Airport Surabaya which had a hard-landing and caused the fuselage was bended, and Garuda Indonesia's tragedy this morning in Yogyakarta.
Well, my big condolence for them who were killed and injured because of the accident, and also the casualties' families and relatives... :(
This tragedy really shows us how poor the aviation regulation in Indonesia. Hopefully another tragedy won't happen again... :(
::: Garuda Indonesia GA 200 Boeing 737-400 PK-GZC in flame
::: Garuda Indonesia GA 200 Boeing 737-400 PK-GZC in flame (2)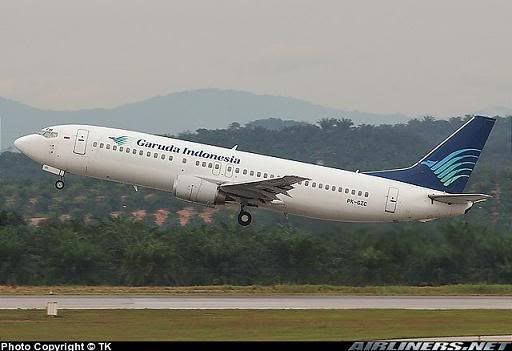 ::: Garuda Indonesia Boeing 737-400 PK-GZC, this is the pic of the aircraft which was burst into flames this morning in Yogyakarta (taken at July 2005 at KLIA, Malaysia) source:

www.airliners.net

BAHASA INDONESIA
Pagi ini sekitar jam 6.50 pagi WIB, sebuah kecelakaan pesawat kembali terjadi di Indonesia. Garuda Indonesia Boeing 737-400 GA 200 PK-GZC terbang dari Jakarta tujuan Yogyakarta terbakar setelah keluar dari landasan pacu (setelah mendarat di Bandara Adisutjipto Yogyakarta) dan sebagai hasilnya 21 orang tewas.
Berdasarkan saksi mata, pendaratan pesawat agak aneh semenjak roda pesawat menyentuh landasan. Sepertiga dari landasan, muncul api di roda pesawat. Dua per tiga dari landasan, api malah membesar dan membesar kemudian badan pesawatnya keluar dari landasan pacu sejauh sekitar 300 meter dan meninggalkan pesawat tidak dalam satu bagian lagi.
Hmm, ini agak mengagetkan soalnya Garuda Indonesia bisa dikatakan sebagai maskapai penerbangan terbaik di Indonesia, dan bukan maskapai penerbangan bertarif murah. Jadi, apa yang sebenarnya terjadi?? Hmmm, masih belum diketahui hingga sekarang, tapi aku rasa ada masalah dalam pesawatnya deh yang menyebabkan api. Jadi, dalam sekitar 2 bulan, sudah ada 3 kecelakaan pesawat di Indonesia, pesawat Adam Air yang hilang (kemudian diketahui kalo ternyata jatuh) dari Surabaya tujuan Manado, tragedi Adam Air di Bandara Juanda Surabaya yang mengalami pendaratan keras dan menyebabkan badan pesawatnya bengkok, dan tragedi Garuda Indonesia di Yogyakarta pagi ini.
Hmm, turut berduka cita bagi mereka yang tewas dan terluka akibat kecelakaan ini, dan juga bagi keluarga dan kerabat dari para korban... :(
Tragedi ini menunjukkan kita betapa payahnya regulasi penerbangan di Indonesia. Semoga tragedi yang lain nggak akan terjadi lagi... :(