ENGLISH
Previously on
Mid Year 2010 Vacation
: After having a long Sunday, Zilko and his friends finally arrived at Krabi. Now they were ready to welcome the new day, which would be the most exciting day of the trip, Monday, where they would join a tour to Phi-Phi Islands.
Day 4 (Monday, 14 June 2010)
I got up at about 7.30 AM because the local tour would pick us up at about 8.30 AM. After having a pretty good Western-style breakfast, we were ready at the hotel lobby. Up to about 8.40 AM, the pick-up was still not there yet. I asked the receptionist to call the number and they said they were already on the way. Not so long after that, they arrived. The pick up truck was this big old pick-up truck with two long benches at its rear with, of course, a sun-cover. We were apparently the last people they picked (there were already about 15 people on it when we got picked), as we directly went to the beach next.
Apparently, the departure point for all tours was at the same place: the west end of Noppharat Thara Beach. Anyway, this part of the beach was, I think, the most beautiful place in Ao Nang Beach. There were several limestone mountain near the coastline with a small pier with several boats and yachts. Anyway, then we got split into several groups according to our tour. We were with this group of about 30 people having the "Phi-Phi Islands" Tour. We were briefed for a moment before embarking out yacht. After everything was ready and each participant had picked his/her seat (as we were not allowed to trade seats after that), we left Noppharat Thara Beach. Anyway, I was stupid for picking the rear part of the yacht while the best part was the front part where a broad view was available. But, there was no sun-cover for those seats so be ready to get sun-burnt if you pick them.
Phi-Phi Islands was pretty far from Ao Nang Beach. It took us about 50 minutes to get to our first destination. Anyway, the view was so scenic, especially not long after we left Noppharat Thara Beach. But after that, it was just water, water, and water.
Bamboo Island
We arrived at Bamboo Island at about 10 AM and we got one hour
to kill
there. Before disembarking the yacht, they lent us snorkeling equipments and said there was a safe spot in Bamboo Island which was good for swimming. Okay, so we got out of the yacht and walked to the island.
Since Bamboo Island was our first destination, it looked so beautiful!! It was a small island overgrown with (seemingly) bamboo trees. Btw, we then realized they were not bamboo trees, I guess they were more like pine trees but from a distance they looked like bamboos. Kinda weird.
Anyway, since they lent us snorkeling equipments, I thought there was something under water to see. When we headed to the pointed area and swam, there was virtually NOTHING under it but just some small white fish. So, after just about five or ten minutes swimming, I got back to the beach and dried myself. I killed time by walking around the island, I didn't walk that far from my yacht though.
Open-Sea Snorkeling
This was our next destination. Our yacht stopped at the open sea not far from an island. The guide said that we could snorkel there and of course that's what we did! Our options were either snorkeling or just staying on the yacht. Of course the former is more appealing. So, after preparing ourselves, we jumped to the sea. Well, it was under our expectation. The water wasn't really clear so that we hardly enjoyed the corals down there, plus the corals were so 'uniform'. Well, but the good news was that at least there were many coral fish swimming, and it was kinda a good thing to see, at least. Then, suddenly the current got stronger and we all decided to get back to our yacht.
Phi-Phi Don Bay
Phi-Phi Don is the largest island in Phi-Phi Islands. Its beach was really beautiful. The limestone mountain was really in contrast with the clear blue sea, whatta magnificent scenery!! And that was where we had our lunch!! The restaurant was located right next to the beach, just steps away from where our yacht docked. So, we could enjoy all those scenery while we were having lunch (if we picked good table, and that was what we did ;-) ). It was a buffet all you can eat lunch with pretty good food (I am emphasizing on the "all you can eat" though, really cool, right?). It was lunch time and all tourists from many boats flocked to the restaurant.
We had one hour lunch break there, and because we still had about 30 minutes before get going, we decided to do a little island exploration. Well, it was really not an island exploration though because we just walked at the beach and looked around. Phi-Phi Don Bay was an inhabited island and so there were some communities living there. They opened some small stores and hotels. We then noticed that the price for items at this island was about twice as expensive as its price in the mainland! After walking around, we got back to the restaurant.
At about 1 PM we were called to our yacht to continue our tour.
Phi-Phi Leh Island
Phi-Phi Leh is the second largest island in Phi-Phi Islands, and apparently, this island was the highlight of our tour that day. There were three places we went to there.
Tham Viking Cave
Well, this cave was actually the remains of some
pirates
seamen who got stranded in the island due to severely bad weather. They built the cave with some traditionalistic structure and lived there for a while. Well, we didn't stop at the cave but our guide said that there was an ancient painting on the wall of the cave.
Ao Pi Le Lagoon
This lagoon was located not really far from Tham Viking Cave. It was such a beautiful lagoon surrounded by several limestone rock!! Our yacht went around the lagoon slowly allowing us to enjoy it and took some photographs. I gotta say this lagoon was the best lagoon I have ever been so far!! Even one man (who was also in our tour) described this place as "paradise" to his family, haha....
Maya Bay
This beach was probably the highlight of our tour that day. Famous because one Hollywood movie,
The Beach
, was filmed there, this bay was located in the other part of Phi-Phi Leh Island. I was really super excited when our guide said our next destination was this beach because I wanted to go to there BADLY!! Lucky the weather was good that day so we could drop by at this bay.
Well, just like in the movie, the beach was SUPER beautiful and clean!! The contrast white sand with the clear blue sea and all those limestone mountain, it was paradise!! Unfortunately, we only had thirty minutes to spend there. D*mn, we should have had at least one hour!!
After getting around and taking pictures at the beach, we still had about 10 minutes and decided to follow a pathway track into the island. Well, the scenery was also beautiful as the track led us to (seemingly) a valley between two gigantic limestone mountain. We only reached the restroom and decided to go back as we only had slim time. Actually the track still went deeper into the island and actually I am still really anxious about it. If only I had had enough time, I would have followed that path much deeper :-)
Anyway, we then went back to our yacht and left Maya Bay.
(Another) Open Sea Snorkeling
As we were getting back to Noppharat Thara Beach, we made one last stop at another spot in the open sea. They said it was the best site in Krabi to go snorkeling. Well, of course I then got excited after hearing that. I really had expectation on this one.
Again, we then jumped to the sea and it was true that this site was much better than the previous snorkeling site we had. HOWEVER, I won't say it is a great place to do snorkeling. Sure the water was fresh clean and we could see clearly all the corals and fish underneath it, but it was just, well, so-so. Some tourists got excited just seeing
clown fish
but I didn't, haha. It was just clown fish, you know, I can see them like, figuratively, anywhere.
After snorkeling for about thirty minutes there, we got back to our yacht and went back to Noppharat Thara Beach. Well, apparently swimming in the sea is super tiring!! Now I fully understand how hard it is to be a survivor who gotta float in the open sea waiting for rescue to come, LOL. We can hardly control our body because of the current and sometimes accidentally drink the salty sea water, which sucks to hell! hahaha...
Anyway, I got some short sleep during our way back to the beach, hahaha. It was so comfortable :-) Back at the beach, the "touristy" atmosphere became stronger as some locals apparently silently took our pictures earlier that day, printed it, and put it in a nice beachy frame. I found the frame was kinda unique and so "beachy" plus they offered an understandable price for it: 100 baht, so I decided to buy it as a memorabilia :-)
We then got back to the parking area and waited for our transport back to our hotel, it was included in the package!! Whatta responsible tour, haha. Anyway, there was this minor argument (not involving me, thanks God) between one of the tourist with the guide. I'll keep it for later though, hehe... :-) Anyway, so we then got back to our hotel safely.
Tired, we took a short rest but then got ready to get back to the beach that evening. This time, we didn't do the same stupid mistake, and used the free transport offered by the hotel to get to the beach. The day before, we explored the Ao Nang beach (to the left from the T-Junction from our hotel), and that day we decided to see what was in the right side (Noppharat Thara Beach). Apparently, Ao Nang Beach was much more interesting and more "live". There were just hotels or resorts at Noppharat Thara Beach and that was kinda a bit uninteresting to see. So, we walked back to Ao Nang Beach.
This time we stopped by at several shops. I bought some gifts there, my friends did also. Then we had dinner at a crowded Italian Restaurant which offered special promotion rate for pizza. They priced all their pizzas 140 baht and of course to maximize the discount, we picked the two most expensive pizzas, hahaha :-) O yea, they also gave us free salad. The pizza tasted tasty and no wonder this restaurant was the fullest restaurant in that area!! After that, we explored the town a bit more. Apparently, the small town of Ao Nang was much bigger than we expected! After walking pretty far and it seemed that we already reached the end of the city, we decided to catch a tuk-tuk to get back to our hotel.
to be continued...
Next on : Mid Year 2010 Vacation :
Leaving Krabi
Kuala Lumpur for a brief time
back to Singapore
L : My Western-Style Breakfast
R : One view at Noppharat Thara Beach, near the pier.
L : Noppharat Thara Beach
R : They call this island "Chicken Island" though at first it was more like a 'turtle' for me. But, whatever...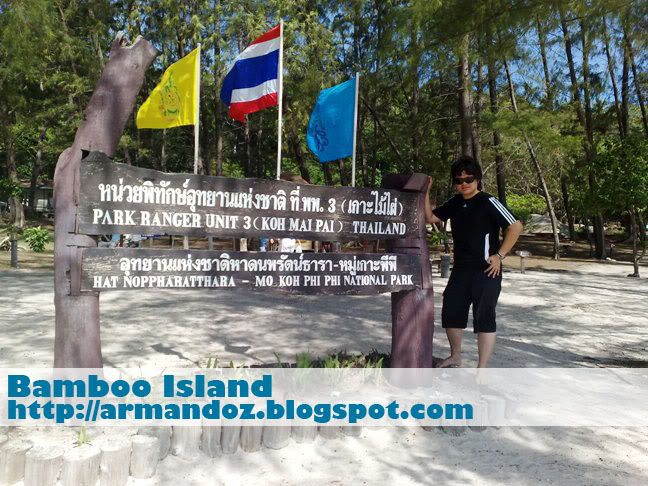 L : Approaching Bamboo Island.
R : At Bamboo Island.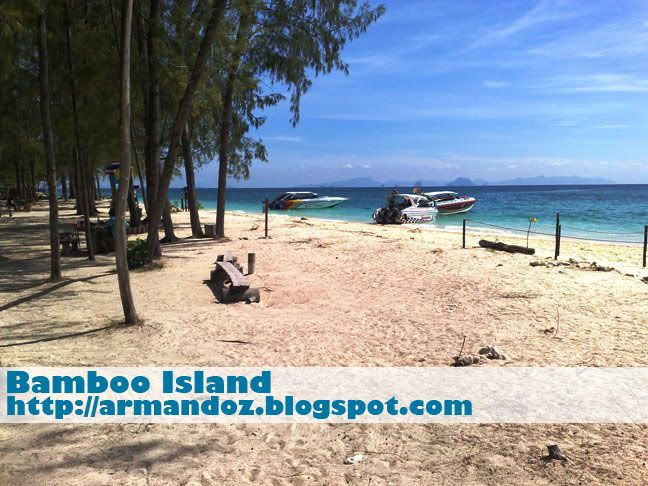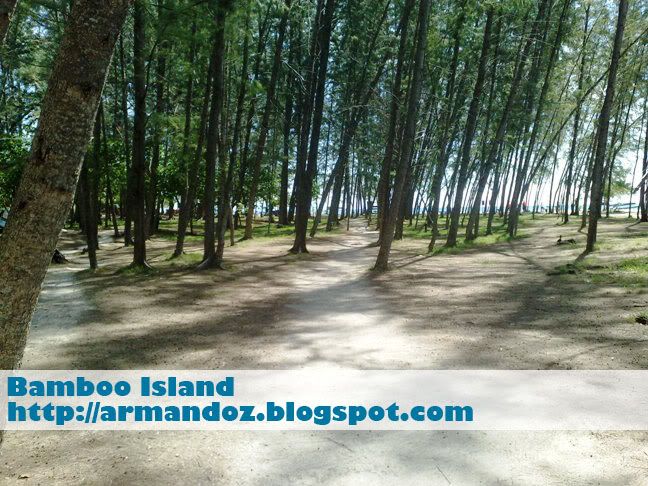 L : Beautiful Beach at Bamboo Island.
R : The "bamboos", but they were really not bamboos tho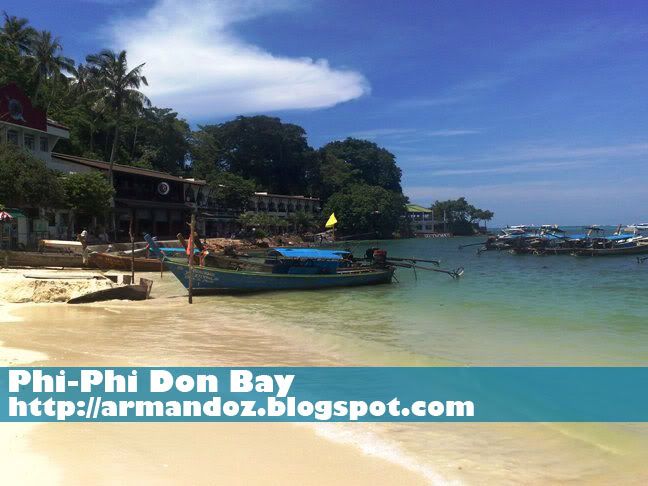 L : At Phi-Phi Don Island.
R : Another View at the inhabited Phi-Phi Don Island.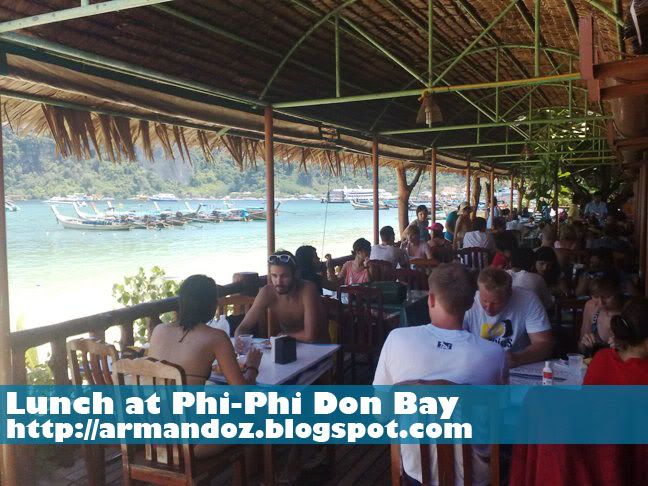 L : Whatta busy Restaurant!
R : Tham Viking Cave.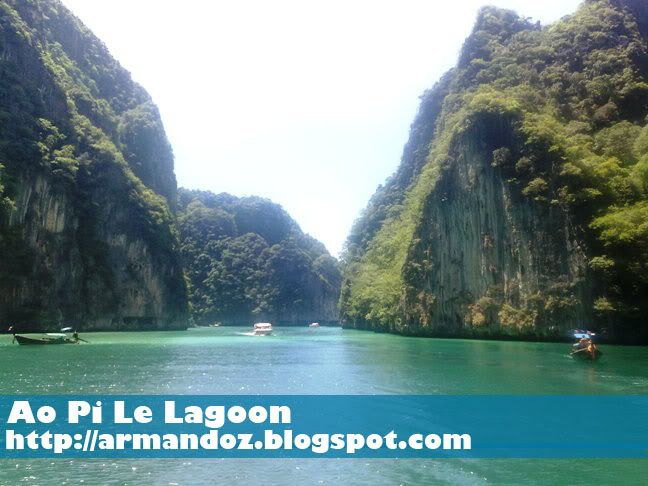 L : One view at Ao Pi Le Lagoon.
R : Another view at Ao Pi Le Lagoon.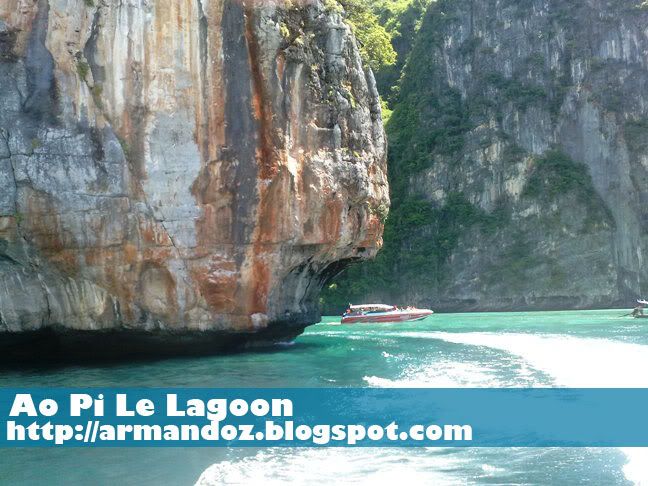 L : Another view at Ao Pi Le Lagoon.
R : The scenic Maya Bay.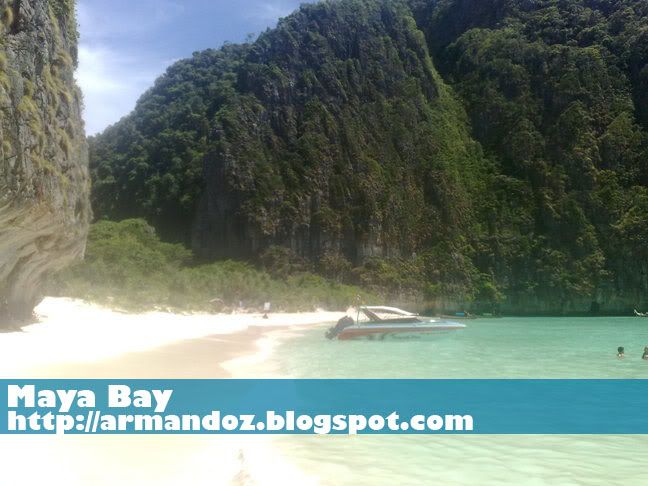 L : Another view of the scenic Maya Bay.
R : Getting deeper into the island.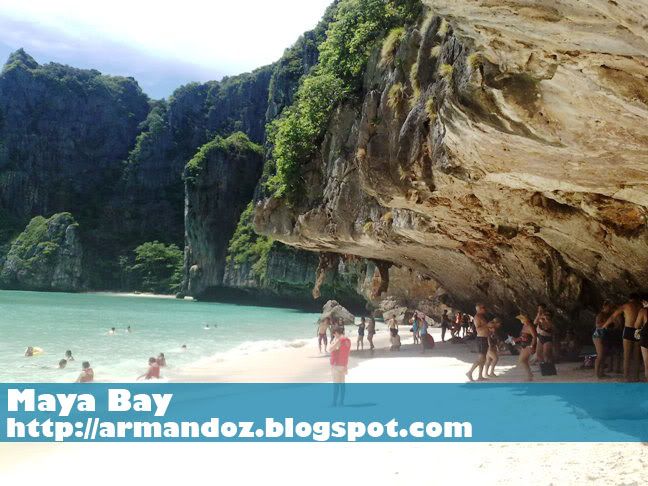 L : Tourists at Maya Bay.
R : Maya Bay.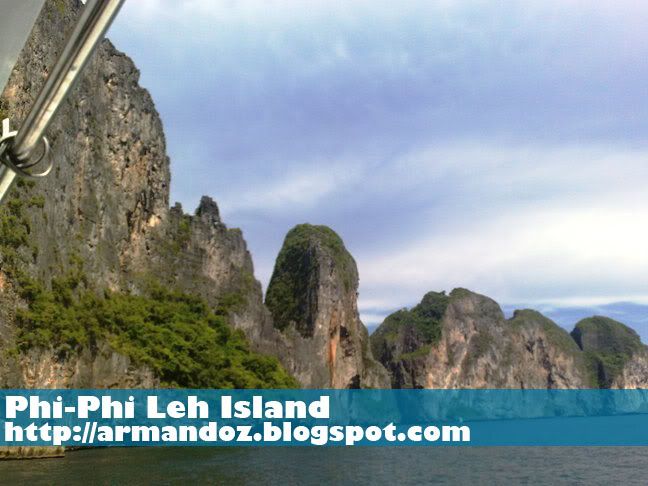 L : Leaving Maya Bay.
R : Phi-Phi Leh Island, the island where Maya Bay is located.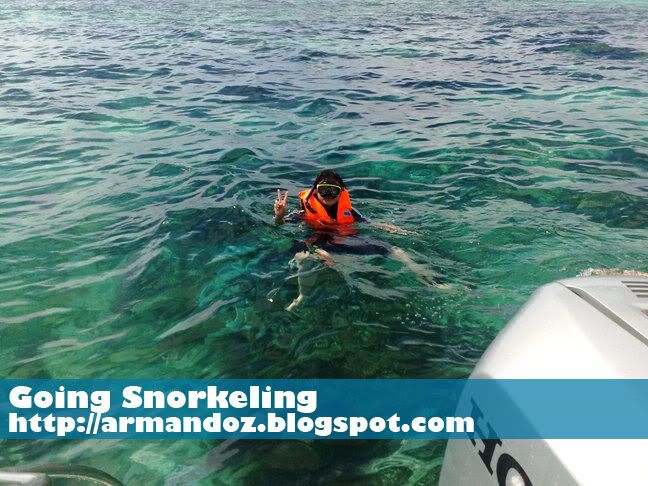 L : Phi-Phi Leh Island, the island where Maya Bay is located.
R : Going snorkeling, it was tiring.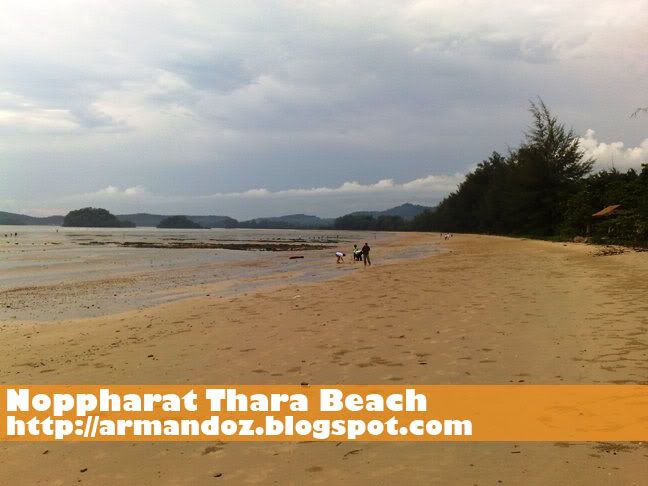 L : One view at the east side of Noppharat Thara Beach. After getting to Maya Bay, this beach turned to be just "okay", haha
R : Free All-You-Can-Eat Salad!! Wow
L : two pizzas in promotion rate.
R : A Roman Soldier statue at Ao Nang Beach

BAHASA INDONESIA
Sebelumnya dalam
Mid Year 2010 Vacation
: Setelah mengalami hari Minggu yang panjang, Zilko dan teman2nya akhirnya tiba di Krabi juga. Sekarang mereka siap untuk menyambut hari yang baru, hari yang seharusnya menjadi hari paling mengasyikkan dari perjalanan ini, hari Senin, dimana mereka akan mengikuti tur ke Kepulauan Phi-Phi.
Hari 4 (Senin, 14 Juni 2010)
Aku bangun sekitar jam 7.30 pagi karena turnya akan menjemput kami sekitar jam 8.30 pagi. Setelah makan sarapan ala barat, kami sudah siap deh di
lobby
hotel. Sampai sekitar jam 8.40, jemputannya belum tiba juga. Aku meminta resepsionis untuk menelepon nomor yang mereka berikan dan katanya mereka sudah di jalan. Nggak lama, truk
pick-up
jemputannya tiba. Truk
pick-up
-nya adalah truk
pick-up
tua yang besar dengan dua bangku panjang di bagian belakangnya dengan, tentu saja, penutup sinar matahari. Kami ternyata adalah orang terakhir yang dijemput loh (waktu kami dijemput sudah ada sekitar 15 orang di truk itu), dan kami langsung menuju pantai.
Ternyata, titik keberangkatan untuk semua tur ada di tempat yang sama: ujung barat pantai Noppharat Thara. Ngomong2, bagian ini dari pantai tersebut adalah tempat paling bagus di pantai Ao nang tuh kalo menurutku. Ada beberapa bukit kapur nggak jauh dari pinggiran pantai dengan sebuah dermaga kecil dengan kapal-kapal dan
yacht
. Lanjut, kemudian kami dibagi ke beberapa grup berdasarkan tur kami. Kami bersama satu grup yang terdiri atas 30an orang yang akan tur ke Phi-Phi. Kami di-
briefing
sebentar oleh pemandunya sebelum akhirnya menaiki
yacht
kami. Setelah semua siap dan setiap peserta memilih tempat duduknya (karena kami nggak boleh bertukar tempat duduk setelahnya), kami berangkat. Ngomong2, aku bodoh deh karena memilih tempat duduk di bagian belakang kapal, padahal yang paling enak kan di depan kapal tuh yang pemandangannya luas dan tak terhalang kan. Tapi ya kalau duduk di depan nggak ada penutupnya, jadi ya siap-siap aja terbakar sinar matahari.
Kepulauan Phi-Phi Islands terletak lumayan jauh juga dari pantai Ao Nang. Membutuhkan waktu sekitar 50 menit untuk tiba di tempat tujuan pertama kami. Ngomong2, pemandangannya bagus loh, terutama nggak lama setelah meninggalkan pantai Noppharat Thara. Namun setelahnya, ya cuma air, air, dan air saja.
Bamboo Island
Kami tiba di
Bamboo Island
sekitar jam 10 pagi dan kami memiliki waktu satu jam
untuk dibuang
disana. Nah, ceritanya kan sebelum turun dari kapal, mereka meminjamkan peralatan
snorkeling
pada kami dan berkata ada tempat aman di
Bamboo Island
yang bagus untuk berenang. Oke, kemudian kami turun dari kapal dan berjalan ke pulaunya.
Karena
Bamboo Island
adalah tujuan pertama kami, pantainya kelihatan bagus banget lho!! Ini adalah sebuah pulau kecil yang ditumbuhi oleh (seperti) pohon bambu. Btw, kami kemudian sadar kalo sebenarnya pohon2 itu bukan bambu deh, aku rasa lebih seperti pohon pinus tapi memang kalau dari jauh sepintas seperti bambu sih. Aneh juga.
Ngomong2, karena mereka meminjamkan peralatan
snorkeling
itu, ya aku kira ada pemandangan bawah air yang bisa dilihat dong. Kami kemudian pergi menuju area berenang itu dan ternyata NGGAK ADA APA-APA di bawah air kecuali beberapa ekor ikan putih. Jadi, setelah sekitar lima atau sepuluh menit berenang nggak jelas, aku naik deh dan mengeringkan diri saja. Kemudian aku jalan-jalan keliling pulaunya, yah nggak jalan jauh sih cuma di dekat kapalku saja.
Snorkeling di Laut Lepas
Ini adalah tujuan kedua kami.
Yacht
kami berhenti di suatu tempat di tengah laut nggak jauh dari sebuah pulau. Pemandu kami berkata kami bisa
snorkeling
disana dan tentu saja itu yang kami lakukan. Lha pilihannya antara
snorkeling
atau duduk-duduk nggak jelas di kapal sementara yang lain
snorkeling
. Jelas pilihan pertama tuh yang kami pilih. Jadi, kemudian kami mempersiapkan diri kami, trus lompat deh ke laut. Yah, ternyata nggak sebagus bayangan deh. Airnya nggak terlalu jernih jadi sulit juga melihat koral yang ada di bawahnya, di samping itu, koralnya 'seragam' banget. Yah, tapi berita baiknya adalah setidaknya masih ada deh banyak ikan disana, jadi ya masih ada yang bagus lah untuk dilihat, setidaknya. Kemudian, tiba-tiba arusnya jadi kuat dan kami pada naik ke
yacht
lagi.
Phi-Phi Don Bay
Pulau Phi-Phi Don adalah pulau terbesar di Kepulauan Phi-Phi. Pantainya benar-benar bagus banget. Gunung-gunung kapur yang kontras dengan air laut birunya, bener-bener pemandangan yang keren!! Dan disanalah kami makan siang!! Restorannya terletak persis di pinggir pantai, hanya beberapa langkah dari lokasi
yacht
kami ditambatkan. Jadi, kami bisa menikmati semua pemandangan itu sambil makan siang (kalau memilih meja yang bagus tentunya ya, dan itulah yang kami lakukan ;-) ). Makan siangnya adalah model
buffet all you can eat
(aku tekankan nih, makan siang sepuasnya loh, asik juga tuh). Waktu itu adalah waktu makan siang dan alhasil restorannya penuh oleh turis.
Kami diberi waktu istirahat makan siang sejam disana, dan karena masih ada 30 menit sebelum jalan, kami memutuskan mengeksplorasi pulaunya sedikit deh. Yah, nggak mengeksplorasi pulau juga sih soalnya cuma jalan-jalan aja di pinggir pantai, haha. Pantai Phi-Phi Don ini adalah pantai yang berpenghuni dan ada beberapa komunitas yang tinggal disana. Mereka membuka beberapa toko kecil dan ada juga hotel. Kami kemudian menyadari kalau ternyata harga barang disana sekitar 2x lipat harga barang di daratan utama loh! Setelahnya, kami kembali ke restoran deh, duduk-duduk disana.
Sekitar jam 1 siang kami dipanggil untuk kembali ke
yacht
untuk melanjutkan tur.
Pulau Phi-Phi Leh
Pulau Phi-Phi Leh adalah pulau terbesar kedua di Kepulauan Phi-Phi, dan ternyata, pulau ini adalah inti dari tur kami hari itu. Ada tiga tempat yang kami kunjungi.
Gua Viking Tham
Yah, gua ini sebenarnya adalah sisa-sisa dari beberapa
bajak laut
pelaut yang terdampar disana karena cuaca sangat buruk. Mereka membangun gua itu dengan beberapa struktur tradisional dan tinggal disana untuk beberapa waktu. Ya kami nggak berhenti disana sih cuma kata pemandunya ada lukisan kuno yang terlukis di dinding gua.
Laguna Ao Pi Le
Laguna ini terletak nggak jauh dari Gua Viking Tham. Ini adalah laguna yang sangat indah dikelilingi beberapa gunung-gunung kapur!!
Yacht
kami berkeliling laguna pelan-pelan sehingga kami bisa menikmati pemandangannya dan mengambil beberapa foto. Aku harus bilang bahwa laguna ini adalah laguna terbaik yang pernah kulihat!! Bahkan seorang om2 (yang juga ikutan tur itu) mendeskripsikan laguna ini sebagai "
paradise
'surga'" ke keluarganya, haha....
Pantai Maya
Pantai ini mungkin adalah tujuan paling penting dari tur hari itu. Terkenal karena sebuah film Hollywood,
The Beach
, disyuting disana, pantai ini terletak di bagian lain Pulau Phi-Phi Leh. Aku sangat bersemangat sewaktu pemandu kami bilang bahwa tujuan selanjutnya adalah pantai ini karena aku kan SANGAT ingin kesana!! Untungnya lagi, hari itu cuacanya lagi bagus sehingga kami bisa mampir disana.
Yah, kaya di filmnya, pantai ini benar-benar SANGAT bagus dan bersih loh!! Pasir putih yang kontras dengan air laut yang berwarna biru dan semua gunung-gunung kapurnya, wow, kaya nirwana tuh!! Sayangnya, kami cuma diberi waktu setengah jam disana. Si*l, harusnya paling nggak kan sejam tuh!!
Setelah berkeliling pantai dan foto-foto disana, kami masih memiliki waktu 10 menit dan memutuskan untuk mengikuti sebuah jalan setapak masuk ke dalam pulau. Pemandangan di dalamnya bagus juga lho soalnya jalannya kan (seakan-akan) membimbing kita menuju sebuah lembah di antara dua gunung kapur raksasa. Kami cuma jalan sampe toilet saja sih soalnya waktunya kan sudah
mepet
banget. Sebenarnya jalannya masih bisa masuk jauh ke dalam tuh dan sebenarnya aku merasa penasaran juga. Kalau saja waktunya cukup, sudah aku eksplorasi lebih dalam tuh :-)
Ngomong2, kemudian kami kembali ke kapal kami dan meninggalkan Pantai Maya.
Snorkeling di Laut Lepas (Lagi)
Dalam perjalanan kembali ke Pantai Noppharat Thara, kami berhenti di satu pergentian terakhir di tengah laut. Katanya sih ini adalah tempat terbaik di Krabi untuk
snorkeling
. Tentu saja aku tertarik setelah mendengarnya. Aku benar-benar berharap sama satu tempat ini deh.
Lagi, kami kemudian lompat ke laut dan ternyata memang lokasi ini jauh lebih baik dari lokasi
snorkeling
sebelumnya. NAMUN, tetap saja aku nggak akan bilang ini adalah tempat yang bagus buat
snorkeling
. Memang sih airnya jernih dan kita bisa melihat semua koral dan ikan di bawahnya, cuma ya, gimana ya, biasa-biasa saja gitu. Beberapa turis ada yang bersemangat banget karena ada
ikan badut
cuma aku sih engga, haha. Kan itu cuma ikan badut aja
gitu lho
, yang bisa dilihat dimana-mana kan.
Setelah
snorkeling
selama sekitar setengah jam, kami kembali naik ke
yacht
dan kemudian langsung balik menuju Pantai Noppharat Thara. Eh, ternyata berenang di laut itu sangat melelahkan loh. Tahu deh aku sekarang gimana rasanya menjadi seorang korban selamat di tengah laut dan harus mengapung sambil menunggu pertolongan datang, LOL. Susah banget mengontrol gerakan karena arus laut dan kadang-kadang harus terpaksa meminum air laut yang sangat asin, yang sangat menyebalkan!! hahaha...
Ngomong2, dalam perjalanan balik ke pantai, aku tidur bentar loh, hahaha. Atmosfirnya lagi enak banget sih :-) Kembali di pantai, suasana "turis" kembali reasa karena beberapa orang lokal ternyata mengambil fotoku diam-diam paginya, mencetaknya, dan memasukkannya di sebuah
frame
foto yang memang unik dan "pantai banget". Aku rasa
frame
-nya unik juga dan "pantai banget" ditambah lagi harga yang ditawarkan masih masuk akal lah: 100 baht, jadi ya sudah aku beli saja sebagai kenang2an kan :-)
Kami kemudian kembali ke tempat parkir dan menunggu
transport
untuk kembali ke hotel, ini termasuk fasilits turnya loh!! Bener2 tur yang bertanggung-jawab, haha. Ngomong2, ada percek-cokan kecil (untung nggak melibatkan diriku, trima kasih Tuhan) antara seorang turis dengan pemandunya. Ceritanya aku simpan untuk nanti deh, hehe... :-) Yah pokoknya kemudian kami tiba di hotel dengan selamat.
Capek, kami kemudian istirahat sebentar sebelum kembali bersiap-siap untuk jalan lagi ke pantai sorenya. Kali ini, kami tidak melakukan kebodohan yang sama, dan menggunakan taksi gratis yang disediakan hotel untuk pergi ke pantai. Sehari sebelumnya, kami jalan-jalan di pantai Ao Nang (belok kiri dari pertigaan besar dari arah hotel kami), dan hari ini kami memutuskan untuk melihat apa yang ada di sebelah kanannya (Pantai Noppharat Thara). Ternyata, pantai Ao Nang memang lebih menarik dan "hidup". Di pantai Noppharat Thara kebanyakan cuma ada hotel saja jadi kan agak nggak menarik untuk dilihat. Jadi, kembalilah kami ke pantai Ao Nang.
Kali ini kami berhenti di beberapa toko. Aku beli beberapa barang, teman2ku juga. Kemudian kami makan malam di sebuah restoran Italia yang menawarkan harga promo untuk pizza. Semua pizza-nya diberi harga 140 baht dan tentu saja untuk memaksimalkan potongan harga, kami pesan saja dua pizza yang paling mahal, hahaha :-) O iya, mereka juga ngasi
salad
gratis loh. Pizza-nya lumayan juga tuh dan memang nggak mengherankan mengapa restoran ini adalah yang paling ramai disana!! Setelahnya, kami mengeksplorasi kota kecil ini lebih dalam. Ternyata, kota kecil Ao Nang ini lebih besar dari bayanganku lho!! Setelah jalan lumayan jauh dan sepertinya hampir sampai di ujung kota, kami memutuskan untuk naik
tuk-tuk
untuk balik ke hotel.
bersambung...
Selanjutnya dalam : Mid Year 2010 Vacation :
Meninggalkan Krabi
Sebentar di Kuala Lumpur
kembali ke Singapura