ENGLISH
Well, another week has passed. There were several things which happened this week.
I just realized that the validity of my driving license is going to come to an end this September. Thus, I have to renew it in the very near future before I go to the Netherlands. Ugh, so many agenda.


I got a surprise present this week. The present is a pocket camera, the gadget I have been wanting for a long time! :-D It is a new Canon Cyber-Shot DSC-W380. Thank you so much to my parents' friends who gave me this camera!! :-) Anyway, I think I am going to learn how to use this camera on my next trip to China.


Speaking of my trip to China, tomorrow is the departure day! I am catching the first Garuda's flight out of Yogyakarta to Jakarta and transiting in Jakarta for about 1 hour. My connecting flight to Guang Zhou is scheduled to depart at 8.45 AM. I hope the time is more than enough to go pass the fiscal and immigration desk. Amen!


There is an interesting character in this season of "Penghuni Terakhir". This character, which is Erick, knows how to "play the game viciously and coldly". I think this is very interesting because I don't think I have seen this type of character in any other local reality show! What I don't like about this character is that I think he is somehow artificial. He "plays" this evil, cruel, and dictating character while I don't think he IS that character. Well, all I want so say is that "knowing how to play the game" doesn't always translate to an "evil" character ;-)


Speaking of "Penghuni Terakhir", I think I found some "scenarios" in it, and it was pushed by the producer. For example, last week there was a scene showing that one contestant climbed the big wall to pick a jackfruit in the neighbor's yard. Some time later, still in the middle of the night, a woman (who claimed to be that neighbor), accompanied with her security guard, came to the house and she was furious. She blamed the producer for letting someone strange entering her house (she had CCTV cameras installed all around her house). Well, the angry neighbor was a "making-sense" thing, but not her appearance. If you want to know, I think there were three odd things about this neighbor:



If she was that angry, how could the team convinced her to put a mic on her outfit? I am sure that she pinned a mic on her outfit as we could hear what she said clearly. If this was not "written", I can imagine this odd conversation:

Angry Neighbor (AN) to the PeTir's Team (PT): "Hey, there was a strange guy entering my home from yours in the middle of the night stealing my jackfruit!! How could you let that happen?" (furious voice)
PT : "Oh, wait Ma'am, let me pin this mic first so what you say can be recorded and aired in a national television."
AN : "Oh, okay."

The PT then pinned a mic on AN's outfit. Then, AN continued her furious protest. Weird, uh?


For a neighbor whose house had just been "intruded" by a strange guy stealing a jackfruit and she was complaining to her neighbor about it in the middle of the night, she dressed a bit too "fancy" for that. She wore a make-up, she got her hair done, she wore a fancy black dress, she brought a fancy handbag, and she wore high-heels. It seemed like she was going to a mall, but it was in the middle of the night. Conclude yourself


I don't think anyone can enter the quarantine house freely. If the woman was really the neighbor and she forced to enter the house creating a conflict in the middle of the night, I think her face should have been blurred unless she agreed that she let that scene with her face to be aired. Watching many episodes of The Amazing Race and The Amazing Race Asia, some local people's faces were blurred because they didn't sign the so-called contract to "air" the scene with their "full" faces. So, based on this, I concluded that she let ANTV to air the scene with her "full" face. If she was willing to "cooperate" with ANTV on this one, the possibility of a "scenario" over that is possible, rite?

Okay, that's enough for now :-)
Anyway, mixed news about one thing are confusing, hahaha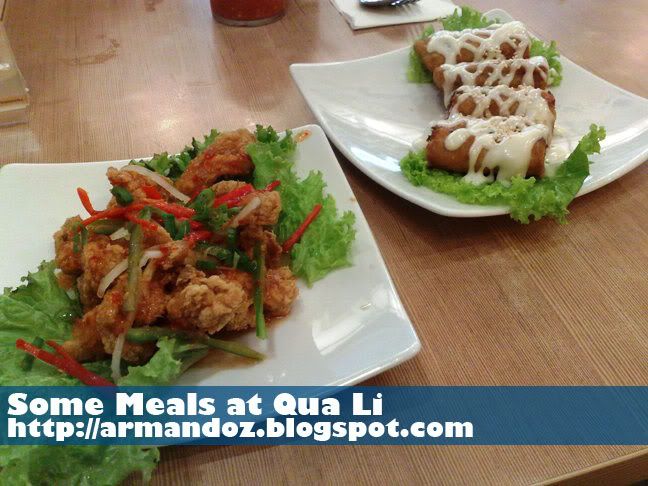 ::: Some meals I had at Qua Li.
::: Chicken Cordon Bleu I had yesterday

BAHASA INDONESIA
Lagi, satu minggu sudah berlalu. Ada beberapa hal yang terjadi minggu ini.
Aku baru sadar kalau ternyata masa berlaku SIM-ku akan habis September ini. Makanya, aku harus memperpanjangnya segera nih sebelum berangkat ke Belanda nanti. Wah, banyak juga agendaku.


Aku dapat hadiah kejutan minggu ini. Hadiahnya adalah kamera saku, alat elektronik yang sudah aku ingini sekian lama! :-D Kameranya adalah Canon Cyber-Shot DSC-W380 yang baru. Terima kasih banyak untuk temen2nya ortuku yang sudah memberiku kamera ini!! :-) Btw, kayanya aku akan berlatih menggunakan kamera ini di perjalananku ke Cina besok ini deh.


Ngomong2 tentang perjalananku ke Cina, besok adalah hari keberangkatan nih! Aku akan naik penerbangan Garuda pertama dari Yogyakarta menuju Jakarta dan kemudian akan transit selama sekitar 1 jam di Jakarta. Penerbangan sambunganku menuju Guang Zhou dijadwalkan berangkat jam 8.45 pagi. Mudah2an waktu transit itu lebih dari cukup lah ya untuk melewati antrian meja fiskal dan imigrasi. Amin!


Ada karakter yang menarik di musim "Penghuni Terakhir" kali ini. Karakter ini, yaitu Erick, tahu bagaimana "bermain dengan kejam dan dingin". Aku rasa ini sangat menarik karena rasanya aku belum pernah deh melihat karakter semacam ini di reality show produksi lokal! Yang nggak aku suka dari karakter ini adalah aku rasa ia agak dibuat-buat. Ia "memainkan" karakter yang jahat, kejam, dan diktator padahal aku rasa aslinya dia sih BUKAN karakter seperti itu. Yah, yang mau aku katakan adalah "mengetahui bagaimana memainkan permainan" tidak selalu berarti karakter yang "jahat" kan ;-)


Ngomong2 tentang "Penghuni Terakhir", rasanya aku mencium bau "skenario" di dalamnya deh, dan skenario ini agak dipaksakan oleh produsernya. Misalnya, minggu lalu ada adegan dimana seorang penghuni memanjat tempok besar untuk memetik buah nangka yang ada di halaman tetangga. Beberapa waktu kemudian, masih di tengah malam gitu, seorang wanita (yang menyatakan dirinya sebagai tetangga itu), ditemani seorang satpamnya, datang ke rumah PeTir dan ia marah2. Ia menyalahkan produser karena membiarkan seorang asing memasuki rumahnya (ia memasang kamera CCTV di rumahnya). Yah, tetangga yang marah adalah hal yang "masuk akal" koq, cuma penampilan si wanita ini koq engga ya. Setidaknya, aku rasa ada tiga hal janggal dari tetangga ini:


Kalau ia memang marah, koq bisa ya timnya meyakinkannya untuk memasang mic di pakaiannya? Aku cukup yakin kalau ia memasang mic di bajunya karena apa yang ia katakan bisa terdengar dengan jelas. Kalau memang tidak "diskenario", aku membayangkan terjadinya percakapan aneh berikut ini:

Tetangga Marah (TM) ke Tim PeTir (TP): "Hey, ada orang asing yang masuk ke rumahku dari rumahmu di tengah malam untuk nyolong nangka!! Koq bisa kalian membiarkan itu terjadi? (suara marah)
TP : "Oh, tunggu Bu, biarkan saya memasang mic ini di baju Ibu dulu jadi apa yang Ibu katakan bisa terekam dan ditayangkan di televisi nasional."
TM : "Oh, baiklah."

Kemudian TP menyematkan mic di bajunya TM. Kemudian TM baru melanjutkan marah2nya. Aneh nggak?


Untuk ukuran seorang tetangga yang rumahnya baru saja "disantroni" seorang pria asing yang mencuri sebuah nangka dan si tetangga ini kemudian komplain ke tetangganya tentang itu di tengah malam, ia berpenampilan terlalu "keren" deh. Ia pakai make-up, ia juga sudah menata rambutnya, ia memakai gaun hitam yang bagus, ia membawa tas wanita yang kelihatan ok, dan juga ia memakai sepatu hak tinggi. Dengan penampilan seperti itu, lebih cocok kalau dia jalan2 ke mall deh, tapi koq di tengah malam yah. Simpulkan deh.


Aku merasa koq tidak semua orang akan dibiarkan masuk ke rumah karantina PeTir dengan bebas. Kalau wanita itu memang tetangganya dan ia memaksa masuk ke rumah dan mencipatkan konflik di tengah malam, aku rasa wajahnya seharusnya di-blur kecuali ia setuju untuk membiarkan adegan dengan wajahnya untuk ditayangkan. Nonton banyak episode dari The Amazing Race dan The Amazing Race Asia, beberapa wajah orang lokal di-blur karena mereka tidak menanda-tangani kontrak untuk "menayangkan" adegan dengan wajah "utuh" mereka. Jadi, berdasarkan ini, aku rasa tetangga ini memang membiarkan ANTV menayangkan adegan dengan wajah "utuh"-nya. Kalau ia mau "bekerja-sama" dengan ANTV dalam hal ini, kemungkinan adanya "skenario" juga ada kan?

Udah ah segini dulu aja :-)
Ngomong2, berita yang bermacam-macam tentang satu hal itu membuat bingung yah, hahaha