ENGLISH
Previously on
Mid Year 2010 Vacation
: Zilko and two of his friends went on vacation to three countries: Singapore, Thailand, and Malaysia. After spending two nights at Singapore, now they were ready to go to Thailand. Oh well, he had a trouble sleeping apparently.
Day 3 (Sunday, 13 June 2010)
Yes, I was sleep-deprived that night. I already asked the receptionist to wake us up (through the morning call) at 3 AM and call a taxi for us at 4.05 AM. We decided to get to the airport a bit early because AirAsia suggested its passengers to check in three hours prior to the departure time. So, because my flight would be at 7.40 AM, the check in counter should be open by 4.40 AM, rite? We arrived at Singapore Changi Airport Terminal 1 at about 4.30 AM. But at that time, the check in counter was still closed, and noone seemed to be working there. Okay, we waited, waited, and waited. They then finally opened their check in counter at: 5.30 AM!!! D*mn!!! We got to the airport WAY too early!! We could have had one extre hour of good-quality sleep but we sacrificed it for nothing!?!? Arrrggghhhh....
After having breakfast at that terminal (I was the only one who had breakfast actually, my friends didn't), we went to the gate. The flight was on time. It was AirAsia's Airbus A320-216 reg code 9M-AFZ, a Malaysian owned aircraft, flight no AK 720 to Kuala Lumpur. Oh btw, that day we went to Thailand with one transit at Kuala Lumpur. The flight took off from runway 02C. Singapore - Kuala Lumpur flight is apparently one short flight. Just after taking off and the seat-belt sign had been turned off, we descended and the pilot informed us that we would be landing at Kuala Lumpur shortly! Well, I hadn't even opened half of the in flight magazine!! Anyway, so we landed at Kuala Lumpur International Airport's runway 32L at about 8.25 AM.
In KLIA, AirAsia is located at the LCC Terminal (LCCT), which I had never been to before (the last time I went to Kuala Lumpur, the LCCT hadn't been built yet). So, I just followed all other passengers to the terminal, haha. LCCT is pretty much similar to Changi's Budget Terminal, but LCCT is a bit much more minimalist IMO. The placement of all the rooms is not really passengers-friendly. Passengers have to go back and forth, circling all the rooms, and going up and down to finally get out of the airport. But hey, it's a budget terminal, so who would complain? :-)
So, after taking my luggage, I accompanied my friends to have breakfast. Well, I should have held my hunger earlier that day because meals at LCCT was much cheaper than meals at Changi, haha. Anyway, our flight to Krabi had been rescheduled to fly at 1.15 PM (from 12.20 PM), so we had like four hours to kill. The reason why I picked the earliest flight from Singapore was to give us much transit time. So, let's say our flight from Singapore had been late, we would still have had time to catch our flight to Krabi (if we missed it, we would be doomed as there was only one flight daily between KL and Krabi).
After checking in and going through the "unfriendly" terminal design again, we were already at the departure lounge waiting for our AK 804 flight to Krabi. Tick tock, at about 12.30 PM, there was an announcement that our flight would be delayed for about 30 minutes. Okay, so we gotta wait for another 30 minutes. At about 1.15 PM, finally we were allowed to board the plane. It was AirAsia's Airbus A320-216 reg code 9M-AHM. Twenty minutes on the plane, she still stood still at the tarmac. The pilot reported to us that there was a problem with the aircraft and the technicians were trying to fix it. Another ten or fifteen minutes, he reported us bad news: it was unserviceable and we had to wait for a replacement aircraft!! So, we gotta disembark the plane and went back to the departure lounge again!
I knew that it was a standard procedure and I think it is a GOOD procedure, but I was kinda pissed because we needed to get to Krabi asap. We only had two nights in Krabi and the next day (Monday) we had to take that tour to Phi-Phi Islands. The problem was that we had not booked the tour yet because we knew it would be cheaper to book it on the spot. D*mn, if we didn't get the tour, our trip to Krabi would be worthless!! Now, we gotta wait for an undetermined time! It was kinda frustrating, beside I was so hungry, lol.
At about 2.50 PM we were allowed to board the aircraft to Krabi. Surprisingly, it was still the exact same aircraft: AirAsia's Airbus A320-216 reg code 9M-AHM!! Oh, apparently they were able to fix the problem eventually. Our flight took off from runway 32R of KLIA and headed to Krabi. I convinced myself that we still had time to book the tour since according to the schedule, we would land at about 4.30 LT. We should have passed the immigration and luggage claim by about 5 PM. Anyway, during the flight, we passed Penang Island!! Well, I recognized the island of course!! Then, at about 4.30 PM we landed at runway 32 of Krabi International Airport, Thailand. Krabi Airport wasn't such a busy airport which is nice in some ways.
Anyway, after passing the immigration and claiming our luggage, we were heading out of the airport. On the way, two
aggressive
vibrant taxi operators approached us (well, we were approaching them actually because they had these two counters and they
screamed
loudly offered us their services). We picked the closest counter and booked a taxi to get to our hotel. Oh yea, prior to the start of this vacation, I also wrote down our hotels' address so that we could show it to the locals and hopefully it would be easier for them to understand. For our hotel in Krabi, I also looked for its address written in Thai, but I couldn't find it. So, I just went with the address in Latin hoping there would be no problem. The lady at the taxi counter seemed to understand and I was relieved.
Then, while we were walking to the exit door of the airport, we passed a travel agent. It was already over 5 PM and we decided to check its offer. If it was good (on budget), we would book the local tour to Phi-Phi Islands there since the time was already thin. Fortunately, they offered us good offer with on-budget price (1,200 THB each) to go to Phi-Phi Islands. Well, at that time, we already set 1,350 THB as our "good to go" with 1,500 THB as the top. So, we decided to book it right away.
Anyway, during this local tour booking process, this funny conversation occurred.
Me : "
Is it easy to find a taxi in Ao Nang to go to Krabi Airport?
"
Travel Agent : "
500 baht
."
*sudden quick awkward silence*
I then realized that she thought I was asking her how much a taxi cost from Ao Nang to Krabi Airport, haha. Language Barrier, sometimes it sucks but it is kinda funny at times. Since it was not really an urgent matter, I just neglected the in-answering answer.
So, after everything was done, we left the airport and met our taxi driver. To make sure he knew where we were heading, I showed him the address of our hotel. But then, he made this gesture saying that he didn't speak English
AND
he did NOT read Latin words!!!
**Tara..... **
. D*mn, suddenly I felt like I was in The Amazing Race and got a bad taxi driver. Luckily, he knew where to go. I guess that lady in the taxi counter already told him where we were going to.
The trip to Ao Nang was SO enjoyable! The scenery was very beautiful with all those limestone hills!! Anyway, so we arrived at our hotel at about 5.30 PM. It was Palm Paradise Resort. You can read at the previous entry that our original hotel was closed so we were moved to this hotel. Lucky there was no problem during the check-in process. We knew we would get cottage rooms (we ordered two rooms) there and in our mind, we would get one cottage with two rooms. But apparently, we got TWO cottages!! WHOOOAAAA!!!!! We were so surprised since one cottage is already really large with king size bed, LCD TV, private bathroom, and even a living room!! We got TWO of them for the price of only about 25 USD (around Rp 225,000.-) per night per cottage!!
Our plan that day was to get to the beach asap because we were already running against time. We would like to get there before it turned dark. The hotel actually provided free transport service to the beach. The hotel is about 800 meter down the hill from the beach. But we decided to walk anyway, which turned out to be a foolish decision!! haha... .
Anyway, so we finally arrived at the Ao Nang Beach. It was so different with what I imagined before. I thought Ao Nang was a more beautiful beach with a giant limestone rock nearby. But it wasn't anything near that. In some ways, it was like Kuta Beach, Bali but with more serene atmosphere. There was this main road next to the beach with bunch of bars, shops, restaurants, minimarts, and gift shops. But I really like the quiet and serene atmosphere, really relaxing!!
After spending some time on the beach, we decided to have dinner at a Thai restaurant. I didn't really like the taste of the food. After dinner, we walked around the beach and enjoyed the atmosphere. I was really exhausted and sleepy because I only had 2.5 hours of sleep earlier that day. I didn't sleep at all during our trip from Singapore to Krabi. That's why we got back to our hotel kinda early, at about 8.30 PM.
to be continued...


Note : I know that in the previous entry, I wrote that I would write about Phi-Phi Islands here. Apparently, because of the length of this entry, that would be impossible. So sorry about that, but I guarantee I will write about it in details next!! :-)

Next on Mid Year 2010 Vacation :

The beautiful Phi-Phi Islands.
Noppharat Thara Beach.
The town of Ao Nang.
L : A busy morning at Changi Airport Terminal 1 on Sunday.
R : Roast Chicken Rice as My Breakfast that day.
L : AirAsia's Airbus A320-216 reg code 9M-AFZ just arrived from Kuala Lumpur. She will fly back to Kuala Lumpur as AK 720. In the background, A Korean Air's Jumbojet Boeing 747-400 can be seen taking off from runway 02L.
R : Flying Over Johor Bahru, Malaysia.
L : Landing at Kuala Lumpur International Airport's Runway 32L.
R : The main terminal of KLIA. Two Malaysia Airlines and one Cathay Pacific are visible.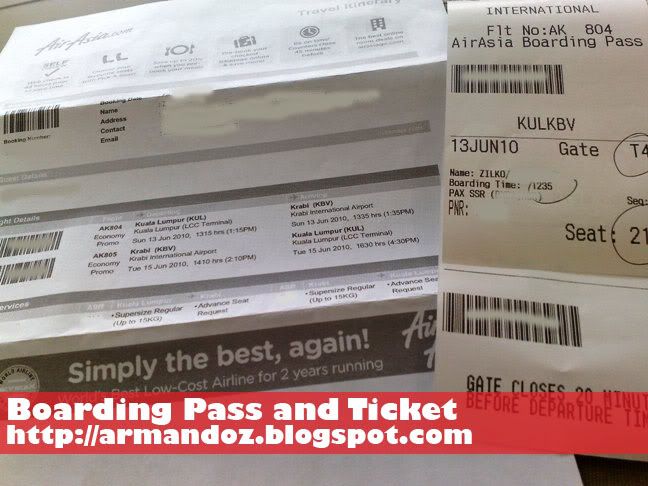 L : The Departure Lounge of LCCT KLIA.
R : Finally, Going to Krabi!!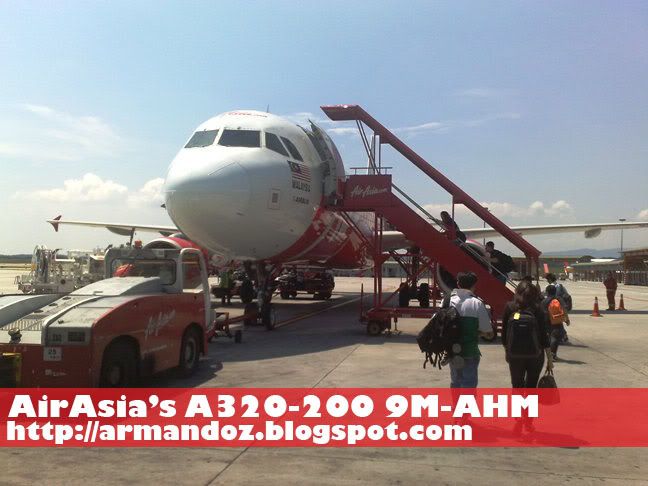 L : The troubled AirAsia's Airbus A320-216 reg code 9M-AHM flight no AK 804 to Krabi.
R : Noodle as my lunch at LCCT.
L : Passing Penang Island. I went there about 11 months ago.
R : One cottage at Palm Paradise Resort.
L : One view of Ao Nang Beach after sunset.
R : One view of Ao Nang Beach. This pedestrian walk is just across the beach.
L : One view of Ao Nang Beach. This beach is somehow similar to Kuta Beach, Bali, but with more serene atmosphere.
R : My Thai Cuisine with beef as my dinner that day.

BAHASA INDONESIA
Sebelumnya dalam
Mid Year 2010 Vacation
: Zilko dan dua temannya pergi jalan-jalan ke tiga negara: Singapura, Thailand, dan Malaysia. Setelah menginap selama dua malam di Singapura, kini mereka siap untuk pergi ke Thailand. O iya, ia juga mengalami kesulitan tidur ternyata.
Hari 3 (Minggu, 13 Juni 2010)
Ya, aku kekurangan tidur malamnya. Aku meminta resepsionis hotel untuk membangunkan kami (dengan fasilitas
morning call
) jam 3 subuh dan memesankan taksi untuk kami jam 4.05 subuh. Kami memutuskan untuk berangkat ke bandara agak awal karena AirAsia kan menyarankan penumpangnya untuk
check-in
tiga jam sebelum jadwal keberangkatan. Jadi, karena penerbangan kami adalah jam 7.40 pagi, seharusnya konter
check-in
-nya sudah buka jam 4.40 pagi kan? Kami tiba di bandara Changi Singapura di Terminal 1 jam 4.30 pagi. Tapi, waktu itu konternya masih tutup, dan nggak kelihatan ada orang yang sedang bekerja disana. Oke, kami menunggu, menunggu, dan menunggu. Kemudian akhirnya konternya dibuka jam: 5.30 pagi!!! Si*lan!! Kami tiba di bandaranya TERLALU dini!! Tau gitu kan kami bisa tidur nyenyak sejam lebih lama tuh tapi kami mengorbankannya untuk sesuatu yang tidak ada!?!?!?Arrrggghhhh....
Yah, setelah makan pagi di terminal (cuma aku sih yang makan, temenku engga), kami pergi menuju gerbang keberangkatannya. Penerbangannya tepat waktu. Pesawatnya adalah Airbus A320-216 milik AirAsia kode registrasi 9M-AFZ, pesawat kepunyaan Malaysia nih, dengan nomor penerbangan AK 720 tujuan Kuala Lumpur. Oh, omong2, hari itu aku pergi ke Thailand dengan satu kali transit di Kuala Lumpur. Pesawatnya lepas landas dari landasan pacu 02C. Penerbangan Singapura - Kuala Lumpur ternyata adalah penerbangan yang sangat singkat loh. Baru saja lepas landas dan lampu tanda kenakan sabuk pengaman dipadamkan, pesawatnya sudah turun lagi dan pilotnya memberi tahu bahwa kami akan mendarat di Kuala Lumpur segera! Haha, padahal aku belum aja membuka setengah dari majalah pesawatnya lho!! Kemudian kami mendarat di Bandara Internasional Kuala Lumpur (KLIA) di landasan pacu 32L pada sekitar jam 8.25an pagi.
Di KLIA, AirAsia berada di Terminal LCC (LCCT), yang belum pernah aku kunjungi sebelumnya (terakhir kali aku ke Kuala Lumpur, LCCT belum dibangun tuh). Jadi, ya sudah aku ikutin saja tuh penumpang-penumpang lain yang jalan ke terminal, haha. LCCT ini kurang lebih mirip2 lah sama
Budget Terminal
di Bandara Changi, hanya saja LCCT ini agak lebih minimalis kalo menurutku. Penempatan ruang-ruangannya juga agak kurang ramah-penumpang. Penumpang harus bolak-balik, mengelilingi ruangan, kemudian naik dan turun untuk akhirnya keluar dari bandara. Tapi kan ini terminal yang minimalis untuk penerbangan murah nih, jadi sapa yang komplain? :-)
Kemudian, setelah mengambil bagasi, aku menemani temanku makan pagi. Yah, harusnya aku menahan lapar waktu di Changi ya karena makanan di LCCT lebih murah daripada di Changi loh, haha. Ngomong2, penerbangan kami ke Krabi telah diundur menjadi jam 1.15 siang (sebelumnya jam 12.20 siang), jadi kami memiliki waktu sekitar empat jam disana. Alasan mengapa aku memilih penerbangan terpagi dari Singapura adalah untuk memberi kami waktu transit lebih lama. Jadi, misal nih penerbangan dari Singapura telat, kan nasug ada waktu untuk mengejar penerbangan ke Krabi itu (soalnya kalo ketinggalan, bisa berabe karena hanya ada satu penerbangan sehari dari KL ke Krabi).
Setelah
check in
dan melewati desain terminal yang nggak "ramah" itu lagi, kami kemudian berada di ruang tunggu keberangkatan menunggu penerbangan AK 804 tujuan Krabi. Tik tok, sekitar jam 12.30 siang, ada pengumuman kalau penerbangan kami akan tertunda selama sekitar 30 menit. Oke deh, nunggu lagi deh setengah jam. Sekitar jam 1.15 siang, kami akhirnya diizinkan untuk menaiki pesawat. Pesawatnya adalah Airbus A320-216 kode registrasi 9M-AHM milik AirAsia. Dua puluh menit di atas pesawat, tuh pesawat masih diam saja di tempat parkirnya. Pilotnya kemudian memberi tahu kalau ada masalah teknis dengan pesawatnya dan para teknisi sedang memperbaikinya. Sepuluh sampai lima belas menit kemudian, pilotnya memberi kami kabar buruk: kerusakannya tidak dapat diperbaiki dan kami harus menunggu pesawat pengganti!! Jadi, kami harus turun dari pesawat dan kembali ke ruang tunggu keberangkatan lagi!
Aku tahu bahwa itu adalah prosedur standar dan aku rasa sih ini prosedur yang SANGAT BAIK tetapi aku agak jengkel karena kami kan harus tiba di Krabi segera tuh. Kami hanya menginap dua malam di Krabi dan keesokan harinya (Senin) kami harus ikut tur ke Kepulauan Phi-Phi. Yang jadi masalah adalah kami belum memesan tur lokal kesana karena kami tahu kalau memesan di sana jatuhnya akan jauh lebih murah. Si*l, kalau kami sampai nggak dapat turnya itu, perjalanan ke Krabi akan sia-sia saja dong!! Sekarang, kami harus menunggu selama waktu yang tak dapat dipastikan! Agak membuat frustrasi juga, di samping aku memang lapar sih, lol.
Sekitar jam 2.50 siang, kami akhirnya bisa menaiki pesawat tujuan Krabi. Yang mengejutkan adalah, masih pesawat yang sama lho: Airbus A320-216 kode registrasi 9M-AHM milik AirAsia!! Oh, ternyata baru saja mereka bisa memperbaiki masalahnya. Penerbangan kami kemudian lepas landas dari landasan pacu 32R KLIA dan terbang menuju Krabi. Aku meyakinkan diriku kalau masih ada cukup waktu untuk memesan tur lokal itu karena menurut jadwal, kami akan mendarat sekitar pukul 4.30 Waktu Lokal (WL). Seharusnya sih kami sudah akan melewati imigrasi dan pengambilan bagasi sekitar jam 5 sore kan. Ngomong2, pada penerbangan itu, Pulau Penang kelihatan loh!! Tentu saja aku mengenali pulaunya!! Kemudian, sekitar jam 4.30 sore kami mendarat di landasan pacu 32 Bandara Internasional Krabi, Thailand. Bandara Krabi bukanlah bandara yang sibuk makanya di satu sisi enak juga tuh.
Kemudian, setelah melewati imigrasi dan mengambil bagasi, kami berjalan keluar dari bandara. Di jalan, dua operator taksi yang
agresif
bersemangat mendekati kami (sebenarnya kami yang mendekati mereka sih karena mereka kan berada di dua konter taksi itu dan mereka
teriak-teriak
menawarkan dengan suara keras servis mereka). Kami memilih konter yang terdekat dan memesan taksi menuju hotel. O iya, sebelum berangkat kan aku menulis semua alamat hotel kami tuh jadi kami tinggal menunjukkannya ke orang lokal dan mudah-mudahan itu akan lebih mudah dimengerti mereka. Khusus hotel di Thailand, aku sudah mencari alamatnya dalam versi tulisan Thailand, cuma aku nggak berhasil menemukannya. Jadi, ya sudah aku pergi dengan alamat dalam huruf latin-nya saja dan berharap mudah2an tidak ada masalah.
Mbak-mbak
di konter taksinya kelihatannya sih ngerti, jadi aku lega deh.
Kemudian, ketika kami berjalan menuju pintu keluar, eh ternyata ada agen travel. Waktu itu sudah lewat jam 5 sore dan kami memutuskan untuk mengecek tawaran mereka. Kalau tawarannya bagus (masuk
budget
), ya kami akan langsung memesan tur lokal ke Phi-Phi di situ aja karena waktunya kan sudah
mepet
banget. Untungnya, tawaran mereka bagus deh dengan harga yang masuk
budget
(1.200 THB per orang) untuk tur seharian ke Kepulauan phi-Phi. Waktu itu sih, kami sudah memutuskan harga 1.350 THB sebagai harga yang "ok lah" dengan 1.500 THB sebagai harga maksimum. Makanya, kami memutuskan untuk memesan disana langsung.
Ngomong2, waktu proses pemesanan tur lokal ini, terjadilah percakapan berikut ini. (ceritanya dalam bahasa Inggris)
Aku : "
Cari taksi dari Ao Nang untuk ke bandara susah nggak sih?
"
Agen travel : "
500 baht
."
*krik...krik...krik*
Kemudian aku menyadari kalo dia mengira aku bertanya berapa biaya taksi dari Ao Nang ke bandara, haha. Halangan bahasa nih, kadang menyebalkan cuma di sisi lain ya agak lucu juga. Karena itu bukan hal yang penting, ya udah deh aku abaikan aja jawaban nggak nyambung itu.
Jadi, setelah semuanya beres, kami meninggalkan bandara dan bertemu sama sopir taksi kami. Untuk memastikan tujuan kami, aku menunjukannya alamat hotel kami. Tapi kemudian, ia membuat gerakan ini yang menyatakan bahwa dia nggak bahasa Inggris
DAN
ia TIDAK bisa membaca huruf Latin!!
**Jreng jreng.... **
. Si*l, aku langsung merasa seakan-akan lagi ikutan The Amazing Race dan mendapat sopir taksi yang jelek nih. Untungnya, ia tahu tujuan kita. Kayanya sih
mbak2
yang di konter taksi sudah ngasi tau dia ya.
Perjalanan ke Ao Nang SANGAT mengasyikkan lho! Pemandangannya bagus banget dengan semua bukit-bukit kapur itu!! Ngomong2, akhirnya kami tiba di hotel sekitar jam 5.30 sore. Hotelnya adalah Palm Paradise Resort. Bisa dibaca di
posting
sebelumnya bahwa hotel awal kami ditutup sehingga kami dipindahkan ke hotel ini. Untung banget nggak ada masalah selama proses
check-in
. Kami tahu kami akan mendapatkamar
cottage
(kami memesan dua kamar) disana dan di benak kami, kami akan mendapat satu
cottage
dengan dua kamar. Ternyata, kami malah mendapat DUA
cottage
!! WHOOOAAAA!!!!! Kaget banget deh soalnya satu
cottage
aja kan sudah besar sekali dengan satu ranjang ukuran
king
, TV LCD, kamar mandi dalam, dan bahkan sebuah ruang tamu lho!! Eh kami malah mendapat DUA yang artinya harganya adalah sekitar 25 USD (atau sekitar Rp 225.000,-) per malam per
cottage
!!
Rencana kami hari itu adalah segera pergi menuju pantai karena waktu sudah mepet. Kami ingin sampai sana sebelum hari menjadi gelap. Hotelnya sebenarnya memberi transportasi gratis menuju pantai tuh. Jaraknya lumayan juga, 800 meter menuruni bukit. Tapi kami memutuskan untuk jalan kaki, keputusan yang sangat tolol sekali!! haha... .
Ngomong2, akhinya kami tiba di Pantai Ao Nang. Beda banget deh sama bayanganku sebelumnya. Aku kira Ao Nang itu pantai yang lebih indah dengan sebuah karang kapur raksasa di dekatnya. Ternyata nggak kaya gitu. Di beberapa sisi, pantainya mirip pantai Kuta, Bali tetapi dalam atmosfer yang lebih tenang. Ada sebuah jalan utama di pinggir pantai dengan banyak bar, toko-toko, restoran, mini-market, dan penjaja oleh-oleh. Tapi aku suka sih sama suasana sepi dan ketenangannya, membuat rileks!!
Setelah menghabiskan waktu di pantai, kami memutuskan untuk makan malam di sebuah restoran Thailand. Aku nggak begitu suka sama rasa makanannya. Setelah makan malam, kami jalan-jalan di pinggir pantai dan menikmati suasananya. Aku sangat lelah dan ngantuk karena kan malam sebelumnya aku hanya tidur sekitar 2,5 jam. Aku nggak tidur sama sekali lho sepanjang perjalanan dari Singapura ke Krabi. Makanya kami kembali ke hotel agak awal, sekitar jam 8.30 malam.
bersambung...


Catatan : Di
posting
sebelumnya aku menulis bahwa aku akan menceritakan perjalananku ke Kepulauan Phi-Phi di
posting
ini. Ternyata, karena panjangnya
posting
ini, hal itu nggak mungkin dilakukan.
Sorry
banget nih, cuma aku jamin koq di
posting
berikutnya aku akan menulis tentang perjalanan itu dengan mendetail!! :-)

Selanjutnya dalam Mid Year 2010 Vacation :

Kepulauan Phi-Phi yang sangat indah.
Pantai Noppharat Thara.

Kota kecil Ao Nang.