note : this entry will only be written in English, due to its length :-)
This Sunday, the second grandslam tournament of this year: the
French Open
was concluded. There were several surprising results throughout the tournament. Some of the "surprises" were good, but the other were really not.
Firstly, in the women's doubles, Venus and Serena Williams became the champions, beating world no.1 in doubles, Liezel Huber, who partnered with last year's champion, Anabel Medina Garrigues, in the semifinal. They only managed to lose one set throughout the tournament, at that match against Huber-Medina Garrigues. I think in some ways it was because Serena just had this super singles' quarterfinal match against Samantha Stosur not long before the match, where she lost in a thrilling three setter. Venus and Serena beat Kveta Peschke and Katarina Srebotnik in a relatively easy final, by 6-2, 6-3. With this victory, Venus and Serena Williams are the current doubles title holders in all four grandslam! (2009 Wimbledon, 2009 US Open, 2010 Australian Open, and now 2010 French Open). In total, they have collected 12 grandslam doubles titles, and they have never been beaten in any grandslam doubles final. Plus, this means that this Monday, Venus and Serena will rise to world no.1s in doubles for the first time in their career. Congratulations to the Williams sisters!!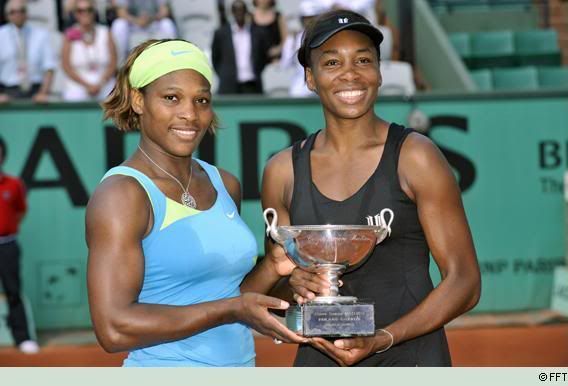 ::: Venus and Serena Williams with their women's doubles trophy. They just won the "Williams Slam", where they won four grandslam doubles titles in a row.
The women's singles experienced some upsets, IMO. The first quarter of the draw seemed to be the toughest one, putting Serena Williams (world no.1), Justine Henin (four times French Open champion), Maria Sharapova (former world no.1), and Samantha Stosur (superb form on clay recently) in it. Then, Samantha Stosur became the winner of this quarter, beating Justine Henin and Serena Williams both in three sets. Venus Williams was actually the favorite to be the finalist from the bottom half. But then she lost to Nadia Petrova. For the first time in many years now, all the semifinalists had never won a grandslam singles title yet: Samantha Stosur, Jelena Jankovic, Francesca Schiavone, and Elena Dementieva, even though Jankovic and Dementieva had reach one and two grandslam final(s), respectively.
::: Francesca Schiavone's winning trademark. She kissed the court after winning a match.
Then, for some frikkin' reasons, Stosur and Schiavone made the final!! Well, I was both so happy and felt kinda weird with this formation. Happy because this meant that Serena Williams and Venus Williams will still occupy world no.1 and no.2 ranking this Monday. Further, this means that they will be seeded first and second in Wimbledon, a grandslam on grass courts, where they are the best players this era on it. This guarantees that if they meet, it will be in the final. In other hand, this formation was VERY strange. Even if now I have to think about it, I still think it was so weird. With all respect to both player, I can see this final (Stosur vs Schiavone) in an international level or a Premier 600/700 tournament. Or in a grandslam, I can see this meeting in a fourth round, or quarterfinal at the furthest. But
NOT
the final!! I didn't feel the "grand" aura of a grandslam final from this combination. Well, it's true that some new faces are needed to make the game much more interesting, but there are some other players who would also be "new" faces in a grandslam final, named Agnieszka Radwanska or Victoria Azarenka, but would bring "grander" aura. Anyway, we still had to accept this fact. Plus, Samantha Stosur had played brilliantly throughout the tournament. She was clearly the favorite and this still could be an entertaining final. Schiavone got lucky this year. Sure she beat Caroline Wozniacki in the quarterfinals, but Wozniacki was hampered by injury. Then, Dementieva retired in the semifinal. Wow, fortune was really on her side. Then, in the final, Stosur crumbled. She did not play her best and lost 4-6, 6-7(2) to Schiavone! Francesca Schiavone won this year's French Open!! WOW!! This is totally unexpected. Two weeks ago, no one would predict she would win the title. But she proved it wrong! She became the first Italian woman to win a grandslam singles title. Next year will be such a challenge for Schiavone to defend her title. But for now, congratulations!!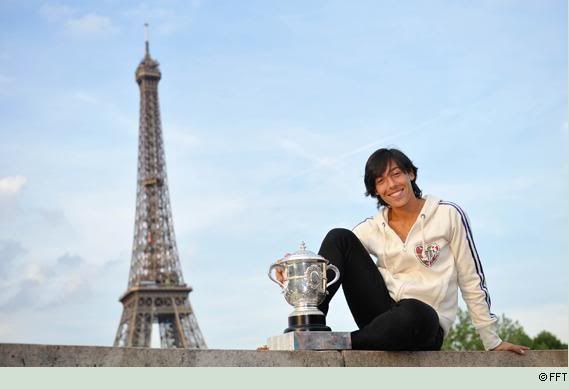 ::: Francesca Schiavone, 29, with her trophy with Eiffel Tower as the background.
On the men's side, (finally) Roger Federer fell in the quarterfinals. Thus, ending his 23 streak of semifinal appearances at a grandslam. Who beat him?? The guy whom he beat last year in the final of French Open: Robin Söderling. Well, not that I don't like Federer, but it's that this loss will make men's tennis much more interesting. Somehow, I am a bit bored with Federer and Nadal's dominance of the sport recently. Federer's dominance was clearly obvious from the rankings points prior to the French Open. He was world no.1 with 10,030 points, while Nadal, the world no.2, only had 6,880 points. However, with this loss, Nadal would be world no.1 if he won the title. Another new names rose to the table: Tomáš Berdych and Jürgen Melzer who reached the semifinals but lost to Söderling and Nadal respectively. So, the final was between Robin Söderling and Rafael Nadal.
This final was a promising final as Söderling broke Nadal's unbeaten record (at the French Open) by beating him in the fourth round last year. It was apparent that Nadal was troubled with his injury at that time (he had to skip Wimbledon and he went on a title-drought season until April this year). So, for Nadal, this was the opportunity to get his revenge. In the final, Söderling played unconvincingly, making 45 unforced errors. That gave the victory over to Rafael Nadal. Rafael Nadal won his fifth French Open title beating Söderling 6-4, 6-2, 6-4!! This win also brought Nadal to a record of 100% win on clay this year, and as I said before, to the position of world no.1! Congratulations Rafa!! One more good news for Rafa: he became the first player to qualify for the ATP World Tour Finals in London next November!
::: Rafael Nadal's famous bite.
::: Rafael Nadal posed with his trophy.
Well, again, congratulations to Venus and Serena Williams, Francesca Schiavone, Rafael Nadal, and (even though not mentioned in the entry) Daniel Nestor and Nenad Zimonjic for winning this year's French Open!! :-)
ps :
all photos were taken from French Open's official website, link above.