ENGLISH
Well, the time has come, it is time to share with you my vacation experience I had last week when I went to three South East Asian countries. Anyway, as I promised
here
, I will write about one of the two problems I had just before my vacation started. Yeah, this one particular problem was closely related to this vacation.
Day 0 (Thursday, 10 June 2010)
I always try to prepare anything in advance, so that I won't meet many difficulties ahead. That was the case. One day before my departure, I tried to collect maps about how to get to my hotels during my stay in Singapore, Krabi, and Kuala Lumpur. When I opened the official website of my hotel in Krabi, I found a very disturbing news:
the hotel has been closed
temporarily for renovation reason!! I was so shocked!! I then checked my email and found no announcement about it!!
I reacted by emailing the online travel agent where I bought the voucher and all available email addresses in that d*mn hotel's website. Then, I thought email might not be an effective way of complaining because it had already been D-3 since my trip to Krabi, while the next day I would be going to Singapore! Well, lucky the travel agent's website featured a live chat window so that I could complain in real time. The "surprising" thing was that they didn't know the hotel had been closed before I told them!!! Well, to make long story short, eventually they were able to find me a replacement hotel not so far away from my original one. So, one problem was solved and I was so relieved. The whole process took about one day to complete.
Whatta time for the problem to show up!! hahaha...
Day 1 (Friday, 11 June 2010)
I had this vacation with two of my friends whom are currently studying in Bandung. You can find the reason why we chose Yogyakarta as our departing point
here
. As a result, my friends had to travel to Yogyakarta prior to our departure. They then scheduled to take train to go to Yogyakarta on Thursday evening, which meant they would arrive on Friday early morning. I picked them up at the railway station early in the morning.
At about 5.45 AM, we went to Adisucipto International Airport to catch AirAsia's flight to Singapore at 7.35 AM. I was so excited since it was my first time going abroad not with my parents, haha. Anyway, the whole process went smoothly including the fiscal-free immigration, which relieved me so much.
The aircraft arrived on time. It was Indonesia AirAsia's Airbus A320-216 reg code PK-AXD. At about 7.35 AM, we took off from runway 09 Adisucipto Airport. It was a smooth flight under a shiny day, whatta way to bring up the mood! My flight then landed a bit sooner than scheduled, 30 minutes ahead of the schedule, great!
We then took an MRT to go to our hotel in Singapore which was in Geylang Area. Even with the map, we had slightly difficulties in finding the hotel. Well, it was apparently because
I trusted my friends to read the map
we misread it and I neglected one minor inconsistency between the map and the fact, haha. Well, it was such a shiny day and I was bringing two big luggages!! It was kinda torturing and mood-draining. Anyway, now I know how hard it is to be in
The Amazing Race
!! :-) Well, during that hotel searching, we experienced one annoying thing. We asked (in English) the address to the locals (well, they were restaurant waitresses to be precise), but they replied with: "
No English please
". I was like "
Whaaat??? You are living and working in Singapore, a country with English as its national language, and you don't speak it??
". I can understand if this happened in Malaysia or Thailand, but not Singapore.
Anyway, that afternoon, we tried to catch a bus to the city. We went to the nearest bus stop and read all the buses' destination from there. We found "NR 7" as the only route which passed our destination. We waited and waited, but NR 7 never showed up while all other routes had been served with at least two buses. Tired, we decided to take the MRT instead. Later on that day, we found out that "NR" stands for "Night Ride" which means the bus only operates at night!! Ah, that explained everything!! Lucky we were not that persistent to wait for it to come, LOL.
That day, we just went around Singapore. We went to City Hall and Raffles Park. There was nothing in the Raffles Park, just a hilly park which is good for exercising, LOL. Later that evening we just strolled around and ended up at Esplanade Park. There was this food market, really similar to Gurney Drive Foodstalls, the one in Georgetown, Penang, I went to
last year
(but not the price, haha). That pretty much summed up all activities on day one. Suddenly, Singapore felt boring for me, hmmm.
Day 2 (Saturday, 12 June 2010)
I was kinda really exhausted the day before because I had several long days and problems (one of them was the "closed" hotel in Krabi). I got up pretty late in the morning.
Day 2 was kinda unexciting for me. I just strolled around Singapore again. I went to Bugis, Little India, then ended up in Orchard. O yea, in Orchard I bought Uncle's Ice Cream. I actually knew this ice cream some months ago while it was involved in the Detour Task of
TAR 16
in leg 9. It looked tasty and I was anxious about it. And yeah, it was DELICIOUS for only S$ 1!! :-)
Well, that was pretty much Day 2 for me, not that exciting. I went back to my hotel early to prepare for the next day, which would be very exciting for me as we were going to Krabi on Sunday!! :-) However, that night, I had difficulty sleeping, damnit. In total, I had only about 2.5 hours of sleep, while I had to get up at 3 AM the next morning because we had to catch the 7.40 AM flight to KL.
to be continued ....
Next on Mid Year 2010 Vacation
Long transit in Kuala Lumpur.
Arriving in Krabi, Thailand.
Very beautiful Phi-Phi Islands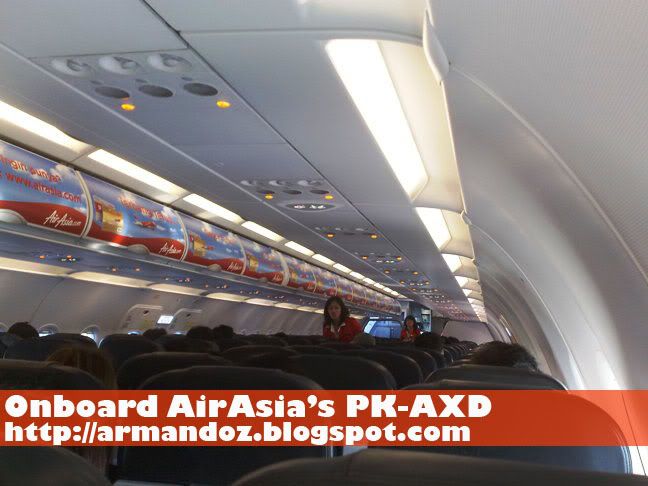 L : Indonesia AirAsia's Airbus A320-216 reg code PK-AXD was ready to fly to Singapore Changi Airport as QZ 7138 from Adisucipto Airport, Yogyakarta.
R : On board Indonesia AirAsia's Airbus A320-216 reg code PK-AXD.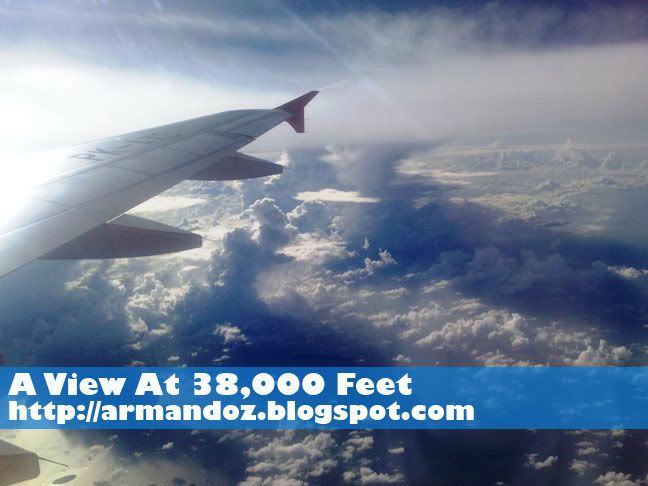 L : A scenic view at 38,000 feet. The cloud formed three "gorges"
R : A 12-inch turkey breast sandwich. Yeah, it was HUGE.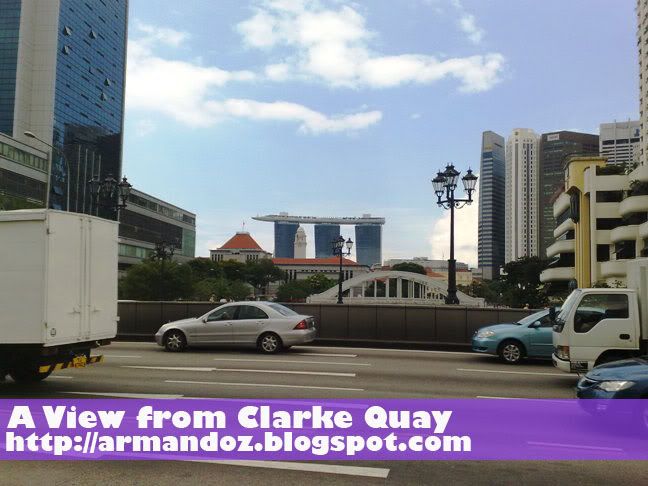 L : One view from Clarke Quay, overlooking Marina Bay.
R : My meal (Lamb Chop) at Kopitiam at Vivo City. I also had "Bandung" as my drink. I think it is a syrup mixed with milk.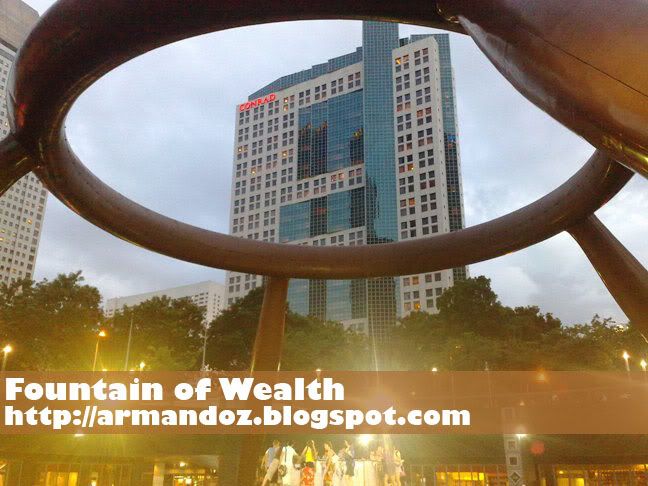 L : The Fountain of Wealth.
R : A night view of Singapore, overlooking Merlion Park.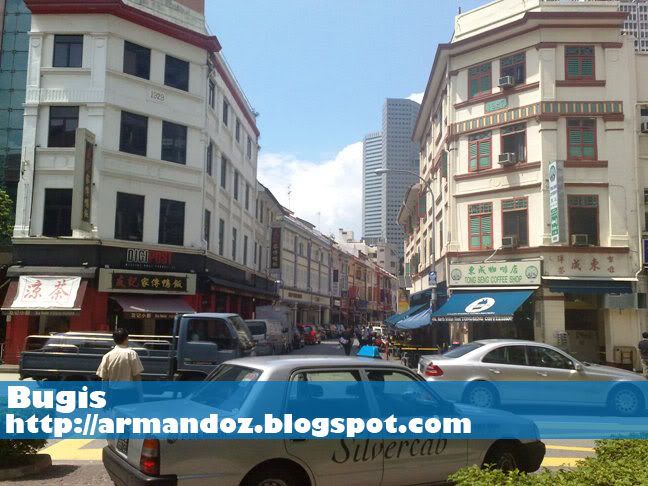 L : One spot at Bugis.
R : Another spot at Bugis.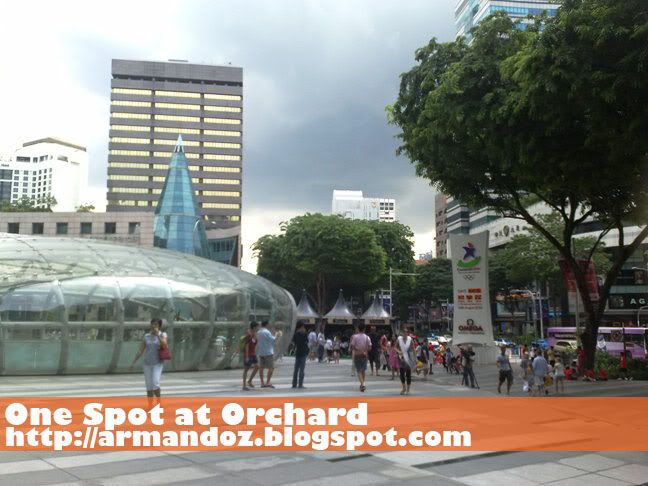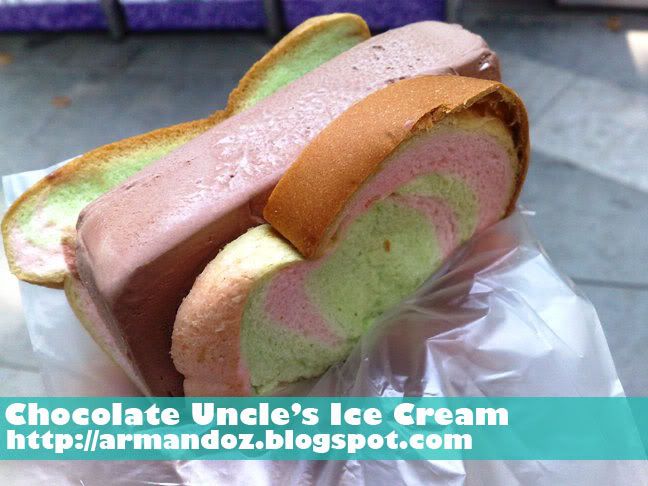 L : One spot at Orchard Road.
R : Chocolate Uncle's Ice Cream. Yeah, it is an ice cream sandwich.
L : A huge meal at Billy Bombers. Considering the size, it is not that expensive.
R : Another spot at Orchard Road.

BAHASA INDONESIA

Yak, waktunya telah tiba, ini adalah waktunya untuk menulis pengalaman liburan jalan2ku ke tiga negara di Asia Tenggara minggu lalu. Ngomong2, seperti yang kujanjikan

disini

, aku juga akan menulis satu dari dua masalah yang aku hadapi tepat sebelum liburanku ini dimulai. Ya, satu masalah itu sangat berkaitan erat dengan acara jalan2 ini.

Hari 0 (Kamis, 10 Juni 2010)

Aku selalu mencoba untuk mempersiapkan semuanya di depan, jadi sedapat mungkin kesulitan akan terhindarkan nantinya. Ini adalah kasusnya. Sehari sebelum keberangkatan, aku mencoba mengumpulkan peta tentang bagaimana untuk mencapai hotel-hotelku ketika di Singapura, Krabi, dan Kuala Lumpur. Nah, ketika aku membuka

website

resmi dari hotelku yang di Krabi, aku menemukan sebuah berita yang mengganggu :

hotelnya sudah tutup

sementara karena alasan renovasi!! Aku kaget banget kan!! Aku kemudian mengecek emailku dan ternyata memang nggak ada pengumuman tentang itu!!

Aku bereaksi dengan mengemail agen travel

online

dimana aku membeli

voucher

hotel itu dan semua alamat email yang tersedia di laman

website

si*l itu. Kemudian, aku mikir kalau email mungkin bukan cara yang efektif untuk komplain karena kan sudah H-3 sebelum perjalananku ke Krabi, padahal besoknya juga aku sudah pergi ke Singapura! Yah, untung agen travel

online

itu menyediakan fitur

live chat window

jadi aku bisa komplain secara langsung. Hal yang "mengejutkan" adalah mereka nggak tahu lho hotelnya itu tutup sebelum aku kasi tau mereka!!! Yah, mempersingkat cerita, akhirnya mereka bisa mendapatkan hotel pengganti yang nggak jauh dari hotel awalku. Jadi, satu masalah terpecahkan dan aku sangat lega. Keseluruhan prosesnya memakan waktu sekitar satu hari.

Bener2 deh tuh masalah memilih waktu yang "tepat" untuk muncul!! hahaha...

Hari 1 (Jumat, 11 Juni 2010)

Acara jalan2ku ini aku lewati bersama dengan dua temenku yang sekarang sedang kuliah di Bandung. Bisa dibaca deh alasan mengapa kami memilih Yogyakarta sebagai titik keberangkatan

disini

. Sebagai akibatnya, temen2ku harus pergi ke Yogyakarta sebelum keberangkatan. Mereka memilih untuk naik kereta ke Yogyakarta di hari Kamis malam, yang artinya akan sampai Jumat subuh. Aku menjemput mereka di stasiun tuh Jumat subuh.

Sekitar jam 5.45 pagi, kami pergi ke Bandara Internasional Adisucipto untuk naik penerbangan AirAsia ke Singapura jam 7.35 pagi. Aku sangat bersemangat karena ini kali pertama aku pergi ke luar negeri tidak bersama ortu, haha. Ngomong2, semua prosesnya berjalan lancar termasuk pengurusan imigrasi bebas bea fiskal, senang deh hatiku.

Pesawatnya tiba tepat waktu. Pesawatnya adalah Indonesia AirAsia Airbus A320-216 kode registrase PK-AXD. Sekitar jam 7.35 pagi, kami lepas landas dari

runway

09 Bandara Adisucipto. Penerbangannya mulus sekali, benar-benar menaikkan

mood

nih! Malah penerbanganku mendarat agak lebih cepat dari jadwal, sekitar 30 menitan lah, bagus deh!

Kami kemudian naik MRT untuk pergi ke hotel kami di Singapore di area Geylang. Walau dengan peta, ternyata kami harus menghadapi sedikit kesulitan untuk menemukan hotelnya. Yah, ternyata itu karena

aku mempercayai temenku untuk membaca petanya

kami salah membacanya dan aku mengabaikan satu inkonsistensi kecil antara peta dan kenyataan, haha. Yah, hari waktu itu sedang cerah2nya dan aku harus membawa dua kopor yang lumayan besar!! Agak menyiksa dan mengeringkan

mood

juga. Ngomong2, kini aku benar-benar menyadari bagaimana sulitnya di

The Amazing Race

!! :-) Btw, waktu pencarian hotel itu, kami mengalami satu hal menyebalkan. Kan ceritanya kami nanya (pake Bahasa Inggris) alamatnya ke orang lokal (yah, mereka adalah pelayan sebuah restoran untuk lebih tepatnya), tapi mereka menjawab dengan: "

No English please

" (terj :

tolong jangan pake bahasa Inggris

). Reaksiku (dalam hati) "

Apaaa??? Kalian ini hidup dan kerja di Singapura, sebuah negara dengan Bahasa Inggris sebagai bahasa nasionalnya, dan kalian nggak bisa ngomong Inggris??.

Aku bisa paham kalau kejadian ini terjadi di Malaysia atau Thailand, tapi nggak di Singapura deh

.

Ngomong2, sialnya, kami ingin mencoba naik bus ke kota. Kami pergi ke halte terdekat dan membaca semua tujuan dari semua bus yang berhenti di halte itu. Kami menemukan bahwa "NR 7" adalah satu-satunya rute yang melayani tujuan yang kami inginkan. Kami menunggu dan menunggu, tapi koq NR 7 nggak muncul-muncul yah padahal semua rute lain telah dilayani oleh setidaknya dua bis loh. Cape, akhirnya kami memutuskan naik MRT aja. Kemudian di hari yang sama, kami baru tahu bahwa "NR" itu singkatan dari "

Night Ride

" yang artinya busnya cuma beroperasi di malam hari!! Ah, itu menjelaskan semuanya!! Untung ya kami nggak sekeras-kepala itu untuk menunggunya untuk datang, LOL.

Hari itu, kami jalan2 keliling Singapura aja. Kami pergi ke

City Hall

dan

Raffles Park

. Nggak ada apa-apa tuh di

Raffles Park

, cuma taman berbukir yang bagus untuk berolahraga, LOL. Sorenya, kami jalan-jalan lagi dan berakhir di

Esplanade Park

. Disana ada tempat makan ini, sangat mirip dengan

Gurney Drive Foodstalls

, yang ada di Georgetown, Penang, yang aku kunjungi

tahun lalu

(tapi harganya engga, haha). Yak, itulah kira2 aktivitasku di hari pertama. Tiba2, Singapura terasa membosankan untukku, hmmm.

Hari 2 (Sabtu, 12 Juni 2010)

Aku merasa agak kecapekan sehari sebelumnya karena aku mengalami beberapa hari yang panjang dan masalah2 (salah satunya ya "tutupnya" hotel di Krabi itu). Aku jadinya bangun agak siang.

Hari 2 agak membosankan untukku. Aku cuma jalan2 di Singapura aja. Aku jalan ke Bugis, Little India, dan akhirnya balik ke Orchard. O iya, di Orchard aku makan

Uncle's Ice Cream

loh

.

Aku tahu tentang ini beberapa bulan yang lalu soalnya es krim ini terlibat dalam sebuah tugas

Detour

di

TAR 16

di babak 9. Di TV kelihatan enak jadinya aku penasaran untuk mencobanya. Eh, ternyata memang ENAK loh, dan harganya cuma S$ 1!! :-)

Yah, kurang lebih itu sih hari 2ku disana, nggak terlalu menarik. Aku kembali ke hotel agak awal untuk mempersiapkan hari selanjutnya, yang akan menjadi sangat menarik karena kami akan pergi ke Krabi di hari Minggu!! :-) O iya, malam itu, aku mengalami kesulitan untuk tidur deh. Totalnya, mungkin aku cuma tidur selama sekitar 2,5 jam saja, padahal aku harus bangun jam 3 pagi tuh keesokan harinya karena kami harus naik pesawat jam 7.40 pagi ke KL.

bersambung ....Selanjutnya dalam Mid Year 2010 Vacation
Transit yang lama di Kuala Lumpur.
Tiba di Krabi, Thailand.
Kepulauan Phi-Phi yang sangat indah.