ENGLISH
Well, tomorrow, my vacation to three countries officially starts!! Woo Hoo!! I am catching AirAsia's flight from Yogyakarta to Singapore. On Sunday, I am going to Thailand.
Anyway, one thing is kinda weird. Just before my vacation (fun), suddenly all problems appeared!! I wont's specify those problems, but I will write it in later entries as each of them belongs to each topic, which I have a plan to write about anyway, hehe, so be patient!! :-) But my point is that, somehow, just before the "fun", it seems that we have to "pay" for it in advance, with all those problems we have to deal with. Is it just me or what?? Hmmm
Well, but now that I think about it, actually the thing that makes something interesting, exciting, and memorable is problems. If everything goes fine and smoothly, always going just as the way we predict, it is not interesting nor memorable anymore, is it? Haha, I know that in some ways, this statement can be seen as a "comforting statement" for myself, because I encountered these problems. Maybe it is true.
Haha, for now, there is nothing much I can say. So, I'll just attach some gastronomic pictures :-)
::: Not so tasty Indian Curry at a new Indian Restaurant in Jogja.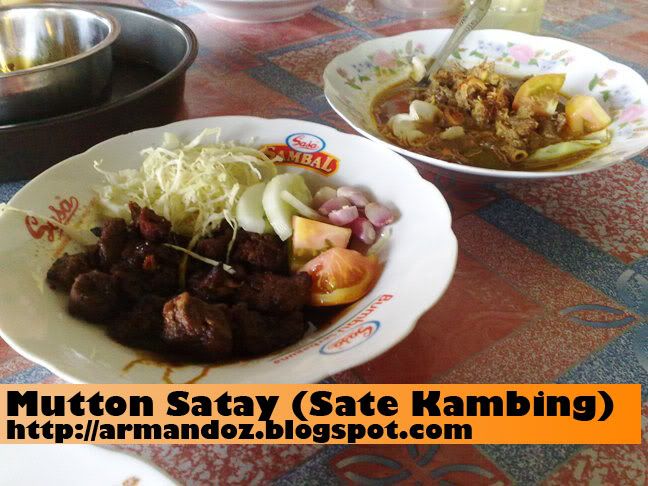 ::: Not so tasty mutton satay.
::: TASTY Fried Ribs with Onion. My favorite menu at Iga Bakar Sagan.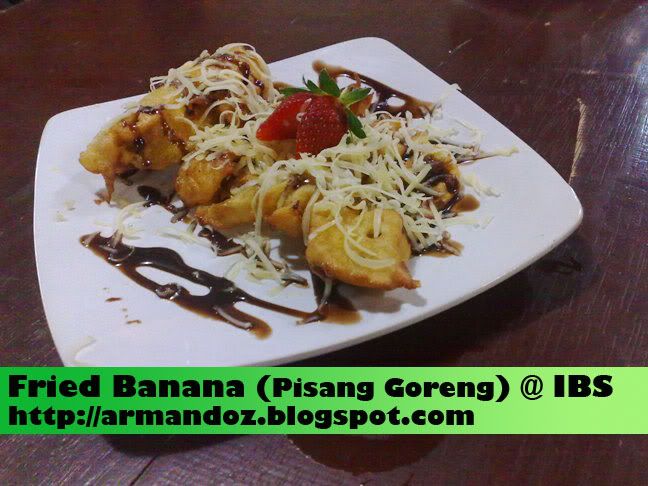 ::: Surprisingly TASTY "Pisang Goreng" (Fried Banana) at Iga Bakar Sagan.
::: Not so tasty martabak I had two days ago.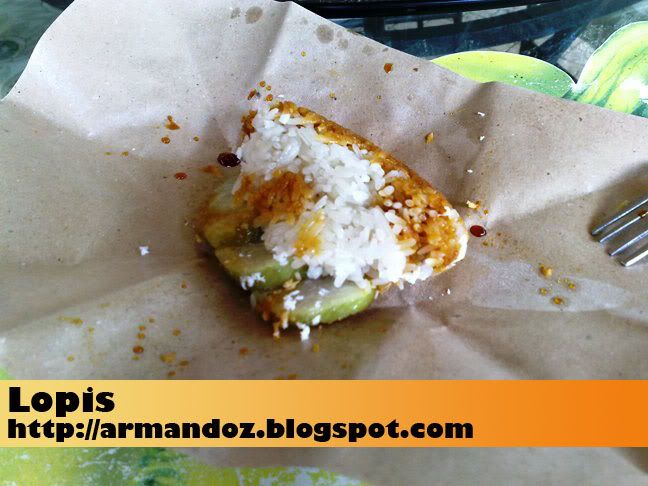 ::: Lopis, A Local Delicacy from Jogja, made from "ketan" (one "sticky" form of rice)
::: Sesame Fried Chicken I had yesterday.

BAHASA INDONESIA
Besok, liburanku ke tiga negara resmi dimulai!! Asiiik!! Aku akan naik penerbangan AirAsia dari Yogyakarta menuju Singapura. Di hari Minggu, aku akan pergi ke Thailand.
Ngomong2, satu hal kerasa aneh deh. Sebelum liburan (bersenang2) dimulai, koq tiba2 banyak masalah muncul yah!! Sekarang aku masih belum akan menuliskan masalahnya apa, cuma akan aku tulis nanti koq karena tiap masalah itu merupakan bagian dari tiap topik yang memang aku rencanakan untuk aku tulis nanti, hehe, jadi sabar yah!! :-) Yah, intinya adalah, kerasanya itu, sebelum "bersenang2", sepertinya kita harus "membayarnya" di depan, dengan semua masalah yang harus kita hadapi itu. Ini cuma aku saja atau tidak sih?? Hmmm
Yah, kalo dipikir2 lagi seh, sebenernya hal yang membuat sesuatu itu menarik, asyik, dan berkesan adalam masalah. Kalau semuanya lancar-lancar aja, semuanya seperti yang diprediksikan, nggak asik atau berkesan lagi deh, bener nggak?? Haha, memang sih ini kedengarannya seperti pernyataan "penghiburan diri sendiri" dariku. Eh, mungkin juga tuh
Haha, untuk kini, belum banyak yang bisa aku tulis. Jadi, aku unggah beberapa foto yang berhubungan sama gastronomi saja deh ya :-)